Dear Fellow Investor,
On Jan. 26, we suggested that those of you wanting to rebuild capital ought to look closely at TriQuint Semiconductor, Inc. (TQNT), one of the stocks that came through our screen for "heavily oversold". We liked the numbers as presented that night, and suggested that TQNT deserved a due diligence review by anyone looking to put some short term gains back into a portfolio.
Now we would like to suggest that those of you who took the TQNT plunge should now consider taking some dollars off the table, as evidenced by the 2 charts below: a weekly E-Zone chart, and a daily candlestick.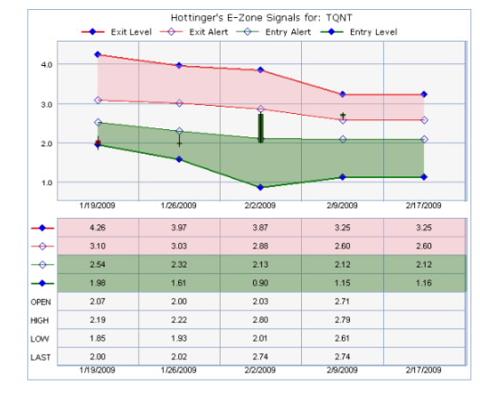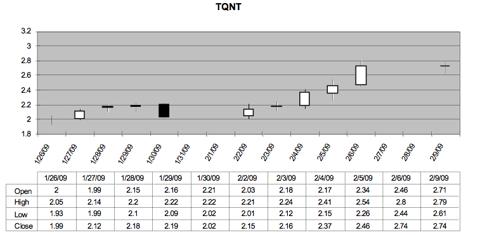 The Exit Zone of the weekly chart has leveled off, and it appears that a market order to sell at something between $2.60 and $3.25 would be a prudent move, especially if entry was made on Jan. 27, when the range was $1.99 to $2.14, and the close was at $2.12.
The close Tuesday, Feb. 9, was at $2.74. This represents a gain of 29% in just 10 trading days.
With the markets still in high turmoil, and with our President telling us Tuesday night that there is a long road ahead, and a recovery will be slow in coming, our trading should concentrate on taking small gains like this when they are available. This is not the time to be looking for those 3 and 4 baggers.