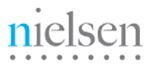 An average of 98.7 million US viewers tuned in to see the Pittsburgh Steelers beat the Arizona Cardinals during this year's Super Bowl, making it the most-watched 'big game' ever and the second most-viewed television broadcast of all-time, according to The Nielsen Company's annual report on Super Bowl advertising and overall viewing.
Key findings from the report:
A total audience of 151.6 million people watched at least 6 minutes of Super Bowl XLIII making it the TV event with the largest reach (unduplicated audience) ever.
NBC aired a total of 64 paid advertisements during the game for a total of more 38 minutes.
The most-liked ad was Budweiser's spot featuring a Clydesdale competing with a Dalmatian in a game of fetch. The same ad also registered as the most-recalled ad.
Emotional and feel-good ads by Budweiser and Pedigree pet food resounded with women, while men gravitated to commercials with more slapstick humor produced by brands Doritos and Pepsi.
TV Viewing
With the largest viewing audience ever recorded for a Super Bowl, the Feb. 1 game was the most-watched ever. As Pittsburgh and Arizona battled to the finish, viewership increased as the game progressed, Nielsen said. The most-watched quarter hour was the 9:45-10:00 pm ET spot, with an average audience of more than 106 million viewers. The most-watched minute was 10:07 pm ET, which amassed 111.6 million viewers.
Nielsen also revealed the following Super Bowl viewing trends:
Locally, Pittsburgh had the #1 Metered Market performance with a 53.6 HH rating. Phoenix was #9 with a 47.5 HH rating.
Among upscale households earning $100K+ annually, viewership increased 15% over Super Bowl XLII with a total of nearly 32.2 million viewers.
Within DVR households, Super Bowl XLIII averaged 36.4 million viewers, a 28% increase from last year's game.
In HD capable/receivable households, Super Bowl XLIII averaged a 44.9 rating among Persons 2+ - a 32% increase over the total US audience.
Hispanic viewership grew 5% over last year's game. The game also drew a 2% increase among African-American viewers.
Viewership among women climbed 2% this year, continuing a trend that has lasted each of the last six Super Bowls.
Advertising Highlights
This year's Super Bowl aired 38 minutes and 5 seconds of paid in-game commercial time(1). Some 48 unique brands aired commercials that competed for viewers' attention for a total of 64 advertisements (excluding NBC promos and PSAs).
The highest-rated and most-watched commercial minute was 9:54 pm ET, with a 45.3 HH rating, and 103.2 million viewers. That minute included a Bud Light Lime ad, as well as a GoDaddy.com website commercial.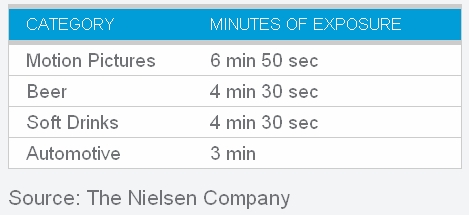 Motion pictures was the category with the largest amount of ad time, accounting for nearly 7 minutes. Beer and Soft Drinks tied for second place, both with 4½ minutes of ads each. The Beer category added 30 seconds to its commercial time compared to 2008.
For the ninth year in a row, Anheuser-Busch (OTCPK:AHBIF) was the top advertiser. The beer category included advertising for Budweiser, Bud Light, and the 30-second spot for Bud Light Lime. Both Pepsi (NYSE:PEP) and Coca-Cola (NYSE:KO) each placed three ads for their Soft Drinks totaling 4½ minutes for the category.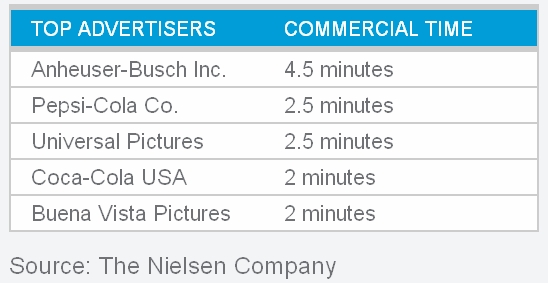 Four companies broke in as Super Bowl "rookies," placing spots in a Super Bowl broadcast for the first time since Nielsen began tracking advertisers for the game in 1993: Albar Precious Metals (parent company of Cash4Gold), BP PLC (Castrol), H&R Block (NYSE:HRB), Kellogg's (NYSE:K) (Frosted Flakes), and Priceline.com (NASDAQ:PCLN).
Favorite Ads
An ad for BudweiserOne succeeded in landing the honor of the Super Bowl's most-liked and most-recalled. The spot, which ran during the game's second quarter, featured a Clydesdale horse competing against a Dalmatian in a game of fetch. The ad scored a likeability index of 175 and a recall index of 159.
Altogether, Anheuser-Busch produced the three most-recalled ads pitching its Budweiser and Bud Light brands. Doritos placed the second and third best-liked ads, each scoring a 153 on the likeability index.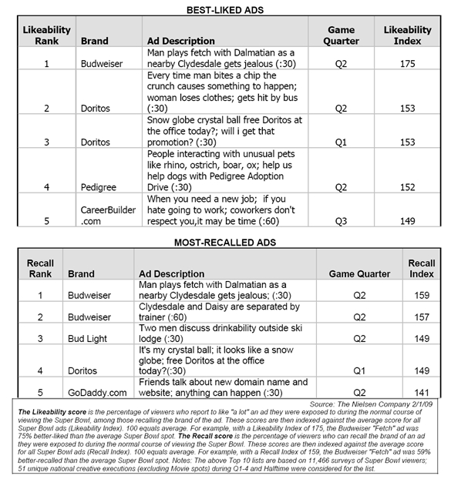 The same Budweiser "Fetch" spot also resounded most highly with women. It scored a 268 on the likeability index among females. Pedigree's pet food ad featuring people interacting with unusual pets also scored high among women with a likeability index of 178. Unlike women who enjoyed the more emotional ads, men were more drawn to ads marked by slapstick humor.
A Doritos ad that ended with a man getting hit by a bus registered highest on the likeability index among men with a score of 165. CareerBuilder.com's ad featuring a woman riding a dolphin and a koala bear getting punched in the face placed second on the men's index at 158. The next two ads on the list feature a man getting hit in the groin with a snow globe (Doritos) and various men getting hit by blunt objects (Pepsi).
Sponsorships
According to Repucom International (2), which measures in-game brand exposure, Gatorade was the top brand in terms of total duration with 191 on-screen exposures, for a total of 11 mins and 44 secs. This was in part because of Gatorade's strong presence on both sidelines and highlighted by the traditional "Gatorade Dunk," given to the winning coach at the end of the game.
Reebok, whose logo could be found on players' jerseys, placed second on the list with 282 exposures for a total of 8 mins and 21 secs. Motorola (MOT) had the third-most exposures - which came primarily from placement on coaches headsets - for a total of 5 mins and 36 secs.

Notes: (1) Advertising time expands to 51 minutes and 5 seconds, when the pre-game show (starting at 6 pm ET) and post-game shows are included; (2) Repucom International and The Nielsen Company have recently entered into an exclusive agreement to integrate television audience ratings data with Repucom's measurement of in-game sports sponsorship.