On February 7, Exelon (NYSE:EXC) reported its Q4 and full-year 2012 results. Exelon saw its FY 2012 profits plunge, with adjusted EPS declining 32% compared with the prior year. Also announced with the report, is that Exelon will cut its dividend 41%, from $0.525 to $0.31 per quarter, starting in Q2 2013. Exelon's share price has barely move after earnings even with the dividend news.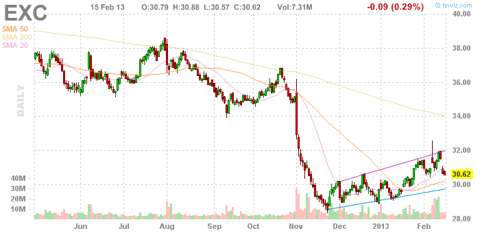 With the dividend reduction, Exelon will now yield 4.0%, less than most of its peers. For comparison, Duke Energy (NYSE:DUK) yields 4.5%, Consolidated Edison (NYSE:ED) yields 4.4%, PPL Corp (NYSE:PPL) yields 4.8% and American Electric Power (NYSE:AEP) yields 4.2%.
| | |
| --- | --- |
| | Yield |
| Exelon | 4.0% |
| Duke Energy | 4.5% |
| Consolidated Edison | 4.4% |
| PPL Corp | 4.8% |
| American Electric Power | 4.2% |
Exelon also provided guidance for 2013. Exelon anticipates that it will generate between $2.35 to $2.65 per share of operating earnings. This implies an earnings decline of 7% to 17% from FY 2012 operating earnings. The primary drivers of this earnings decline are lower anticipated ExGen revenues from lower realized prices and higher depreciation expenses.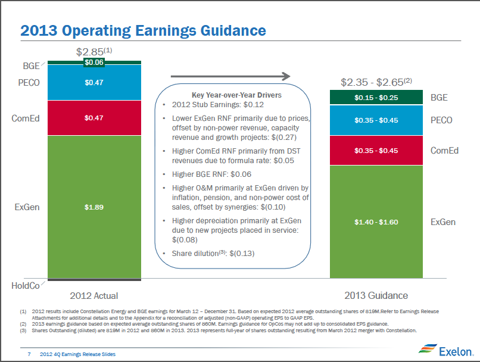 Exelon anticipates that it will generate about $6B in operating cash flow in 2013, a decline of 2% from the $6.13B of operating cash flow generated in 2012. CapEx and related expenses are expected to be $5.6B in 2013. Dividend payments are expected to be $1.25B in 2013. Exelon also anticipates that it will receive $1B in Federal financing bank loans, and $400M in cash from its holding company. Exelon also anticipated debt retirements of $1.4B in 2013. Exelon will still require $850M in debt issuances to cover its expected uses of cash. Even with the reduced dividend payments of $450M, Exelon will still need to run a tight ship in order to meet its debt reduction and cash flow targets for 2013.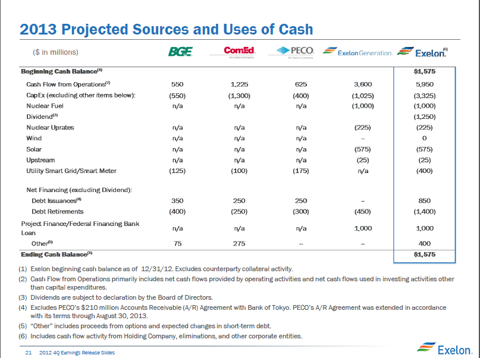 The dividend reduction for Exelon was widely expected. Exelon's dividend payments had exceed free cash flow for most of 2012, putting the company's credit rating at risk. As with most utilities, Exelon carries a large amount of debt on its balance sheet, and maintaining its investment grade rating was of utmost importance for Exelon. In fact, Exelon has made keeping its investment grade rating its number one priority, ahead of creating value for shareholders.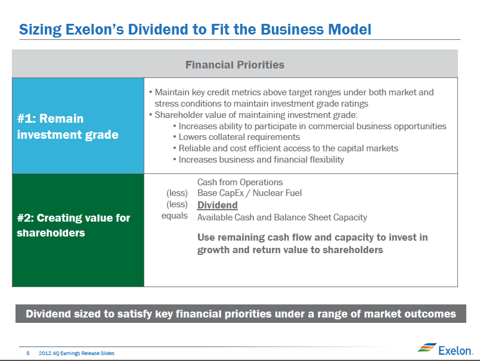 Conclusion
Exelon now considers its investment grade rating more important than creating value for shareholders. Why anyone would want to own a stock with this mindset is beyond me. Exelon now yields less than many of its peers, which seems shocking, as Exelon is the dodgiest of the group. Exelon also does not have much wiggle room if it wants to meet its cash flow and debt reduction targets for 2013, which given Exelon's poor track, does not seem likely to happen. Exelon's current valuation seems lofty given its years of underperformance.
Disclosure: I am short EXC. I wrote this article myself, and it expresses my own opinions. I am not receiving compensation for it (other than from Seeking Alpha). I have no business relationship with any company whose stock is mentioned in this article.
Additional disclosure: I am short Exelon (EXC) via puts