North America has become the fastest growing oil and gas region in the world. Production of shale oil and gas and oil sands resources are increasing year after year as new infrastructures are developed, new extraction technologies are used and more resources are found. The surging supply growth could change North America into the new Middle East by 2020 according to a GPS report produced by Citigroup (NYSE: C).
If accurate, the energy industry would generate benefits from exploitation of oil and ensure endless economic wealth for the country. As a matter of fact, crude oil is off its all-time highs, countries with the most precious liquid within their borders are set to benefit as worldwide demand for crude continues to rise.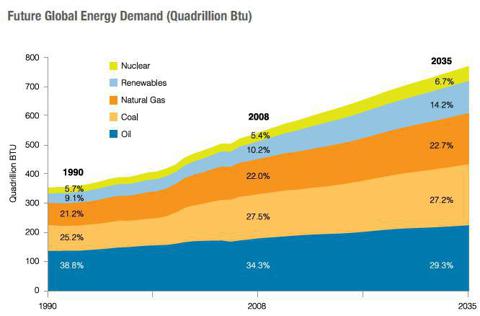 Source: EIA, Annual Energy Outlook 2011
Treasure chest buried in our own backyard
Geological reports have confirmed that North America has more oil than anywhere else in the world. As of 2011, the U.S. Government estimated that the world has proven reserves of approximately 1.35 trillion barrels. This number represents the net amount of oil still in the ground that has a reasonable certainty of recovery. Current political, economic, and technological challenges are some of the factors that are taken into account to provide this number. Thus, proved reserves takes into consideration current feasibility for exploitation.
In accordance with the U.S. Energy Information Administration, the U.S. is ranked 13th on the top 15 countries in the world with the biggest oil reserves. As of 2010, proved oil reserves were 20.68 billion barrels with a total production of 9.68 million b/d (barrels per day). Consumption rate were 19.15 million b/d. In comparison, Saudi Arabia, ranked 1st with the largest single reserve, had proved oil reserves of 262.6 billion barrels, production of 10.52 million b/d which 1.47 million b/d were exported to the U.S.
However, ranked 3rd is none other than our friendly neighbor, Canada with proved oil reserves of 175.2 billion barrels for a daily production of 3.48 million barrels. From this production, 2.32 million b/d were exported in the U.S. North American total liquids production could almost double from over 15 million b/d at the end of 2011 to almost 27 million b/d in 2020. Estimate growth for Canada in the next 20 years could meet more than 200,000 b/d to its current production.
Oil sands of Alberta
The 54,000 square miles of the Athabasca region located in Alberta, Canada is the largest oil deposit in North America. The problem was to reach this huge supply because the thick soaked sands makes it difficult for crude oil to be extracted. Specialists in the field have long thought that only a fraction of this oil could ever be recovered. However, technology improved over the years estimating the possible recovery at 175 billions barrels.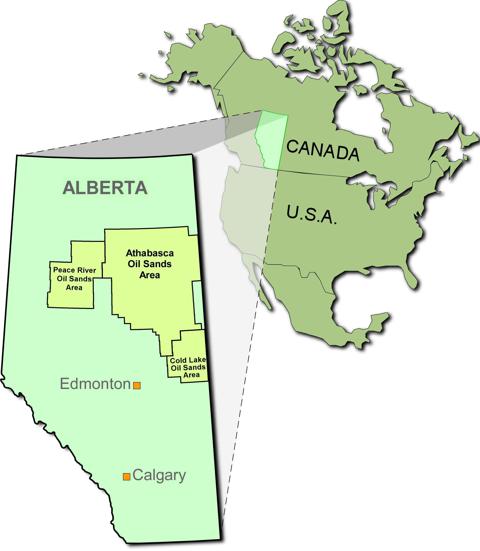 Source: ERCB
In October 2012, as mentioned in the Summary of Alberta's resource potential of the Energy Resources Conservation Board, several shale and siltstone formations were examined. The Duvernay, Muskwa, Montney, basal Banff/Exshaw, Wilrich, north Nordegg, and Rierdon showed significant resources in place. Resources were estimated at 3424 Tcf (trillion cubic feet) of natural gas, 58.6 billion barrels of natural-gas liquids, and 423.6 billion barrels of oil.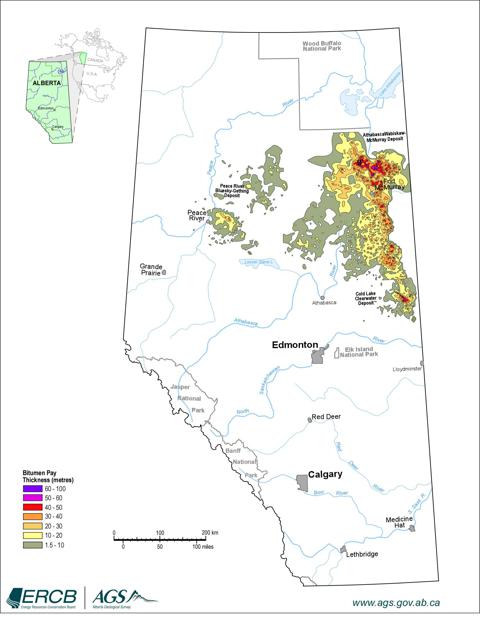 Source: ERCB
The Bakken Formation
The Bakken Formation is a natural geological phenomenon consisted of a rock unit occupying about 200,000 square miles of the subsurface of the Williston Basin, underlying parts of Montana, North Dakota, and Saskatchewan. It is the second-largest oil source in North America. Proved oil reserves are 24 billion barrels and estimated total reserves are huge with 501 billion barrels. Geologists estimates that anywhere from three to 50% of it is recoverable by currently available technology.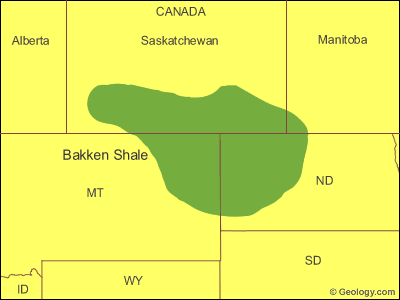 The Bakken was discovered in 1953 by a geologist named J.W. Nordquist and named after Henry Bakken, owner of the Montana farm where Nordquist first drilled. "There is no other basin worldwide where we may presently draw this conclusion. This certain knowledge that 413 billion barrels of in-place oil exists in the Bakken source system rocks in the Williston Basin presents the oil industry with an unparalleled exploration opportunity" said geologist J.W. Price back in 1999.
The challenge with the Bakken formation was that oil was encased in sheets of non-porous shale. Traditional drilling methods yielded little usable oil compared to the expense required to retrieve it. In 2000 as oil prices began to rise, Montana-based geologist named Dick Findley developed a new method to cope with the flat shape of the deposits. He advocated horizontal drilling. To get the oil out of the rock, he came up with fracturing by pumping sand at high pressure into the well, collapsing the oil-rich rock and allowing the oil to flow back up.
The quality of the oil was excellent in contrast to the Alberta's oil sands, the oil from the Bakken being liquid and free of water and other impurities. There are no reliable estimates as to how much oil is actually on the Canadian side of the Bakken. About 25% of the Bakken is in Saskatchewan. The fact that Saskatchewan is already producing five million barrels a year indicates that geologist Price may have underestimated the quantity by a significant amount.
The shale gas revolution
Shale is a reservoir, a source rock with natural gas trapped within. The natural gas found in these rocks is considered unconventional, similar to coal bed methane. Current technology makes this type of gas more accessible and economical today than it was 30 years ago.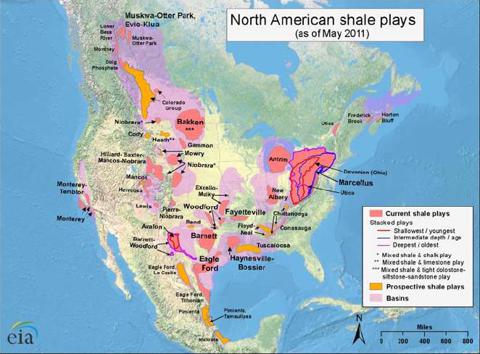 Source: U.S. Energy Information Administration
Abundant natural gas discoveries in North America triggered an industrial revolution in energy intensive industries and sectors. Demand for this kind of energy increased over the years while production was growing, resulting in cheaper price than oil. Thus, natural gas production was the starting point of the game-changing shale revolution. Gas-fired power generation, natural gas vehicles and LNG exports are some examples of its new application.
Daily production rates of shale gas in the United States are low, about 50 to 250 Mcf (thousand cubic feet) per day compared to conventional reservoirs. By 2020, U.S. shale liquids growth projections could increase to 21 Mcf per day. Currently, recoverable reserves are estimated at 500 to 1,000 trillion cubic feet. Shale gas reservoirs have wells that may produce for as long as 80 years and a geographic extent that may exceed thousands of mi². These shale plays, accessed by hydraulic fracturing and horizontal drilling technology allows an efficient way to extract shale gas for operators on site. This relatively new way of extraction could very much transform North America's access to energy and turn the U.S. and Canada into energy independent countries in the future.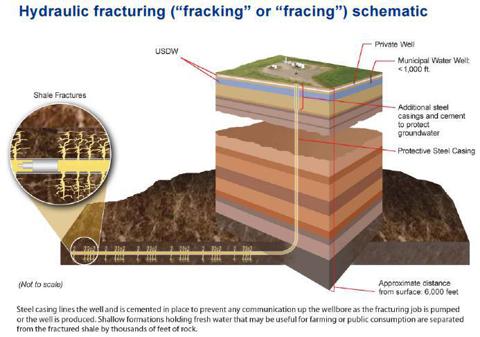 Source: U.S. DOE, NETL
A fortune lies underground
According to a 2012 assessment of the U.S. Geological Survey, estimated volumes of technically recoverable crude oil resources resulting from reserve growth for discovered fields outside the U.S. that have reported in-place oil and gas volumes are 500 million barrels of oil equivalent or greater. The mean volumes were estimated at 665 billion barrels of crude oil, 1,429 trillion cubic feet of natural gas, and 16 billion barrels of natural gas liquids. These volumes constitute a significant portion of the world's oil and gas resources.
18% of the world's undiscovered technically recoverable resource lies in the U.S. deep underground. The resources are estimated at 135 million barrels of oil.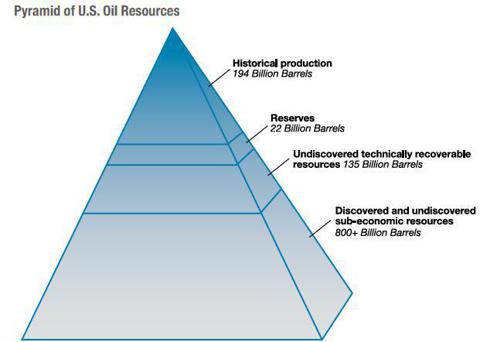 Source: American Petroleum Institute, 2013 Energy in charts
U.S. Politics are stalling resource development
The politics of energy are front and center with regulatory and environmental concerns as the North American oil supply network was undergoing a massive transformation. That put pressure on existing transportation infrastructure by raising obstacles with restrictions on crude oil exports. Furthermore, pipeline infrastructure build out has been slowed or halted regardless of economy. For example, the Keystone XL Pipeline Project has been delayed for months with environmental issues regarding the designed route crossing Nebraska State. TransCanada (NYSE:TRP) revised its position and proposed a reroute avoiding the Sand Hills sensitive region which lead the Governor of Nebraska to finally approve the project.
However, Keystone XL is still subject to President Obama's approval before the pipeline gets built. The administration needs to consider the lobbying pressure of people supporting energy alternatives to protect the environment on one hand or strengthen the anemic economy by creating thousands of much-needed jobs on the other. More on Keystone XL issues available here. Politics and regulations are impeding the oil and gas energy industry's transportation to flourish and expand the needed infrastructure to respond to the supplies it would develop.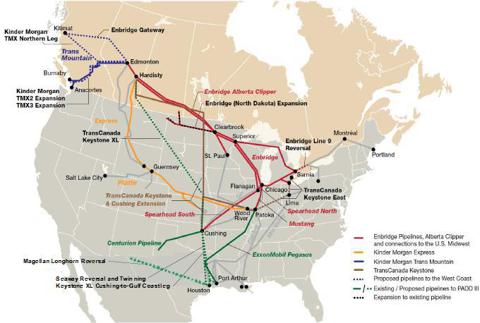 Source: CAPP, CIRA
Moreover, according to the American Petroleum Institute, eliminating regulations with unnecessary permitting delays and maintaining competitiveness with development opportunities in other regions of the world would provide a first step to bring new life to the offshore oil and gas industry. Thus, this would prevent the lost of an estimate $21.4 billion in investments.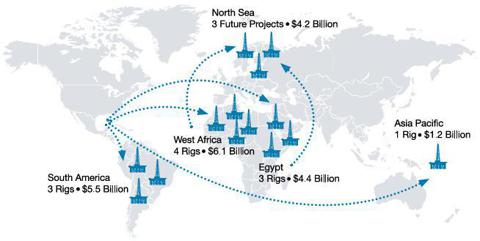 Source: American Petroleum Institute, 2013 Energy in charts
Deliverance Day
With the Government's will and determination, the U.S. economy would be less vulnerable to oil disruptions and less dependent on oil imports. Ensuring a less constraint role on the energy industry, the crude oil and shale gas supplies would overflow the regular stream of resource processing. Thousands of jobs and several companies would emerge as a result considering all the steps required to refine the resource and finally export it to different markets around the globe. The companies providing these services are typically engaged with long-term contracts which would secure steady profits and high-yield dividends for investors.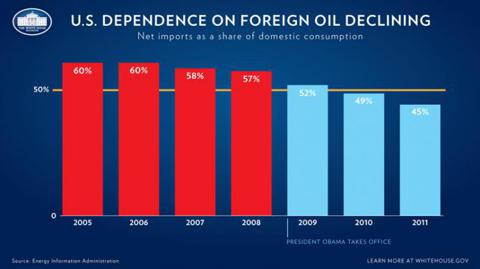 Source: U.S. Department of Energy
Canada is leading the way to North American energy independence and the U.S. Government needs to react now before it's too late. The abundant reserves of "the north" will not wait indefinitely for American policies to change. Other markets will be attracted to the enormous potential and will profit from it. In fact, China already showed its interest by investing more than 15 billion in Alberta with the takeover of Nexen (NXY) by China's state-owned CNOOC (NYSE:CEO) company. Others will follow. Is this not a wake-up call to take over the country's destiny in our own hands?
Finally, if Keystone XL Project gets approved, this will denote a wind of change in policy. Obama's administration has indicated in the past that he was not in favor of this project even with all the benefits it would provide for the country. However, this assertion was made before the election. President Obama could not afford to lose votes at the time with environment sensitive matters monitored by the lobby. With the election behind us, now is the time to write history by opening the gates of deficiency with a much-needed boost for the U.S. economy.
Investors must act quickly before President Obama's approval as this kind of opportunity only passes once. Huge surge of profit is coming. A dozen companies are set to get their part of the cake. Kinder Morgan (NYSE:KMI) and Enbridge (NYSE:ENB) to name a few, are companies that will see their revenue increase exponentially with the infrastructure in place.
TransCanada is also well positioned as they are the Keystone developer. Several other projects are under way to assert their leadership role in the energy industry as you can see in my previous article "New Projects For TransCanada On The West Coast".
Worldwide demand for crude oil is rising despite new ways to produce green energy in attempt to reduce dependency on oil and gas. Soon, we will be the new Middle East of America. Deliverance Day is ahead. Will you take part of history?
Disclosure: I have no positions in any stocks mentioned, and no plans to initiate any positions within the next 72 hours. I wrote this article myself, and it expresses my own opinions. I am not receiving compensation for it (other than from Seeking Alpha). I have no business relationship with any company whose stock is mentioned in this article.