The Dow Jones Industrial Average recently reached its highest point since 2007 but many investors are growing increasingly nervous. All is not well in the economy and looming fiscal cliff related budget cuts are around the corner. As a result, many investors are seeking out high yielding equities because of their generally strong financial position and ability to generate current income. Last week FINRA issued an investor alert to caution investors that sharply rising interest rates could decrease the value of fixed income holdings but this appears to be a longer-term concern. Of course, interest rates will increase in the future but the question is when? It certainly appears that this new normal includes bargain basement rates for the foreseeable future. Rather than settling for a negative return after inflation, I suggest high-yielding equity securities.
This week there are 10 candidates, eight of which have been analyzed below based upon SA readership criteria. Half of the equities are financial services including real estate investment trusts (REITs) and banks. Two unusual industries in the high yield space are printing/publishing and rental services. This week half of the yields are on the low-end of the range but there is one partnership with a reported yield of nearly 17%. Eighty percent of the opportunities are small so there is a bit of additional risk involved this week. I prefer that my ex-dividend candidates have market caps greater than five billion but that is not a requirement. Most of the opportunities go ex-dividend tomorrow so I suggest you take advantage of the market holiday to do some research.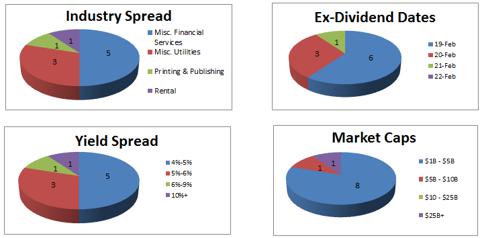 For details of the strategy and my screener details, please consult my methodology on the topic (last modified 1/21/2013). In brief, the screen focuses on relative stable equities with a concentration on liquid companies at affordable valuations. This is summarized below:
Dividend Yield ≥ 4.0%
Ex-Dividend Date = Next Week
Market Capitalization ≥ $1B
P/E Ratio: 0-20
Institutional Ownership ≥ 15%
Ideally Modest YTD S&P 500 Underperformance
Minimal European Exposure
After applying this screen I arrived at the equities discussed below. Although I envision these as short-term trading ideas, (i.e. less than three month holding period), you still need to exercise caution. Depending on your belief in the investment hypothesis, you may decide to only hold long enough for the dividend or to make the stock a longer-term holding. The information presented below should simply be a starting point for further research in consultation with your professional financial advisor before making an investment decisions. My goal is to present new companies to you and provide a brief overview of their recent developments; this should not be considered a substitute for your own due diligence.
Northern Tier Energy LP (NYSE:NTI): 16.68% Yield; Ex-Dividend 2/19
Northern Tier Energy is an independent downstream energy partnership with refining, retail, and pipeline operations that serve the PADD II (Midwest) region of the United States. NTI focuses primarily on refining in St. Paul, Minnesota but also has retail operations in Minnesota and Wisconsin. The Wall Street Journal published an article on high yielding partnerships specializing in refining rather than more traditional pipeline operations. The article specifically mentioned NTI as one of the highest yielding equities in the sector. IPODesktop performed an excellent analysis of the partnership this summer when it filed for its IPO. The stock has surged 87% in the past six months and recently announced record earnings.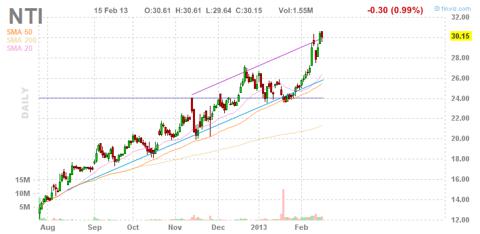 (Source: Finviz.com)
I wrote about NTI last quarter when the annualized yield was over 40% but was skewed due to partnership's IPO timing. This quarter's dividend is for $1.27 per share, or $5.08 annualized. This payout may slip but is much closer to the "real" dividend than the previous reported 40%. The stock's 45% quarterly rise also dampens the yield. For example, if the stock was still trading around $22, the yield would be 23%.
I believe that Northern Tier is worth considering based upon investors' thirst for high yield opportunities. Even if the yield slips, you could have a very attractive opportunity in the short-term. Insiders own 68% of the partnership, which is always a good sign that management is incentivized. Despite the appreciation, NTI still looks decently valued and it is a solid ex-dividend candidate.
PennyMac Mortgage Investment Trust (NYSE:PMT): 8.91% Yield; Ex-Dividend 2/19
PennyMac is a REIT that invests in US residential mortgage loans and other mortgage assets. PennyMac profits from direct investment in loans and correspondent lending, which involves pooling and selling or securitizing new prime mortgage loans. Unlike other mREITs, PennyMac actually holds the underlying loans rather than just mortgage backed securities ("MBS"). The investment process is to purchase nonperforming loans and seek profitable loan modifications. Interestingly, most nonperforming loans were purchased from Citigroup (NYSE:C).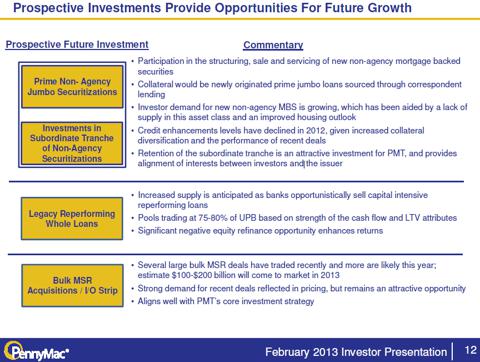 (Source: 14th Annual Credit Suisse Financial Services Forum Presentation)
This investment strategy has been working very well and 2012 income more than doubled to $138M while diluted EPS rose 30%. The fourth quarter was especially strong due to a perfect storm of high home prices, greater paydowns, and lower delinquencies. This is a risky sector of the market but clearly there are high potential rewards. Additionally, management has some inventive ways to pursue further growth (see above). This is not my favorite mREIT because of its non-performing/non-agency focus but it is hard to argue with the returns: investors have been handsomely rewarded with 51% gains the past year. The dividend yield is not as high as other leading mREITs but nine percent is very respectable and there is the potential for dividend growth as well. PennyMac requires further research due to its complex operations but is worth considering for dividend purposes.
Main Street Capital Corporation (NYSE:MAIN): 5.69% Yield; Ex-Dividend 2/19
Main Street Capital is a business development company ("BDC") that specializes in equity, equity-related, and debt investments in companies with revenue between $10M and $100M. Unlike some private equity firms, Main Street avoids start-up companies or those with "speculative business plans," instead preferring to "invest in traditional or basic businesses." For additional details on Main Street's investment criteria, please review managements' investment factors. The company can afford to pay the above-average yield as its mezzanine loans often have yields in excess of twelve percent. The portfolio of investments is available here and spans virtually all industries, providing sufficient diversification. For example, in the past few months the company has invested in a drilling equipment leasing company, a sophisticated generator company, and a corrosion prevention firm.
2012 was a very good year for Main Street as net asset value jumped 36% through September 30, 2012. Main Street reports 2012 earnings in March. NAV per share stands at $17.49 indicating a price-to-book ratio of 1.83, which is on the expensive side. This increase in NAV was fueled by higher non-controlling/non-affiliate investments that resulted in net investment income increasing by 50% in nine short months. Realized and unrealized investment activity both showed substantial improvement over the comparable 2011 period. I scanned the portfolio and the vast majority of investments have lifetime gains. From a cash flow standpoint, Main Street continues to generate positive cash from operating activities. Main Street has been active in raising equity capital to finance investment purchases and repay borrowings against its credit facility. Main Street pays approximately 2.7% on its active credit facility and 0.375% on the unused portion. In December Main Street completed a $77.1M stock issuance at a price of $28 with proceeds used to reduce debt as well as invest in new opportunities. This caused the stock to drop sharply but it has since recovered to a new 52-week high. The rise in the price-to-book ratio and forward P/E have me concerned about the stock's ability to set new highs in the short-term.
Main Street has been steadily appreciating since June and the stock has climbed 50% in the past year due to the significant growth described above. The stock's outperformance has pushed the yield down from seven percent to below six percent despite the dividend exhibiting slight growth since 2008. Net assets from operations increased $.85 per share in the first nine months of 2012 while dividends increased by only $.10. The payout ratio is currently below 50% so there is a possibility for dividend increases in the future. Main Street is treated as a regulated investment company ("RIC"), thus it does not have federal tax obligations if it distributes at least 90% of its investment company taxable income. There are other complexities involved with RIC ownership so I suggest consulting a tax advisor before considering an investment. Note that the dividend is distributed monthly.
Tortoise Energy Corporation (NYSE:TYG): 5.03% Yield; Ex-Dividend 2/19
Tortoise Energy Infrastructure is a closed-end management company that invests in public traded MLPs. As mentioned above with NTI, MLPs are typically energy companies that engage in the gathering, transportation, processing, and related activities for natural gas, crude, or other refined products. As of January, the fund had a clear preference towards natural gas and crude, which comprised nearly 85% of the underlying portfolio. Current top holdings include Magellan Midstream Partners, L.P. (NYSE:MMP) and Plains All American Piepline, L.P. (NYSE:PAA). The dividend rate has inched forward over the years but do not expect growth greater than the low single digits. Selecting TYG may be a less volatile alternative to selecting individual MLP stocks; however, you will be paying nearly a one percent management fee for the diversification benefits. If you do not want to pay the management fee you can always use the underlying portfolio as a starting point for further research.
Avista Corp (NYSE:AVA): 4.61% Yield; Ex-Dividend 2/20
Avista is a utility company that produces energy for fewer than one million customers in the Western United States. I wrote a critical article of Avista in August when the stock was at its 52-week high. The stock is trading slightly lower since August but the fundamentals are still not appealing to me.
The P/E (18) is high for the yield and the payout margin is now approaching 80% after the recent five percent increase; therefore, further increases are unlikely. I cannot recommend Avista, because it has a small customer base, unfavorable geographic region, and has faced economic pressure that has forced it to lower earnings guidance. The yield is merely average for the industry and there is no compelling reason to pick Avista given the risks assumed. The company also reports earnings on the 20th so it would not be a good ex-dividend candidate regardless of quality.
Hawaiian Electric Industries, Inc. (NYSE:HE): 4.47% Yield; Ex-Dividend 2/19
Hawaiian Electric Industries is a unique utility company in many ways. In terms of electrical operations, the HEI completely monopolizes the state of Hawaii: the company and its subsidiaries service 95% of the state's population (all islands except Kauai). Further distinguishing HEI is that the company operates a bank (American Savings Bank) which was responsible for nearly half of the company's income in 2011. Fifty percent of the company's loans are for residential one-to-four family homes and total loans have been declining steadily since 2007. If you are looking to invest in a traditional utility, I would avoid Hawaiian Electric due to its significant financial operations - this is not a utility pure play. I tend to avoid companies that lack a true identity (i.e. I would rather own a true utility or a true bank).
Thomson Reuters Corporation (NYSE:TRI): 4.30% Yield; Ex-Dividend 2/21
It is difficult to classify Thomson Reuters into a precise industry but their business model hinges on information delivery. Major business segments include financial & risk and legal information service offerings. Last week the company announced that it was firing four percent of its workforce as part of its turnaround efforts. This led to Barclays lowering its price target from $31 to $29 while maintaining its 'equal weight' rating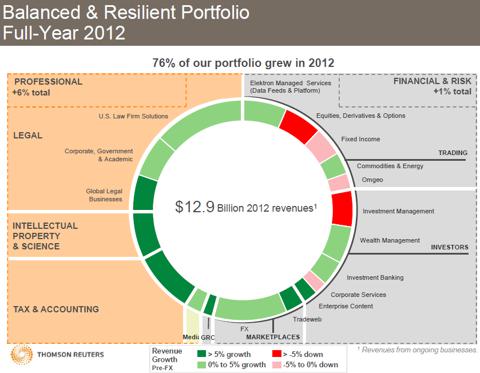 (Source: Thomson Reuters Q4 2012 Earnings Presentation)
2012 was solid but unremarkable for Thomson Reuters as revenues inched up three percent while adjusted EBITDA rose five percent. The company is guiding for "low single digit growth" in 2013 and slightly lower adjusted EBITDA margin than previous year's guidance. The company seems dedicated to the turnaround effort but I wonder if the ultimate capabilities of the company will be great enough to meet investors' expectations.
I believe Thomson Reuters is fairly priced around $30 with a forward P/E of 14.5. The poor liquidity is troubling but the company does not rely on debt so the risk is mitigated. Insiders own 55% of the company, which helps to align managements' interests with those of shareholders. The dividend is growing roughly at the rate of inflation in the past few years so you should have realistic expectations. In fact, the outlook for 2013 is only a two cent increase (less than two percent). Overall I consider Thomson Reuters to be an average investment but I am slightly negative due to the lack of growth and recent layoffs.
Honorable Mention CA Technologies (NASDAQ:CA): 3.97% Yield; Ex-Dividend 2/19
CA Technologies slipped off the screen on Friday due to its fifty basis point decline. The company provides a broad array of IT solutions to help companies manage their data. This a very high margin business (85% gross margins) but revenue is declining across all components.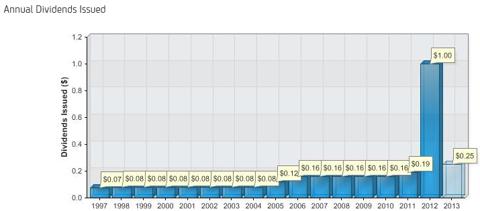 (Source: CA Investor Relations 2-17-13)
The dividend was increased substantially in 2012 from $.05 to $.25 per quarter. The payout ratio is at 51% and management has shown an increased commitment to be shareholder friendly ($1.5B buyback was authorized in early 2012). Unfortunately strong shareholder policies are unable to overcome the declining revenue for me. I urge caution if considering CA as a dividend investment.
The information presented has been summarized below. I make no warranties regarding the information in the chart as industry classifications are frequently imperfect. Yellow and red represent "avoid" and "consider" classifications, respectively.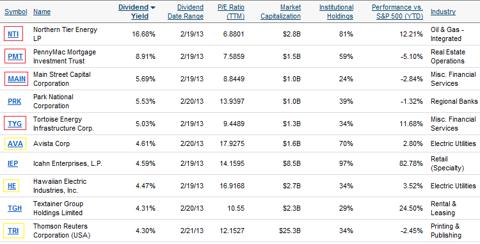 Please refer to profile page for disclaimers.
Disclosure: I have no positions in any stocks mentioned, and no plans to initiate any positions within the next 72 hours. I wrote this article myself, and it expresses my own opinions. I am not receiving compensation for it (other than from Seeking Alpha). I have no business relationship with any company whose stock is mentioned in this article.
Additional disclosure: Please refer to profile page for disclaimers.