Kinross Gold Corporation (NYSE:KGC) is one of our favorite gold stocks, largely due to the huge potential value we see in company's flagship Tasiast project. Since we last wrote an article on KGC, the company reported its fourth quarter and full-year 2012 production results. With the uncertainty now removed over the choice of the ton per day mill option (30,000 chosen over 60,000) and the overhang removed from an imminent write-down, the focus now shifts to the future and there is more clarity about it.
Kinross reported a strong operating quarter, driven by higher production and lower-than-expected costs. After adjusting for $3.2 billion in impairment charges, KGC reported 4Q12 adjusted EPS of $0.24, beating consensus estimates of $0.22 by 9% and 4Q11 actual EPS of $0.16 by 50%. The Canadian gold miner took a $3.2 billion after-tax, non-cash impairment charge related to Tasiast in Mauritania and the Chirano gold mine in Ghana, both of which were acquired by the company in 2010 in its $7.1 billion takeover of Red Back Mining.
CEO J. Paul Rollinson, said in a recent press release "As promised, we remained strongly focused on operational fundamentals in the second half of 2012, and finished the year by exceeding our full-year production guidance, and meeting our full-year cost of sales guidance. While we recorded a non-cash impairment charge related to our Tasiast project, our pre-feasibility study work and recent exploration results continue to increase our confidence in Tasiast's potential, and confirm its importance as part of our long-term future."
Kinross produced 725,000 gold equivalent ounces in 4Q12, up 16% Y/Y as production in North America and West Africa was better than expected, with Fort Knox, La Coipa and Chirano performing well-above expectations. Production costs came in at $686 per gold equivalent ounce sold, resulting in gross margin of $1,021 per ounce sold off of an average realized gold price of $1,707 per ounce.
Tasiast and Other Growth Projects
Kinross expects to release a pre-feasibility study on a 30,000 ton per day mill at Tasiast by the end of March 2013. The company is no longer exploring the 60,000 ton per day option. Kinross believes while a smaller mill would result in lower annual production than the larger option originally considered, it would also lower initial capital requirement, reduced execution risk, increased average margin and free cash flow per ounce, higher average grades over the first 5 to 10 years and lower capital stripping and sustaining capital requirements. Management notes that this is consistent with the core principles of KGC's way forward strategy.
With the overhang removed from an impending write-down and clarity achieved on the choice for a 30,000 ton per day mill option, the focus now shifts to the future. Tasiast is an important part of that future. The management notes that despite the impairment charges recorded to date, encouraging results from step out targets outside of the footprint of the current resource continue to highlight Tasiast's potential.
With regard to other growth projects, the company is said to have made excellent progress at Dvoinoye and the expected delivery of first ore to the Kupol mill remains on scheduled in 2H13. At Fruta del Norte ("FDN"), the negotiations with the government of Ecuador continue on exploitation and investment protection agreements and the company believes to have reached a conceptual understanding in a number of key areas.
Reserves & Resources
2012 year-end proven and probable gold reserves were 59.6 million ounces, down 3 million ounces, primarily due to production depletion, from 62.6 million ounces at the end of 2011. Reductions at Maricunga, Fort Knox and Kupol were offset by additions at Paracatu and Tasiast. Measured and indicated ("M&I") resources declined to 20.3 million ounces from 25.4 million ounces last year. Total gold R&R at the end of 2012 stood at 94.3 million ounces, down from 108.0 million ounces in 2011.
The company maintained a flat gold price assumption of $1200 per ounce, which we think is conservative. Commenting on the gold price assumption Paul Rollinson said, "We made a strategic decision to use the same price assumptions as we did in 2011. This decision was driven by the principle of quality versus quantity and specifically targets higher margin ounces with less capital intensity."
Liquidity
The company ended the year with a strong liquidity position. As of December 31st, 2012, the company had cash and cash equivalents and short-term investments of $1.98 billion, compared with $1.77 billion as at December 31st, 2011. With this liquidity, the company is in a strong position to repay its senior convertible notes ($460 million), should holders exercise their right to require the company to do so, on March 15th, 2013. As mentioned in our previous report, with high strike price of $28.04 per share the holders of these notes are out-of-the-money. The company has debt to equity ratio of only 21% compared to 55% of Barrick Gold (NYSE:ABX), 46% of Newmont (NYSE:NEM), and 42% of AngloGold Ashanti (NYSE:AU).
Valuations
KGC is trading at cheap valuations compared to its peers; the company is trading at price/book value of 0.7, while its competitors Goldcorp (NYSE:GG), Newmont, Barrick Gold, Yamana Gold (NYSE:AUY), and AngloGold Ashanti are trading at 1.3, 1.6, 1.3, 1.5, and 1.8 respectively. KGC is trading at price/sales ratio of 2.3, while its competitors GG, NEM, ABX, AUY, and AU are trading at 5.3, 2.2, 2.3, 5.1, and 1.7 respectively.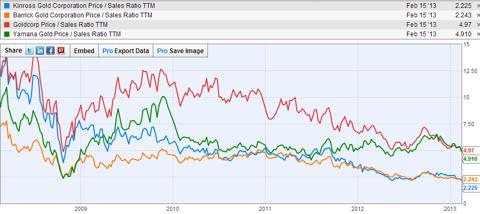 Source: Y-Charts
Kinross has a forward P/E of 7.5; in comparison GG, NEM, ABX, AUY, and AU have forward P/E ratios of 11.1,10, 9.7, 10.4, and 5.9 respectively. The Canadian-based Kinross has PEG ratio of 0.4 compared to 0.6, 0.7, and 0.4 of GG, ABX, and AUY.

Dividend
The company pays dividend semi-annually and compared to its peers (ABX: 2.3% and NEM: 3.1%), KGC has a modest dividend yield of 2%; however, it is higher than GG's dividend yield of 1.6% and AUY's 1.5%. Moreover, as you can see from the graph below KGC's dividend yield has increased significantly over the years (Dec '11: 0.96%, Feb '13: 2%). From March 2008 to March 2013 (the next dividend date), the company has increased its dividend by 100%.

Source: Y-Charts
Conclusion
KGC ended the year on a positive note. As we said earlier, we don't think the potential value of Tasiast is priced in the stock, which will help stock appreciate in value in the future. With the imminent impairment charge out of the way and clarity achieved on the choice for a 30,000 ton per day mill option at Tasiast, the focus now shifts to the future. We believe Kinross offers good upside potential. The next catalyst to watch for will be the results of a pre-feasibility study for a 30,000 ton per day mill option at Tasiast in April that should provide more clarity on the new value for the mine. Moreover, the stock is trading at cheap valuations and the company has strong liquidity position. We have a buy rating on KGC.
Have a good day!
Disclosure: I have no positions in any stocks mentioned, and no plans to initiate any positions within the next 72 hours. I wrote this article myself, and it expresses my own opinions. I am not receiving compensation for it (other than from Seeking Alpha). I have no business relationship with any company whose stock is mentioned in this article.