A breakout is a term commonly used by technicians to describe a price movement through a support or resistance level accompanied by higher-than-average volume. Let's break that word down, though, and apply it on a fundamental level to Qualcomm (NASDAQ:QCOM).
QCOM manufacturers digital wireless telecommunications chips that are used in CDMA-based mobile devices. So while Apple (NASDAQ:AAPL), Google (NASDAQ:GOOG), and Microsoft (NASDAQ:MSFT) battle for market share in the booming mobile industry, QCOM continues to quietly supply the chips supplying the life force to all of these revolutionary devices.
There's an increasing demand for innovation in the mobile industry. Apple has lost market share - and market capitalization - because of the new perception that it has lost its luster as an innovator. Product releases are increasing in frequency, and the consumer is willing to pay for those new products at an accelerating rate. There were days when the average consumer kept her mobile phone until she absolutely needed a new one. Today, technology of hardware and operating systems has become so competitive that that same consumer who was once happy keeping her phone for two-and-a-half years is now salivating at the newest gadget just six weeks after buying what, at the time, was the best thing on the market. Translation: demand will continue to accelerate.
Another driver of demand is the growth of mobile usage in China and India. It almost seems played out to talk about the breadth of these two markets and how powerful they are in sheer numbers. There is rampant speculation that AAPL has a lower-priced iPhone in the pipeline to capture a larger market share in China. It has affected the stock price negatively. Analysts are skeptical of the increased revenues-reduced margins scenario, noting a fundamental shift in the Apple brand equity if it occurs. But if AAPL does in fact break further into the Chinese market, demand for the QCOM hardware will increase significantly.
QCOM is strategically positioned to grow regardless of how any of the mobile device manufacturers perform in the marketplace. The mobile market is growing - and it is growing fast. QCOM's growth can be measured linearly to the industry growth.
Current year 2013 earnings estimates are $4.49. Look forward to 2014 and consensus is currently at $4.85, an 8% increase year-over-year. Revenues are also expected to grow 10.8% in FY 2014. Analyst projections have often fell short at QCOM. Adjusting forward earnings based on the average quarterly outperformance over the past year, earnings growth actually tops 14.4%. Finally, QCOM's 5-year growth projections are 14.68% per year, while its industry peers are expected to grow at 13.77%. The outperforming growth story of QCOM is still very real.
The most recent earnings outperformance occurred last quarter - QCOM topped The Street's earnings estimates by 11.5%. The stock price jumped 7% but has since pulled back down back into its trading range. Without too much technical analysis, it should still be noted that the stock price has remained above both the 50 and 200-day moving averages, which is a tremendous sign of strength in the market. The stock closed at $65.43 after Friday's trading session, -0.10 (-.15%). At this level, it is nearly touching the positive trend line that initiated in mid-December. Since the trend began, the stock price has touched the trend line three times, and every time there has been at least a 6% bounce in the original positive direction of the trend. From a technical perspective, we're close to that bounce.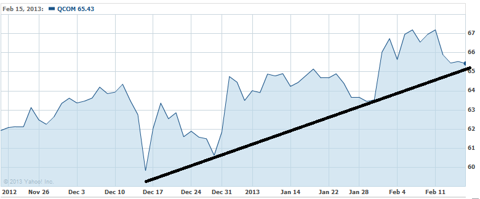 QCOM is a major market player. It doesn't get the headlines of its counterparts - the Apples and Googles of the world. But those products don't function without QCOM. The growth story is there: outperforming the industry and continual earnings beats. The fundamentals are there: no debt on the balance sheet and adequate cash on hand. The technicals are there: continued solid momentum, upward general trend and excellent bounce off of the trend line. The differentiation is there: continually innovative products and excellent relationships with all major mobile device manufacturers.
Get ready for the bulls to take off this week. Just make sure you're running with them, not against them.
Disclosure: I am long QCOM. I wrote this article myself, and it expresses my own opinions. I am not receiving compensation for it (other than from Seeking Alpha). I have no business relationship with any company whose stock is mentioned in this article.