Since January 25, people have been wondering whether Carl Icahn is (A) long on Herbalife (NYSE:HLF) and (B) whether his position is of a personal nature -- i.e. taken in order to screw Bill Ackman. We got the answer to the former in the shape of a 13-D filing this last Thursday, in which Icahn unveiled a 12.98 percent stake in Herbalife. The latter question is harder to answer. A detailed look at the filing and the time frame of the position buildup proves inconclusive.
The timeline of Icahn's position build-up
From the filing, we know that Carl Icahn built his position in two time frames separated by the month of January up to the Friday of his on-air CNBC bout with Bill Ackman.
Here are Icahn's two phases of Herbalife buy-in:
December 20 - 24, 2012: Icahn accumulated 1,672,807 shares, or 1.55% of the entire float outstanding, during three trading sessions between these dates. He shelled out $53,822,937, or $32.18 per share.
January 28 - February 14, 2013: From the Monday following his on-air argument with Bill Ackman, Icahn proceeded to build his position at a clip of 0.88 percent of Herbalife's entire float per trading session, or an additional 11.43% stake on Herbalife's entire outstanding float. This was done mainly through call options.
What exactly does Icahn hold?
Here is what Icahn bought in the second round [following the Ackman episode]:
Between January 28 and 29, he purchased 800,000 shares for an average cost of $39.96 per share. Total tab: $31,964,000.
Between January 28 and February 11, he purchased American-style options on 8,311,738 shares for an average premium of $10.27. The calls' exercise price is $26 and the expiration date is January 28, 2015. His breakeven price on this position portion is $36.27/share, not adjusted for the effect of any dividends (which Herbalife does issue). Total tab: $85,636,206.
Between February 12 and 14, he purchased American-style options on 3,230,606 shares for an average premium of $13.29. These calls expire on May 10, 2013 and are exercisable at $23.50/share, making his breakeven price $36.79 per share. Total tab: $42,946,908.
(click to enlarge)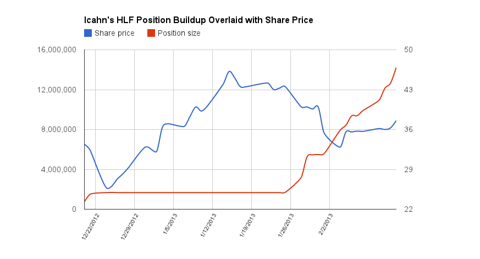 During this time, Icahn has also sold puts corresponding with the size and expiration of his two calls. This is further evidence of his bullishness on Herbalife shares, which at the same time helps him finance his calls with the premium reaped at sale, as explained here by Jon Najarian. So, the simultaneous calls and puts give Icahn the same exposure and risk as owning underlying shares. Unlike buying underlying shares, however, this strategy allows Icahn to finance the transaction by putting up a far smaller amount of capital, which for the option portion equals the premium paid for calls less the premium charged for puts.
One drawback of the option portion is that Icahn will not be eligible to receive dividends unless and until he exercises. This drawback should be offset, by far, through the efficiency of capital allocation afforded by the option trade: as of Thursday, Icahn has $214 million (less premiums charged for the puts) tied into the trade, as opposed to the $506 million he would have needed to finance an all-equity position. In contrast, he gives up roughly $4 million dollars per year in dividends from Herbalife.
What motivates Icahn's position?
The timeline of Icahn's position on Herbalife initially inclined me to think that smiting Ackman was the main motivation. However, looking at the Herbalife chart during the "quiet" period of the build-up reverses that theory, and instead underlines an economic function to the timing of the position ramp-up.
(click to enlarge)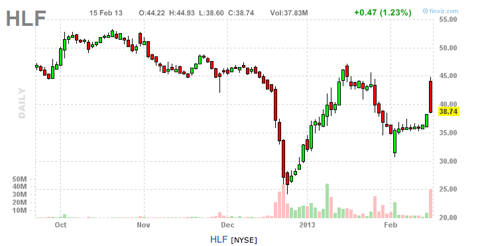 Let's dig at both sides of the motivation argument.
The case for spite
As detailed above, Icahn snaps up a sizable $50 million-plus stake in the three sessions following Ackman's December 19, 2012 presentation and then stops. He bought exactly 1,500,000 shares on December 20 and 21, and only 172,000 on December 24 (when shares reached their lowest level). Could Icahn have had his fill on Herbalife? After all, it is unclear how familiar he has been with the company up to that point.
Enter the CNBC showdown on January 25 -- no description of what happened that Friday is needed. The following Monday, Icahn spools up "the mother of all" long positions, first through the accumulation of another 800,000 shares, and then nearly 14 times as much through options. All of that in 13 trading sessions. Either Icahn boned up a great deal on Herbalife during January, or that Friday's exchange "enhanced" his due diligence.
The case for a good scale-in
Into January, Icahn owned some 1,673,000 shares at an average cost of $32.18. Herbalife shares spent almost no time below $35 for much of that month. Therefore, it could have been that Icahn thought Herbalife had some more to fall before he bought some more. In fact, at the time of the CNBC clash between him and Ackman, Herbalife was trading somewhere north of $40. By the time he bought in on the Monday following the debate, shares had started to dip below that level, never really recovering until Icahn's own 13-D filing was released last Thursday. Considering all of this, Icahn can be viewed as one hell of a market-timer with regard to his position-building, His cost basis, as of Thursday, stood at $36.11. Talk about adding on weakness! Most importantly, at this point we cannot rule out that he is done buying. His next filing will tell.
So, spite or economic sense?
Icahn has not minced words regarding his feelings for Ackman, so squeezing the younger man out of a precarious short position is bound to make the veteran raider's day. On the other hand, he has also said that "there is plenty of money to be made here." As it stands. even at Friday's low of $38.56 per share, Icahn's half-billion-dollar Herbalife stake is sitting on at least 15 percent unrealized gain, or $33.4 million on a less than $214 million invested capital.
Should things get dicey, Icahn's position is exercisable at any time he chooses before the expiration dates on his American-style calls. His European-style puts are also exercisable at the earliest of expiration date or exercise of the associated American-style calls, according to the filing. Therefore, Icahn can exit at any point he deems appropriate.
The same cannot necessarily be said of his "adversary" on the Herbalife trade. Bill Ackman has made much ado about his $0 price target for exiting his short position. On top of it, there is a moral hazard to Ackman's premature exit of the short position, following his much publicized bear raid. Ackman's cost base lays somewhere around $45 per share, so currently he is still comfortably in the money.
Is Icahn's Herbalife stake a position out of spite? It may very well be. That said, the position's parameters indicate a ballsy and nearly flawlessly built long trade that looks to have a great risk-to-reward ratio. Putting the screws on Ackman may simply be, in Icahn's own words, "the strawberry on top of the cake."
Disclosure: I have no positions in any stocks mentioned, and no plans to initiate any positions within the next 72 hours. I wrote this article myself, and it expresses my own opinions. I am not receiving compensation for it. I have no business relationship with any company whose stock is mentioned in this article.