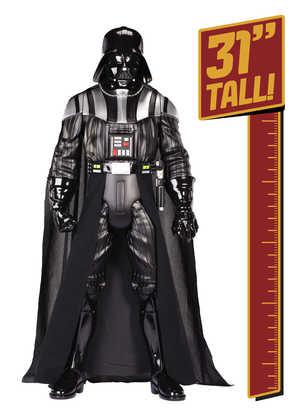 Small toy maker JAKKS Pacific (NASDAQ:JAKK) has struggled recently. The company turned down a $20 buyout from Oaktree Capital in 2012 and now sees shares trading below $13. Several recent announcements by the company could be bullish for shareholders and send shares past the $20 buyout level, or once again draw interest from acquirers. JAKKS Pacific has several new exciting products that could send the stock higher in 2013.
When Disney (NYSE:DIS) purchased Star Wars owner Lucasfilm, it appeared that Hasbro (NASDAQ:HAS) was the big winner in the toy industry. Hasbro has a partnership with Lucasfilm to make action figures based on characters from the popular movie line. JAKKS also has a deal in place with Lucasfilm and the two companies recently extended that relationship.
JAKKS has announced a 31 inch Darth Vader figure that will be the key to a new set of toys released based on Star Wars. Along with Darth Vader, the two companies will partner with flashlights, tents, and arcade games. The Darth Vader figure was introduced at the International Toy Fair in New York City the second week of February. The toy will begin being sold in the Fall of 2013, in time for the Christmas shopping season.
With three new movies coming in the Star Wars franchise, JAKKS could see huge revenue from this partnership. Disney has also announced a Star Wars television show and several spin-off movies based on the franchise.
The other huge new product from JAKKS is Dreamplay Toys, which is a joint venture between the company and NantWorks LLC. I mentioned this new venture in a bearish as transformative and ground-breaking. Recent developments bring this new technology back into the spotlight.
Dreamplay has entered into an agreement with Disney. Disney has been granted exclusive rights to utilize the Dreamplay technology in the toy industry. Other JAKKS brands, including Monsuno will also be used with the Dreamplay. Dreamplay has patented iD image recognition technology that could revolutionize this space. Applications for iOS and Android will come without the need for QR code, as the technology instantly recognizes the toy, allowing interaction with the toys.
Dreamplay will begin being sold in the United States in the Fall of 2013. The products will go on sale in international markets later in 2014. Disney recently showed off the devices at the Consumer Electronics Show in Las Vegas.
Back in June, I was bearish on shares of JAKKS Pacific. This was after the company had missed both first and second quarter earnings. In the third quarter, JAKSS reported earnings per share of $1.13, which fell $0.01 shy of estimates. Both new products launch in the fall of 2013, which means they won't contribute to 2012 fiscal year sales. However the company is setting up for a huge second half of fiscal 2013.
Analysts are estimating JAKKS will earn $0.60 in fiscal 2012 on sales of $681.8 million. This sales figure is only a .3% increase from the previous year. JAKKS recently guided these numbers higher. The company is guiding for $0.68 to $0.74 in earnings per share. Company guidance for revenue calls for $690 to $700 million. An earnings beat in the fourth quarter or fiscal year could bring shares into the spotlight and start an ascension in 2013. In fiscal 2013, analysts see the company earning $0.76. Fiscal 2013 sales are expected to raise 2.3% to $697.3 million.
Shares of JAKKS trade at $13.20, towards the bottom of their 52 week range ($11.83 to $19.39). With a market capitalization of $288 million, the company is a lot smaller than rivals Hasbro and Mattel (NASDAQ:MAT). With several hit products, JAKKS has the potential to easily beat analysts' targets and deliver good returns for shareholders. The company turned down a $20 buyout and in the long run that could be the right decision. Shares traded down 10% in 2012, but 2013 is now looking up and should see shares trade closer to the $19-$20 level. If you're looking for a small cap stock to hold onto, JAKKS Pacific may be the one.
Disclosure: I have no positions in any stocks mentioned, and no plans to initiate any positions within the next 72 hours. I wrote this article myself, and it expresses my own opinions. I am not receiving compensation for it (other than from Seeking Alpha). I have no business relationship with any company whose stock is mentioned in this article.