As a former construction contractor and current part time carpenter, the orange insignia of Home Depot Inc. (NYSE:HD) has been a big part of my professional life. Even in consideration of my countless trips to the

local store for everything from tile to lumber over the years, this company never ceases to amaze me. From making money on hurricane preparation, to offering installation services for its products, to targeting "pros" as a customer base, HD has scored big time for investors as the stock has appreciated nearly 50% in the past 12 months. But what separates Home Depot from its competitors is management's ability to invest in opportunity, and exploit available markets.
Up until recently, I was a resident of Seaside Park, NJ, ground zero of November's "super storm" Sandy. The devastation is still felt today, as the rubble is still being cleared on barrier island municipalities while many people are still in temporary living situations. Many residents are still waiting for insurance companies to respond to claims, and even for those that have heard answers, some are still wondering how they will fund the total cost of repairs, or in some cases the total replacement of their homes.
I took a cruise down Route 35, the highway that spans the barrier island at the Jersey Shore from Point Pleasant down to Island Beach State Park. I was in shock as to how much work still must be done to "restore the shore". In fact, it's my estimate the repairs in this area will last for several years. During this exploration trip, I took an unprofessional video of my encounter with the Seaside Boardwalk and Pier, or what is left of it.
Judging from the scope of damage, which includes a demolished boardwalk and entire residential neighborhoods, an immense amount building supplies will be needed. Surely, this is a great opportunity for Home Depot, as they are a huge supplier of construction materials in the area. So what did Home Depot do? Management mustered up some cash, and opened a new retail location right smack in the middle of the destruction - which is roughly 10 miles from the nearest Lowe's (NYSE:LOW) and any other Home Depot Location:

Perhaps since I am so familiar with HD, I couldn't help but notice this location just a half mile from the beach. However, I noticed a big difference in the appearance of this storefront. For starters, it is much smaller than any other Home Depot I've seen. I felt it resembled a local mom and pop hardware store or a kitchen and bath showroom more so than the customary gargantuan HD warehouse: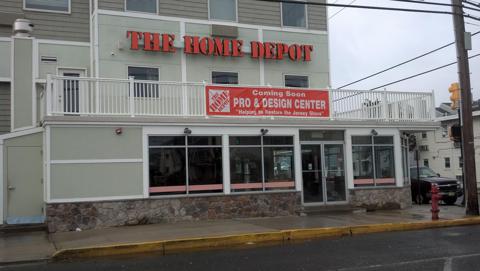 Considering HD is much larger than Lowe's and other competitors by far, it seems whoever said a large company can't be nimble and adapt quickly to opportunities is clearly wrong in this case. This location is proof HD management is quicker to the punch than Lowe's, however, there is always the possibility competitors could follow with locations on or closer to the barrier islands.
I made a call to an inland location, and a representative informed me this new Seaside Heights, NJ location will open in roughly two weeks. The representative did tell me HD has sales reps canvassing the area, perhaps to attract some business to the new store. However, the rep wasn't aware of any additional openings. Perhaps the conference call scheduled for February 26th will shed some light on any significant expansion plans into strip malls which specifically cater to the repairs of coastal regions hit by Sandy.
Sandy Tailwind is Unknown, but Coming:
Despite HD's huge footprint of 2,250 stores, revenues caused by Sandy repairs in the North East will be enough to impact topline results starting this spring and into the next several years. As per November 13th or just a week after the storm, Carol Tome, the CFO, admitted on the Q3 2012 conference call that there was minimal clarity on Sandy's impact to HD's performance going forward. She said:
As we head into the fourth quarter, we are faced with unknowns surrounding the magnitude of the damage caused by Hurricane Sandy that is home improvement-related and the speed with which impacted areas will recover. In addition, we are heading into the winter months where weather could hamper the rebuilding efforts...forecasting the impact of damage-related sales prospectively would simply be a guess. So our guidance...[will]...reflect our performance for the first 9 months of fiscal 2012..."
Then after a bit of a prod by an analyst, Tome compared the storm to Irene from last year:
Last year, we had $230 million of sales from Irene in the third quarter, $130 million of sales from Irene in the fourth quarter, for a total of $360 million of sales....so we would envision...at least $360 million coming off of Sandy. The property damage... related to Irene was about $16 billion. The property damage for Sandy is about $20 billion. So it would suggest possibly higher sales, but it's impossible for us to know right now."
What to Look For:
I feel the true impact of Sandy for HD will become more of a topic on the approaching conference call scheduled for 2/23/13, especially since a unique "ground zero" store will officially open in the coming weeks, ironically just after this call will take place. Look for February 26th's guidance to include the Sandy estimates, since prior guidance discounted Sandy as too much of a variable to accurately measure at that time. I expect Tome's comparison of Sandy to Irene back in November to be a bit of an unintentional sandbagging, as Sandy's damage is much worse than originally thought. In addition, I also expect the repairs to drag through more than just 2 quarters, as I expect them to last for at least a year and possibly more. I feel HD's expansion into ground zero supports my thesis, even though I admit it is just an educated hypothesis from a former contractor who has seen Sandy's damage first hand.
Despite its current small scale, investors should still pay special attention to this new store at ground zero and the marketing campaign coinciding. Also, any plans of a more broad expansion scheme into Sandy ground zero locations would be very exciting to hear, as I feel there is lots of money to be made "restoring the shore."
Disclosure: I have no positions in any stocks mentioned, and no plans to initiate any positions within the next 72 hours. I wrote this article myself, and it expresses my own opinions. I am not receiving compensation for it (other than from Seeking Alpha). I have no business relationship with any company whose stock is mentioned in this article.