For-profit education is arguably the most out-of-favor, worst performing industry in the past 12 months. Not only have these companies underperformed, but their business is extremely unethical and so investors have even more reason to stomp all over them. But before you take aim with your steel-toed boot, take a moment for self-reflection. Are you really a value investor? Do you actually know the nature of value investing and does that describe your investment strategy? Value investing, in my humble view, can be practically defined as buying undervalued, lucrative businesses without regard for market noise and sentiment. The ideal value investor is both intelligent and stubborn. He knows value when he sees it and he will not be swayed by those around him once he finds precious value. He will, however, always listen to new ideas as he is always on the hunt for new value. So if you are a value investor, hear me out.
The Good
What if I told you that there was a company selling for 4.5 times earnings, with cash and investments about equal to market capitalization, no debt, average annual earnings growth of 32% in the past 5 years, a capable CEO with a $2 million stake in the company, 34% ROE, and probably most impressive - 49% Return on non-cash Assets. You'd probably be quite curious and want me to continue, so I will. Bridgepoint Education (NYSE:BPI) not only has great fundamentals, it also stands up to the peer comparison test. A good way to evaluate a company is to compare it to its industry peers. For-profit education companies have been reporting almost unanimous declines in enrollment. These aren't slight declines either. Some companies have lost over 20% of their students in the past year. Not this company though. In fact this company has actually improved enrollments in the past year. This is a company that was ranked #16 in Fortune's Top 100 Fastest Growing Companies in September. This is a company that has managed to grow earnings at a lightning clip in a business environment that is hard to describe without using vulgar words. Take a look at the chart below to see what I mean: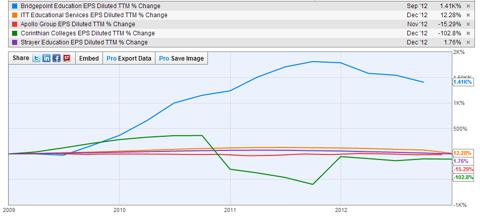 And revenues don't look so bad either: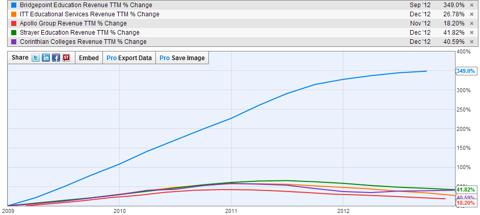 As you can see, Bridgepoint has by far outperformed the likes of Apollo Group (NASDAQ:APOL), the company behind the University of Phoenix, ITT Educational Services (NYSE:ESI), Strayer Education (NASDAQ:STRA), and Corinthian Colleges (NASDAQ:COCO), just to name a few. As previously stated this is a company with a 49% return on non-cash assets. The company's operational assets, all assets besides cash and investments, generate a 49% return every year. Companies like this don't come around very often. This means that for every dollar the company reinvests into itself, we can expect a 50% return on that dollar in one year.
As an investor reading this article, I'd have my fingers crossed hoping the company has plenty of cash on hand to reinvest into itself and make this mighty 50% return. Well you're in luck reader! Bridgepoint has $472 million in cash and investments right now, 81.3% of market capitalization, with no debt. To put this number in perspective let's compare it to Apple (NASDAQ:AAPL). Apple has been getting plenty of media attention lately for its giant cash hoard of $137 billion. This equates to 31.7% of Apple's market cap. It certainly is plenty of money, but the numbers don't lie; for its size, Bridgepoint has more than double the cash of Apple. In my last article I discussed how Peter Lynch handles cash in his valuation method. When a company has plenty of cash with no debt, he simply subtracts the cash and investments from market cap and recalculates P/E to see how cheap the company really is. If we do this with Bridgepoint, we come up with a net market capitalization of $108.4 million. Compare this to net income from the past 12 months of $134.83 million and the company is trading at a P/E of .80. That's right; you heard correctly, the company is selling for less than what it has earned in the past 12 months. I have never come across a company this cheap. I'm sure you can tell I'm excited, but you should be too, you're going to make a lot of money. But let's relax a little bit, there must be a reason the company is this cheap.
The Bad
As I said before, for-profit education is a horrible industry right now. President Obama and Congress have taken a strong stance against for-profits and are pressuring the companies to change their unethical ways. A Congressional report was released in late July, slamming for-profits for spending more on advertising than educational costs, their high withdrawal and debt default rates, and low job placement rates. The report also bashed the industry for wasting taxpayer money as they typically get 80-90% of revenues from government subsidies and grants. The report has been extremely effective in souring both investor and student sentiment on for-profits. I've read more hateful articles on this industry in the past few months than all other industries combined. People aren't just writing articles either; they're selling their stock and withdrawing from the schools. Enrollments and stock price have been in free fall for the past 6 months. On top of all this, many for-profits including Bridgepoint now face concerns over loss of accreditation. Accrediting boards are threatening to repeal accreditation if the schools don't change their cost structure and improve educational performance.
The Truth
Now after hearing all this bad news, you probably aren't as enthusiastic about Bridgepoint as you were before. What I want to explain is that the company's situation isn't really as bad as most investors think it is. In the aforementioned Congressional report, two things are said that I think are really important to keep in mind. The report stresses that for-profits, as bad as they are, do serve a unique role in America, providing cheap, convenient, online education to adult learners and students who can't get accepted into non-profit schools. The report reveals many actions that government will be taking to regulate for-profits, but never mentions anything about closures. The industry will live on, whether we like it or not. The report also mentions Bridgepoint as one of the fastest growing for-profits and one of the lowest cost schools. A bachelor's degree from Bridgepoint costs approximately $53,000, comparable to a state university price.
As for the accreditation worries, I have yet to see a for-profit actually lose accreditation. Accrediting agencies know what would happen if they took away accreditation - the school's student body would be left in the dust with no degree and credits that probably won't transfer to many other schools, if they can even manage to get accepted into another one. For this reason, they are using threats, sanctions, and reviews to improve schools, but I doubt they'd actually follow through on their threats. Until I actually see schools losing accreditation, I don't think the risk of it happening is as high as most people think. I think the risk is even lower when the company cooperates with the accrediting agency and government's demands.
Bridgepoint is certainly cooperating. In its 3rd quarter conference call, CEO Andrew Clark was adamant that maintaining Ashford University's accreditation status was the most important thing on the company's agenda. He then proceeded to go through all the things the company is doing to make this happen. They have instituted a 3 week trial program of sorts in which new students will be able to withdraw within the first 3 weeks of their first term without spending any tuition or fees. In addition, students that are not performing up to par in these first 3 weeks will be forced to withdraw by the university. Clark believes this will improve the academic quality of the company's students, so that job placement will improve and debt default rates will begin to decline. The company has also instituted an alumni networking program and a program to improve employer recognition of the company's students. This will further improve job placement.
Probably most impressive, the company is now shifting to an employee structure consisting mostly of full time teachers, which will cost more but also improve educational quality and decrease student to teacher ratios. All of these initiatives will cost money and probably lead to short-term declines in enrollment, but they will also improve retention rates and the schools' reputations among both accreditors and prospective students. Based on all these initiatives the company is taking, combined with the fact that I haven't heard of any schools actually losing accreditation yet, I believe the risk of Bridgepoint's schools losing accreditation is quite low. But wait, what happens if the schools do lose accreditation? If Bridgepoint's schools lose accreditation they will lose access to federal grants and subsidies and enrollments will surely drop quite a bit, but that isn't the end of the world. The schools will still be able to reapply for accreditation from the many educational accrediting agencies that exist in the US, and they only need accreditation from one agency. Even in the worst case scenario, there is still hope for this company.
From my valuation above, I think it is safe to say that BPI is priced for bankruptcy. It is priced such that it will cease to exist in the foreseeable future. Now from the company's earnings numbers, cash, and lack of debt, this company isn't going bankrupt anytime soon, even in the unlikely event that it did lose accreditation. I am not arguing the risk of this investment, there certainly is risk. What I'm saying is that the potential rewards far outweigh this risk. Again, BPI trades at a net P/E of 0.80 right now. If the company can recover, I believe it can become at least a 15% grower again in a few years, seeing as it's been a 30% grower in the past 5 years and still isn't terribly huge. If this did in fact turn out as I am predicting, the company would deserve a P/E of roughly 15. This suggests that an investor who bought in now could potentially make 18.75 times his investment in 2 to 3 years. That is a return that any investor would dream of. The risk is of course a 100% loss. So essentially the potential rewards are 18 times as great as the potential loss, and I believe the company is much more likely to continue to be profitable in the future than cease to exist.
Disclosure: I am long AAPL. I wrote this article myself, and it expresses my own opinions. I am not receiving compensation for it (other than from Seeking Alpha). I have no business relationship with any company whose stock is mentioned in this article.
Additional disclosure: I have no positions in BPI, APOL, ESI, STRA, or COCO, and no plans to initiate any positions in the next 72 hours.