Silver is a precious metal investors should be stocking up on right now... especially with all the money printing given the green light by the G20. There's a better chance than not we'll see all of this "QE" result in serious inflation. Of course, you can buy the metal itself, the ETF (NYSEARCA:SLV), or you can buy shares in a productive silver mining company.
If you are looking at buying shares of a silver miner that's already productive, you're going to have a tough time finding a small cap, or a junior mining company. Many of them are only in exploration stage.
This week, I've found a great alternative to one of the big-cap silver mining companies - Pan American Silver (NASDAQ:PAAS). PAAS is the second largest silver miner in the world, and has properties located in both North and South America. The company produced 6.9 million ounces of silver in the fourth quarter of 2012, with more than 25.1 million ounces of silver produced for the year. That's pretty impressive, but unfortunately for us this stock trades out of small cap range at $17 a share with a $2.6 billion market cap.
Instead, we're going to focus on a junior miner that is already producing silver, and still trades in small cap territory.
Great Panther (NYSEMKT:GPL)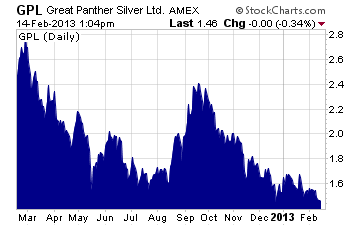 Great Panther Silver is a profitable silver mining and exploration company. GPL focuses on the mining of precious metals from its two wholly-owned operating mines in Mexico. Great Panther's mission is to become a leading primary silver producer by acquiring, developing and profitably mining precious metals - mostly silver.
As I stated above, GPL is already running profitable and successful mines in Mexico. They're also growing revenue through the acquisition and development of additional properties.
The company's two producing mines responsible for all of their production are the Guanajuato Mine Complex and the Topia Mine. As I referenced above, Great Panther also has a developmental stage mine in their San Ignacio site which the company is readying for production sometime within the next year. In fact, the company is planning further site development in mid-2013, targeting added production in 2014.
So what makes GPL a buy?
It's not the valuation when looking at the company's P/E ratio, or price to book - but rather its PSR, or price to sales ratio. You see, GPL trades at just 3.2x while the industry average is 11.6x. That's a fair apples-to-apples assessment when comparing them to their peers, and shows us there's a discount when looking at revenue. Additionally, GPL has lost its former tight correlation with spot silver prices. As a primary silver miner, Great Panther normally trades in line with the metal itself.
See for yourself: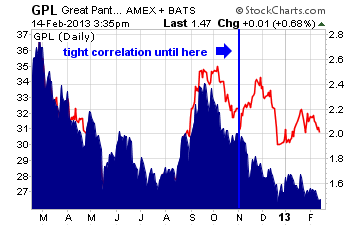 As you can see, this disconnect happened in November of last year. Once the market realizes the discount to spot silver that GPL shares now trades at, I suspect shares will be headed higher. Furthermore, Great Panther just announced record production numbers in the fourth quarter, ahead of earnings which are due out any day now.
Given the low PSR to industry average, and the unusual disconnect from spot silver prices, GPL shares are a real bargain, and worth adding to your portfolio.
Disclosure: I have no positions in any stocks mentioned, and no plans to initiate any positions within the next 72 hours. I wrote this article myself, and it expresses my own opinions. I am not receiving compensation for it. I have no business relationship with any company whose stock is mentioned in this article.