On February 14th, 2013 Berkshire Hathaway (NYSE:BRK.A) (NYSE:BRK.B) and 3G Capital announced their H.J. Heinz Company (HNZ) acquisition plans. Moody's (NYSE:MCO) and S&P both placed Heinz's credit rating on a negative watch, as a result of their projected new financial arrangements. Fitch cut the company's debt to junk.
The Wall Street Journal reports:
The buyout will more than double Heinz's debt to over $12 billion and is likely to cost the company its investment-grade rating... Heinz will sell $8 billion in preferred stock to Berkshire Hathaway to help fund the deal. Interest on that debt, along with the 9% dividend on the preferred stock, will chew up much of the company's cash flow.
Fortune's Stephen Gandel further explains:
...the deal will include more leverage than Buffett is used to...Combine that with what Heinz already owes its creditors, and the company after the deal will have about $12 billion in debt. That will result in a leverage ratio, based on cash-flow, of about 6.5 times...

But that's before Buffett's preferred shares, which look a lot like debt with a 9% payout, even if they are technically preferred stock or equity.
As a result of the ratings cut and negative credit watch, Heinz bond prices have fallen; their yields have gone up. Currently S&P rates Heinz BBB+, three notches above junk, and Moody's rates the company Baa2, two ratings above non-investment grade.
Some analysts have speculated whether Berkshire will assume Heinz's debt, though this seems unlikely:
(William Blair & Co trader Dan Hannis) said it wasn't immediately clear whether the Heinz debt, which is rated triple-B, would be assumed outright by Berkshire, which is rated in the double-A range.
Of all the Heinz bonds on the secondary market, one set is listed as call protected, (though there could be a defeasance loophole.) They are 30-year bonds the company issued in 1998.
| | | | |
| --- | --- | --- | --- |
| | Credit Rating | Price | Yield |
| Heinz H J Fin Co Gtd Nt 6.75% 2032, Make Whole Call (cusip: 42307TAG3) | Baa2/BBB+ | $104.79 | 6.31% |
| Heinz H J Co Deb 6.375% 2028 (cusip: 423074AF0) call protected | Baa2/BBB+ | $107.92 | 5.60% |
| Heinz H J Co Sr Nt 3.125% 2021, Cond Put Change Of Control, Cont Call 06/12/21@Par, Make Whole Call (cusip: 423074AM5) | Baa2/BBB+ | $101.00 | 2.98% |
| Heinz H J Co Nt 2.85% 2022, Cont Call 12/01/21@Par, Make Whole Call (cusip: 423074AP8) | Baa2/BBB+ | $100.50 | 2.78% |
| Heinz H J Co Sr Nt 2% 2016, Cond Put Change Of Control, Make Whole Call (cusip: 423074AL7) | Baa2/BBB+ | $100.93 | 1.72% |
* Please note there is a great deal of uncertainty surrounding Heinz Corp. bonds, since the recent acquisition announcement.
On February 14th the 2028 bonds traded between $113.49 and $114.72. After the negative credit watch went into effect, Heinz bond prices sank to the current listed price of $107.92. This represents a nearly 5.5% drop.
The decrease in the price of Heinz's bonds could be a benefit for Berkshire and 3G. Let's look further into the fine print, pertaining to the 2028 notes' redemption features:
VI. With respect to redemption, in whole or in part, the terms and conditions applicable to Debentures: Debentures will not be redeemable or repayable prior to their Stated Maturity.

VII. With respect to the mandatory redemption or purchase of Debentures:

A. Any provisions for a sinking or analogous fund or upon the happening of a specified event: None.

B. Provisions for redemption at the option of a holder, the period or periods within which such redemption must be made, the applicable redemption price, and the other terms and conditions of such redemption: None.
The prospectus speaks directly to highly leveraged transactions:
Unless otherwise described in a Prospectus Supplement relating to any Offered Debt Securities, there are no covenants or provisions contained in the Indenture which may afford the holders of Offered Debt Securities direct protection in the event of a highly leveraged transaction involving the Company.
Heinz's Spiraling Credit Rating
In 1995 Moody's downgraded Heinz from Aa2 to A1, in 1997 the ratings agency announced a review of Heinz for "possible downgrade." So Heinz may have wanted to take advantage of its golden A1 rating, while it lasted; to pay short-term debt. Of course by today's standards a 6.75% coupon is very attractive.
Here is a brief history of H.J. Heinz's credit rating cuts:
Downgraded to A1 from Aa2 in April 1995
Downgraded to A2 from A1 in May 2001
Downgraded to A3 from A2 in January 2002
Downgraded to Baa1 from A2 in November 2005
Downgraded to Baa2 from Baa1 in August 2006
Clearly there is a historical trend of negative outlooks and credit rating cuts; though Heinz's Baa2 rating survived for nearly 7 years.
Heinz: Worth Its Weight?
Let's check out the company's revenue quarterly compared to revenue trailing twelve months: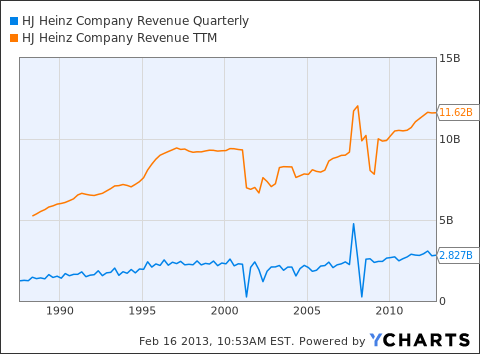 HNZ Revenue Quarterly data by YCharts
Now let's look at EBITDA and net income: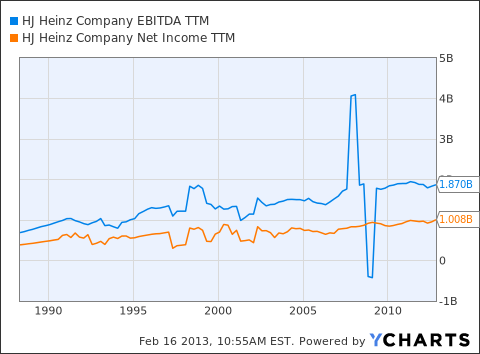 HNZ EBITDA TTM data by YCharts
Let's see if Heinz's debt is manageable: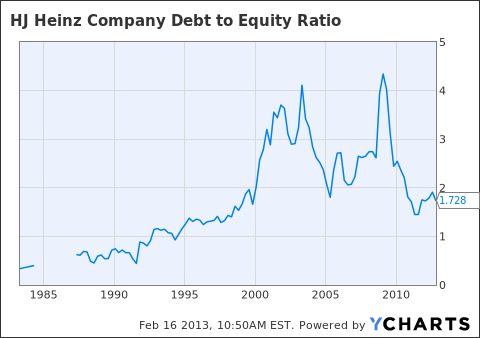 HNZ Debt to Equity Ratio data by YCharts
Heinz's credit rating stabilized, while the debt to equity ratio decreased, from 2009 through 2012. To fully understand the graph above, check out Heinz' long-term debt, cash equivalents, total assets and liabilities.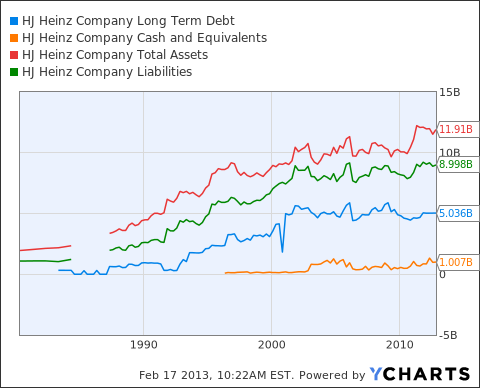 HNZ Long Term Debt data by YCharts
As Heinz's total assets have increased, so have liabilities. However, compared to the jump in total assets, long-term debt began to decline, while cash and equivalents inched up.
Heinz seems to have sailed smoothly since the economic recovery. However the acquisition seems certain to shake Heinz up; 3G Capital has a history of cutting costs:
3G hasn't dallied in previous deals to cut costs to make its debt load more bearable. The firm's last big buyout was a $3.3 billion deal for Burger King in 2010. A few weeks after taking over, the firm's management team fired about half of the 600 employees at the company's Miami headquarters, got rid of the building's executive wing and made employees get permission to make color printouts, people familiar with the matter said.
Now consider this:
Over 650 million bottles of Heinz Ketchup are sold around the world in more than 140 countries, with annual sales of more than $1.5 billion.
Barring a major tomato famine Heinz ketchup should remain on the majority of American restaurant tables. A few investors and analysts have characterized the acquisition as unspectacular relative to the $20+B price tag. Though within Berkshire's constellation of investments, the potential for 9% on $8B in preferred shares, in addition to ownership of Heinz, is anything but unspectacular.
Possible Defeasance Loophole
Though the 2028 bonds are listed as call protected, there may be a loophole. The prospectus mentions possible defeasance conditions:
The Indenture contains provisions for defeasance of [A] the entire indebtedness of this Debenture and [B] certain restrictive covenants upon compliance by the Company with certain conditions set forth therein...

The Indenture provides that the Company may elect, with respect to the Debt Securities of any series, either:

[i] to terminate (and be deemed to have satisfied) any and all obligations in respect of such Debt Securities...or

[ii] to be released from its obligations with respect to such Debt Securities under Section 1004 of the Indenture...

in either case on the 91st day after the deposit with the Trustee, in trust, of money and/or U.S. Government Obligations (as defined) which through the payment of interest and principal thereof in accordance with their terms will provide money in an amount sufficient to pay any installment of principal (and premium, if any) and interest, if any, on and any mandatory sinking fund payments in respect of such Debt Securities on the stated maturity of such payments in accordance with the terms of the Indenture and such Debt Securities. Such a trust may be established only if, among other things, the Company has delivered to the Trustee an Opinion of Counsel (who may be counsel to the Company) to the effect that, based upon applicable Federal income tax law or a ruling published by the United States Internal Revenue Service, such a defeasance and discharge will not be deemed, or result in, a taxable event with respect to holders of such Debt Securities.
To clarify defeasance, here is an example:
The use of defeasance in modern corporate finance began in 1982 when Exxon (NYSE:XOM) bought and put in an irrevocable trust $312 million of U.S. government securities yielding 14% to provide for the repayment of principal and interest on $515 million of old debt paying 5.8% to 6.7% and maturing in 2009. Exxon removed the defeased debt from its balance sheet and added $132 million the after-tax difference between $515 million and $312 million to its earnings that quarter.
The Heinz prospectus details further provisions against altering the maturity and interest:
The Indenture contains provisions permitting the Company and the Trustee, with the consent of the holders of not less than a majority in aggregate principal amount of the outstanding Debt Securities...to execute supplemental indentures adding any provisions to or changing in any manner or eliminating any of the provisions of the Indenture...provided, however, that no such supplemental indenture shall [i] change the fixed maturity of any Debt Security, or reduce the principal amount thereof, or reduce the rate or change the time of payment of interest thereon...
The Heinz prospectus also contains a clause pertaining to a potential merger or consolidation:
The Company covenants that it will not merge or sell, convey, transfer or lease all or substantially all of its assets unless the successor Person...which assumes the Company's obligations on the Debt Securities and under the Indenture and, after giving effect to such transaction, the Company or the successor Person would not be in default under the Indenture.
Since Heinz may be strapped with more long-term debt, as a result of the acquisition, debt elimination priority could focus on bonds with make whole calls first. However, credit downgrades and cuts could make refinancing prohibitive.
What Happened To Wrigley?
A few days ago the LA Times went with the headline: "Warren Buffett's Berkshire Hathaway is buying Heinz ketchup company." A more accurate headline might have read, "Heinz is paying Berkshire a massive 9% dividend to invest in it with 3G."
Often when Berkshire Hathaway is involved in a transaction, their name charges to the forefront. Though Goldman Sachs (NYSE:GS) and JPMorgan (NYSE:JPM) also played a role in financing Mars Inc.'s 2008 acquisition of Wrigley, it was Berkshire that made the headlines.
Just a couple years before Wrigley was acquired, the company had issued its first bonds in 114 years. The company's 2015 bonds still trade regularly on the secondary market:
| | | | |
| --- | --- | --- | --- |
| | Credit Rating | Price | Yield |
| Wm Wrigley Jr Co Notes 4.650% 07/15/2015 Make Whole (cusip: 982526AB1) | WR / NR | $105.71 | 2.19% |
Though Moody's rated Wrigley's newer issues on October 21, 2008 they withdrew their rating on previously issued bonds.
Moody's Investors Service today withdrew all public debt ratings of the Wm. Wrigley Jr. Company following the company's termination of all its securities registrations with the Securities and Exchange Commission
Prior to the withdrawal Moody's rated Wrigley's senior unsecured debt Ba2. In May 2011 Moody's raised Wrigley's credit rating to Ba1, and their senior secured notes were upgraded to Baa1 from Baa2.
Heinz: The Slow Pour
Heinz has a long-running advertisement campaign centered around their slow pouring ketchup, with the slogan: "The taste that's worth the wait." Similarly, investors may want to be patient, especially given interest rate uncertainty. Those who do not mind the uncertainty might consider phasing in, slowly.
Keep in mind Heinz stock went up nearly 20% from February 13th to the 14th, the bonds went down about 5.5% from the 14th to the 15th. The Heinz 2028 bonds might generate 5.5% in a year, or 20% in 3 and a half years.
Here is an example that uses an initial position in Heinz 2028 bonds, Goldman Sachs Corp. bonds, Danone (OTCQX:DANOY) stock and an income fund. I included Danone because it is closer to the middle of its 52-week range, and is currently priced lower than other food companies, like J.M. Smucker (NYSE:SJM) and Kellogg (NYSE:K).
| | | | | |
| --- | --- | --- | --- | --- |
| Portfolio Size | 2028 Heinz 6.375% | Goldman Sachs 5.5% 2032 Monthly Coupon (cusip: 38141EM71) price: $108.20 yield: 4.84% | Danone Stock price: $13.29 / Income Fund | Total / % |
| $50,000 | $1,115 | $2,200 | $200 / $250 | $3,765 / 7.5% |
| $200,000 | $2,230 | $3,300 | $350 / $350 | $6,230 / 3.1% |
| $1M | $3,230 | $4,400 | $475 / $450 | $8,555 / 0.85% |
| $2.5M | $4,460 | $5,500 | $600 / $550 | $11,110 / 0.44% |
* Please note this chart is an example. There is a great deal of uncertainty surrounding Heinz currently, since no precise direction has been given by the prospective new owners.
Instead of coupling Heinz bonds and Berkshire bonds, the point of this example is to diversify. Each Goldman bond should generate approximately $4.50 taxable income a month, for a total of $55 a year per bond. The Heinz bonds should generate $31.87 per bond semiannually. (The tax ramifications are a reason to contemplate such holdings in an individual retirement account.)
One strategy to consider would be to wait for a Moody's or S&P downgrade of Heinz's credit rating. If such a credit rating cut takes place, the prices could drop more. However, the market may be leaning towards a price that already considers a potential cut. Additionally, it is very important to watch for further information regarding 3G and Berkshire's handling of Heinz's outstanding bonds.
Think of the investor who dived into Heinz bonds, thinking the price could go up on the acquisition news -- in the near-term they were incorrect. It's easy to associate Berkshire's Aa2 rating with the companies it invests in; however this would be a mistake. That said, Berkshire and 3G's plans may instill some confidence that, according to Warren Buffett, Heinz will be in "good hands."
If you have any thoughts on the Heinz acquisition, or the company's bonds please leave a comment below.
Disclosure: I am long BRK.B, K, SJM, OTCQX:DANOY. I wrote this article myself, and it expresses my own opinions. I am not receiving compensation for it (other than from Seeking Alpha). I have no business relationship with any company whose stock is mentioned in this article.
Additional disclosure: I am long Berkshire and Goldman Sachs Corp. bonds and I am considering a long position in the Heinz 2028 Corp. bonds. This article is not a recommendation to buy or sell, please consult a financial adviser to determine proper allocations (if any) to suit your objectives.