Shares of Target (NYSE:TGT) recently took a hit when it was reported in an email to Bloomberg that Wal-Mart's (NYSE:WMT) February sales were a "total disaster." Target is one of my favorite dividend growth stocks and I am excited about the drop in share price, based purely on the rumored sales results of a competitor. While I generally look for a 10 - 15% dip before adding to a position, I believe that with great companies that are committed to raising their dividend, any drop in share price creates a buying opportunity.
Target Corp. is a dividend champion and has been raising its dividend for 45 consecutive years. It currently pays out $0.36 per share quarterly for an annual payment of $1.44 per share. At Friday's closing price of $61.71, the resulting yield is 2.30%. Dividend growth has averaged 18.6% annually for the last ten years and the growth rate has even accelerated over the last few years.
Target Dividend Growth Rate

10 year

18.6%

5 year

20.5%

3 year

24.7%

1 year

20.0%
The following chart shows the consistent dividend growth and low payout ratio for Target. Because Target is paying out less than 30% of its earning as dividends, there is significant room for growth even if earnings stay stable. Assuming a 15% dividend growth rate moving forward, shareholders will enjoy a 4.3% yield on cost in 5 years and over 8.5% yield on cost within 10 years based on the current share price.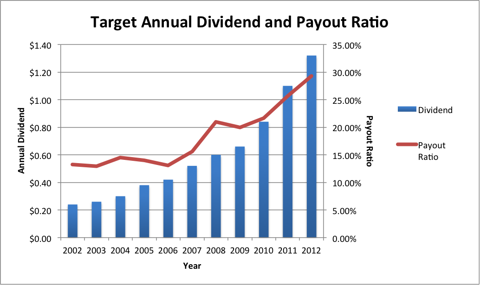 Target continues to grow revenues and earnings, which will allow them to continue their robust dividend increases. This chart shows how revenues have grown consistently since 2004 and earnings have a strong upward trend, with a small dip during the recent recession.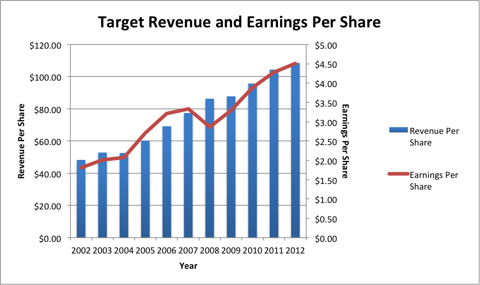 There are concerns that the recent payroll tax increase will put pressure on the entire retail sector, but Target recently reported that same-store sales rose 3.1% in January.
I will be looking for the Target share price to pull back even more if the retail sector hits a bump this quarter or the broader market declines. If Target dips to $60, it would have a yield of 2.4%, if it pulls back to $55, the yield would be 2.62%, and if it dropped all the way to $50, the yield would be a very solid 2.9%.
Target is a strong company that will give investors protection from steep share price declines and reward investors with a growing dividend payout. Target is an example of a stock I want to buy and hold for the long run and as I said before, every dip in price creates a buying opportunity.
Disclosure: I am long TGT. I wrote this article myself, and it expresses my own opinions. I am not receiving compensation for it (other than from Seeking Alpha). I have no business relationship with any company whose stock is mentioned in this article.