Something quite amazing happened this weekend. When looking at Amazon.com's (NASDAQ:AMZN) best sellers' list, I saw that a Garmin nuvi GPS had gone all the way up to the top spot in electronics, as pictured below.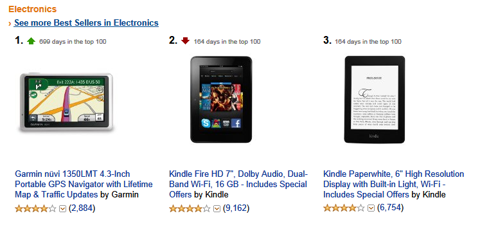 Why is this amazing? Some time ago I wrote how an Apple TV getting to 3rd place in that list gave us a clue as to how many units the surrounding products must be selling. Now the Garmin GPS takes that reasoning even further. The reason is simple -- the Garmin GPS in question should sell a whole lot less than the Apple TV because Garmin (NASDAQ:GRMN) sold just 3.7 million units of its entire product range in its latest reported quarter (Q3 2012). The Garmin GPS in question is but one reference out of about 20 PNDs (Personal Navigation Devices) in Garmin's automotive segment, which also includes OEM (Original Equipment Manufacturer) devices integrated into vehicles. And the automotive segment itself represented 57% of Garmin's overall revenues in this quarter.
So, roughly speaking, Garmin sold 3.7 million units overall, 57% of that is 2.1 million, and 1/20th of that is 105,000. Obviously, the PND segment probably sells more units, and this model in particular might be more popular, so let's say 200,000 - 300,000 units/quarter. Of that, even if Amazon.com had incredible success since the model in question is outdated, discounted and being substituted, perhaps it was selling say 50%...100,000 - 150,000 units, a wildly optimistic estimate for sure. Now imagine the implication -- the entire Kindle range is being temporarily outsold by a product which one can optimistically expect to sell 100,000 - 150,000 units in a single quarter on Amazon.com. For sure, this will be temporary and ultimately the Kindles will regain their top spots, but it's still amazing how slowly they must be selling. (We cannot know for sure, since Amazon.com isn't saying.)
A further implication
Not only does this event imply that the Kindles are selling slowly, but it also highlights a further implication which I've also mentioned in the past: adverse selection.
Amazon.com's sales are consistently very influenced by adverse selection -- the item selling the most is regularly an item under promotion, be it this GPS, the Kindle Fire 8.9 HD two weeks ago when it also took the top spot under a promotion, the Kindle Fire 7 HD again after showing up discounted $50 when bought with an Amex card, etc, etc. The sales are always going towards the items being discounted.
In short, AMZN is a lousy business which sells mostly when it prices its products lower than the competition. A good business is precisely the opposite. Apple (NASDAQ:AAPL) doesn't have to be the cheapest product to sell; Microsoft (NASDAQ:MSFT) doesn't have to sell the cheapest OS; Intel (NASDAQ:INTC) doesn't have to sell the cheapest CPU to sell. Because of this, those companies can sustain interesting profit margins. Amazon, however, can't - because if it doesn't price lower, it doesn't sell.
The long tail
Quite often it is said that Amazon.com is not just about the price but also about the selection. This is true, and it really is an exception to Amazon.com selling on price -- Amazon.com does manage to sell long tail products when the competitors don't have them. But:
Those are intrinsically low volume;
They aren't available elsewhere precisely because of the low volume. It's unprofitable to sell slow-moving items -- that's the reason most competitors don't carry them.
It's quite impressive just how structurally bad Amazon.com's business is -- and how it gets celebrated in spite of that.
Conclusion
Seeing a low-volume item under promotion hitting the top of Amazon.com's best sellers' list once again highlights Amazon.com's exposure to adverse selection -- with a whole cottage industry of consumers standing ready to pounce on its promotions, as well as the seemingly low volume the Kindles are pulling at this point.
This event shows that Amazon.com's ability to obtain decent margins is highly compromised by its discount nature. Amazon.com sells when it prices its products lower, it doesn't sell otherwise. This is in stark contrast to highly profitable businesses which, consistently, are not forced to be the lowest price suppliers in order to sell.
There are exceptions to this rule. A low cost provider can be the lowest price provider and still thrive. Such is the case with Wal-Mart (NYSE:WMT) or Costco (NASDAQ:COST). At this point, though, we don't have reasons to believe such is the case with Amazon.com. In order for Amazon.com to be the lowest price provider, it has had to compromise its margins entirely to the point where it posted a whole-year loss during 2012. No such thing ever happened to Wal-Mart or Costco while leading on price.
In short, Amazon.com is a fundamentally compromised stock trading as if it were the high-growth, high-margin winner that it isn't. We'll see how it handles the slowdown in revenues that was already quite apparent in this latest quarter and is set to continue getting worse.
Disclosure: I am short AMZN. I wrote this article myself, and it expresses my own opinions. I am not receiving compensation for it (other than from Seeking Alpha). I have no business relationship with any company whose stock is mentioned in this article.