Overall my portfolio is considered conservative with a majority of it in cash and bonds seeking capital preservation. The remainder is allocated to riskier income producing investments that fluctuate as a percentage based on macroeconomic indicators. These investments include high yield bond funds, business development companies "BDCs", MLPs, REITs, utility funds, and defensive stocks. However, the majority of these investments are currently in BDCs. A general description of a BDC and my evaluation criteria are noted at the end of this article.
No matter how much analysis you put into picking good stocks there will always be surprises, so out of the 30 or so BDCs I pick among the top 10 to 15 and weight according to my views of risk vs. return. I keep turnover to a minimum but if there are any significant changes or more attractive BDCs I will rebalance to optimize risk/return ratios. Also as economic events occur I will carefully use buys and sells to fine tune my allocations. Even though I sometimes identify BDCs as "The Good, The Bad, and The Maybe" it's not that simple and each person has different needs when it comes to investing and what is appropriate for them. There is no perfect BDC so I pick among the top companies that complement each other to match my investment needs.
To minimize risk I balance my exposure to any one given industry and consider things like secured vs. subordinated debt, portfolio yield, fixed or floating rate loans, leverage and volatility ratios. Each quarter they report the companies in their portfolio by industry. Some BDCs are more weighted in technology like TICC Capital (TICC) and New Mountain Finance (NYSE:NMFC), or energy like NGP Capital Resources (NGPC), financials like KCAP Financial (NASDAQ:KCAP), healthcare like Horizon Technology Finance (NASDAQ:HRZN) and Hercules Technology Growth Capital (NASDAQ:HTGC), industrials and materials like Gladstone Investment (NASDAQ:GAIN). When I look at my overall BDC portfolio by major industry sector it has the following allocations: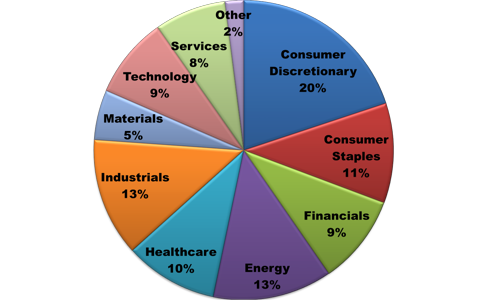 When looking at a company's investments I consider the amount of loans that are secured 1st lien, subordinated/mezzanine, or even preferred/common equity, as well as the portfolio yield. The chart below shows the different investing philosophies for PennantPark Floating Rate Capital (NASDAQ:PFLT) and PennantPark Investment Corporation (NASDAQ:PNNT).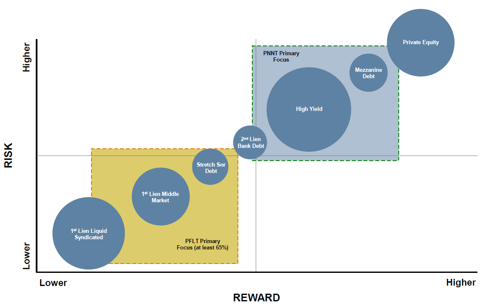 PFLT has 87% in senior secured loans, 6% in second lien secured debt and 7% in subordinated debt, preferred and common equity investments, with a weighted average yield on debt investments of 8.9%. Whereas PNNT has only 29% in senior secured loans, 20% in second lien secured debt, and 51% in subordinated debt, preferred and common equity with a weighted average yield on debt investments of 13.3%.
Having a portfolio mix at the safer end of the capital structure is usually better from a risk standpoint but might pay less in dividend yield (PFLT pays 7.3% and PNNT pays 9.8%). The chart below shows the targeted rates of return by asset class for Ares Capital (NASDAQ:ARCC):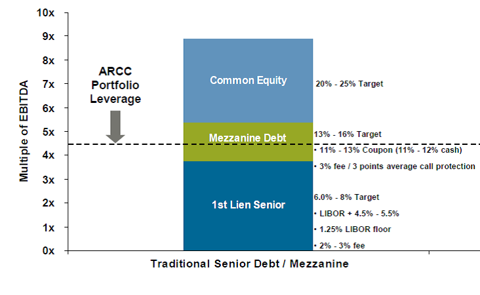 Another consideration is fixed vs. floating rate loans. In this unusually low interest rate environment having the flexibility to participate in the potential for rate increases can be beneficial. PFLT has 85% of its portfolio in floating rate investments, including 81% with a LIBOR or prime floor. Alternatively, companies like PNNT, Apollo Investment (NASDAQ:AINV), and Medley Capital (NYSE:MCC) have 50% to 70% in fixed rate loans. I like to have a mix of fixed and floating rate loans to reduce sensitivity to rate changes and the impacts on income and/or portfolio NAVs.
The amount of leverage a company uses to increase return on capital also has its pros and cons depending on changes in the economy and how effectively management uses debt. I keep leverage and volatility ratios as low as possible but for some of the higher return BDCs it's unavoidable. This can increase your returns during up markets and losses during down markets so I try to have an acceptable average for the portfolio. Some of the lowest levered BDCs are American Capital (NASDAQ:ACAS), TCP Capital (NASDAQ:TCPC), and THL Credit (NASDAQ:TCRD) with debt to equity between 0.10 and 0.15 and some of the more leveraged companies like HTGC, Medallion Financial (TAXI), and Golub Capital (NASDAQ:GBDC) at 0.90 or higher.
I have a balance between more stable and established companies vs. rising stars that are newer, smaller cap, and sometimes have higher growth. Some of the more established BDCs have been around for almost 10 years or longer including ARCC, AINV, Prospect Capital (NASDAQ:PSEC), and ACAS with market caps greater than $1 billion. Some of the newer companies include TCPC, MCC, TCRD, and HRZN that have become public post-recession and have market caps less than $500 million.
The average dividend yield for BDCs is around 9% if you do not include ACAS which does not pay a dividend. The lowest yielding companies in the group are Main Street Capital (NYSE:MAIN) at 5.6% and MVC Capital (NYSE:MVC) with 4.3% and the highest are PSEC at 11.6% and Full Circle Capital (FULL) with 11.7%. However, some of the companies that have lower than average yields consistently increase dividends over time like MAIN, TCRD and Triangle Capital (NYSE:TCAP). Ideally the yield would match the risk associated with the stock. My simple and weighted average for the portfolio is 8.9%.
Everyone has different investment needs depending on appetite for risk, income, and/or capital gains which is why my 'ranking' tables can be misleading because in reality people should weight each category based on personal needs. There is no perfect BDC though through diversification I hope to reduce risk, match or outperform the market, and balance my own personal needs. Obviously everyone needs to do their own research to align investments with individual goals.
Business Development Companies in General: BDCs lend to small and mid-sized businesses, with limited financial leverage, paying out most of their income to investors and pay little to no corporate tax. They operate in a market that is mostly overlooked by banks and their non-bank structure gives them flexibility to invest in multiple levels of a company's capital structure. Despite all the focus on investor yields BDCs seem to go unnoticed, in part due to the relatively small industry market cap of around $25 billion, but currently yielding 9% dividends on average.
Evaluation Detail: A well-managed BDC will have net investment income that matches distribution and I try to normalize EPS assuming they deploy capital consistently and consider analyst earnings expectations. Many of the typical market risks are involved with investing in BDCs; I focus on portfolio composition including credit quality, industry diversification, and investment concentrations, as well as market cap, volatility and leverage ratios, institutional ownership, and interest coverage. My primary concern regarding payout is if the company can sustain current distribution levels, consistency, and potential for increases. Analyst opinions are important but seem to be more of a lagging indicator. The metrics I use for relative valuation are mostly based on earnings and book value.
These are the five general criteria I use to evaluate BDCs:
Profitability (EPS to cover dividends, growth)
Risk (diversification, volatility, leverage)
Payout (sustainable, consistent, growing)
Analyst Opinions
Valuation (P/E, PEG, NAV)
Disclosure: I am long PSEC, PNNT, MCC, TCPC, TCRD, TCAP, ARCC, MAIN, HRZN. I wrote this article myself, and it expresses my own opinions. I am not receiving compensation for it (other than from Seeking Alpha). I have no business relationship with any company whose stock is mentioned in this article.