Intel's (NASDAQ:INTC) poor Q4 performance may be attributed to factors such as: rumors of Apple (NASDAQ:AAPL) manufacturing its own processors, a 6.4% drop in domestic PC sales, and a lack of presence in the mobile market. Although the results were less than stellar, they were in-line with company expectations. The drop in price, starting from mid-2012 and leading up to the holiday season, hit stock owners particularly hard. After reaching its 52 week low of $19.23, many potential investors are now dubious of buying in.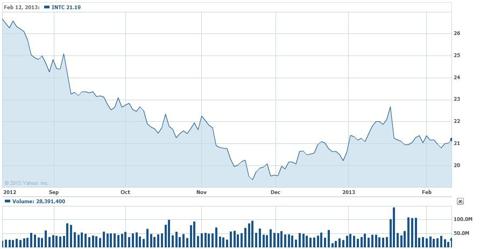 While it's true that Intel is currently having trouble maintaining its track record, any company of its size and stature could experience similar problems. Growth is understandably more difficult as an industry leader. 2013 has yielded many opportunities for Intel in both old partnerships and new industries. With a resurgence into the TV industry, new technology from Apple, and growing international appeal, I expect Intel to rise from its current stock price of $21.25 to the Lazard Capital price target of $26.00 in upcoming months.
Re-entering the TV Industry
Intel has had one foot in the TV industry for quite some time. As of February 13th, Erik Huggers, the head of Intel media, has announced that Intel will be releasing a new internet-based TV and box. The product will allow Intel to recover from past failures in the industry and hopefully enhance the company's' brand. Intel's goal is to "revolutionize the TV industry." Hiring employees from Apple, Netflix (NASDAQ:NFLX) and Google (NASDAQ:GOOG), Intel is collecting talent from already successful companies to create a consummate product that will provide consumers with "literally everything." Apart from creating a TV box, Intel has also announced that the service will be accessible on mobile platforms. The combination of both services at home and on the move also allows Intel to take full advantage of the prominent mobile market. The success of this product has yet to be seen, but it shows that Intel is taking steps in the right direction.
Apple Smart Watch
Having worked with Apple for over 7 years, Intel is rumored to provide the future microprocessor for Apple's new Bluetooth wristwatch. If you are not overly familiar with Apple devices, the current laptops are powered by Intel, while the mobile devices are powered by ARM (NASDAQ:ARMH). The fact that Intel was not able to provide processors for the enormously popular iPhone and iPad plays into the stigma that Intel missed the mobile market. Having an Intel processor inside Apple's new mobile product is beneficial for Intel's recognition and revenue.
There have been other attempts at manufacturing smart watches, but they have not produced a strong consumer response. If we look at Sony's (NYSE:SNE) attempt, we can see the problems associated with the technology. Issues with the display and unintuitive user-interface have led to numerous complaints aimed at the product. However, innovation has been at the forefront of Apple's products. If Apple sticks to its guns and introduces a revolutionary product to the market, I expect both Intel and Apple to greatly benefit from this deal.
Emerging Markets
Taking a step away from American developments, we can see that Intel can also gain substantial revenue internationally. There has been an estimated 6% growth of Intel powered PCs this year for emerging markets, compared to only 1% in 2012. Countries such as China, Brazil, Indonesia, and Russia, are experiencing strong GDP growth, providing residents with an increase in disposable income. With more disposable income comes a rise in the likelihood of PC purchases. This enables the emerging market to eventually reach a critical point, where Intel powered PCs will become increasingly commonplace. By 2016, it is expected that over 40% of all PC shipments will come from these aforementioned markets.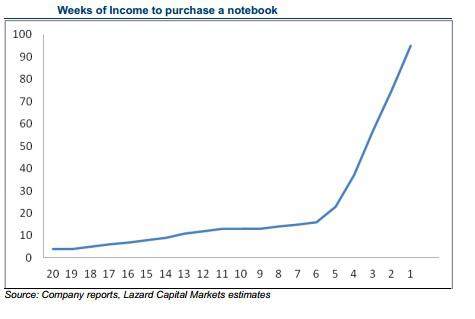 This should provide some comfort to investors because emerging market revenues may grow by almost 13% in 2014. On top of this, EPS is projected to also increase 13% by the end of FY13. If Intel continues to invest, there is a strong possibility that they will penetrate these new markets and gain a lasting consumer base for future products.
Conclusion
Due to the nature of Intel stock, large deviations may be improbable, but we can expect Intel to reach the price target. While the TV service and the Apple wristwatch are far from completion, we can see it as a strong beginning to a year of development for the company. Compounded with a growing international presence, my recommendation is to buy.
Disclosure: I have no positions in any stocks mentioned, and no plans to initiate any positions within the next 72 hours. I wrote this article myself, and it expresses my own opinions. I am not receiving compensation for it (other than from Seeking Alpha). I have no business relationship with any company whose stock is mentioned in this article.
Additional disclosure: Business relationship disclosure: Capital Traders Group is a team of Proprietary Trading and Equity Research Analysts. This article was written by Scott Shi, one of our Equity Research Interns. We did not receive compensation for this article (other than from Seeking Alpha), and we have no business relationship with any company whose stock is mentioned in this article.