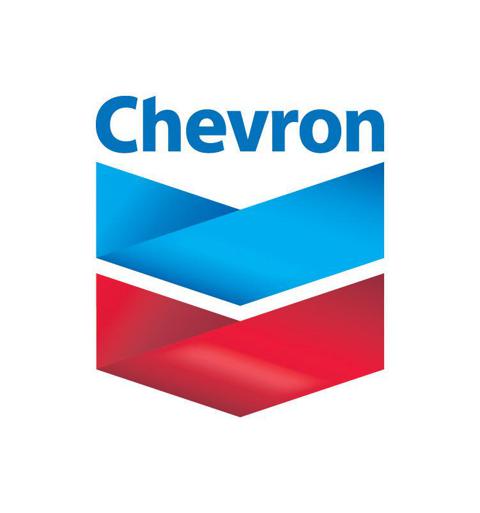 Over the last decade shares of Chevron Corp. (NYSE:CVX) have appreciated 259%. As the following chart shows, CVX has outperformed all its peers in the integrated oil group. Only Statoil (NYSE:STO), with a gain of 240%, even comes close. Exxon Mobil (NYSE:XOM), the world's largest publicly traded integrated oil company and often considered the best, has had a 162% increase - almost 100% behind CVX. The trio of European oil companies: Eni (NYSE:E), Total (NYSE:TOT), and BP (NYSE:BP), bring up the rear with gains of 62%, 50%, and 8%, respectively. The chart was getting pretty busy, so I left off Royal Dutch Shell (NYSE:RDS.A). Shell was at the bottom of the list at 7.38%, even lower than BP with all its problems.
This begs the question: Is Chevron the best integrated oil company in the world? Answer: YES.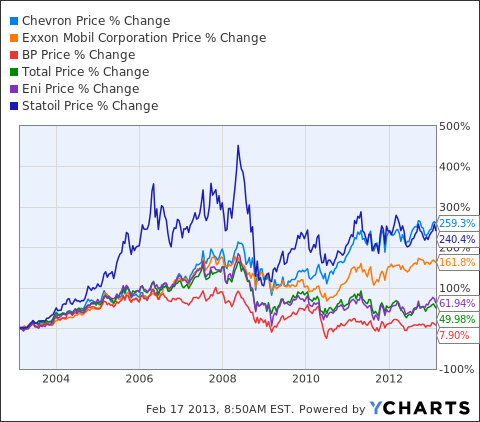 The chart above does not take into account dividends, so I have summarized dividend payouts along with some other relevant metrics in the chart below.
Company

Div.

Yield

EPS

(TTM)

P/E

Q4 2012

Production

(mmboe/d)

Chevron

$3.60

3.10%

$13.32

8.63

2.67

Statoil

$0.91

3.50%

$3.78

6.79

2.03

Exxon Mobil

$2.28

2.60%

$9.70

9.11

4.29

Eni

$2.23

4.70%

$5.44

8.70

1.75

Total

$2.60

5.20%

$6.11

8.18

2.29

BP

$2.16

5.10%

$3.62

11.58

2.29
Financial Data Source: Yahoo Finance. Production Data: Company Earnings Reports.
Compared to its closest challengers (STO & XOM), Chevron pays a competitive dividend - modestly lower than STO and half a percent above industry laggard XOM. Inclusion of a dividend would bring STO closer to CVX in terms of total return.
CVX vs. XOM
Market Valuation
It's interesting to compare the P/E ratios of Exxon and Chevron. The market is giving XOM a substantially higher P/E even though 2012 production declined 5.9% at XOM while increasing slightly at CVX. The valuation of the two companies is even harder to understand when lower priced natural gas is currently about 50% of XOM production and only about 33% at CVX. And then there is CVX's higher dividend yield. It's hard to understand the market valuation of these two companies - it seems backwards to me. But let's continue the comparisons.
Profit Per Barrel: CVX Leads the Pack
Perhaps the most telling compelling reason CVX should trade at a premium to XOM is because it is more efficient when it comes to generating profits on every barrel of oil. An excellent article by Christopher Helman at Forbes contained a chart (shown below) which shows CVX's profit per barrel at some $4 over that of XOM.

This is in part due to CVX's higher weighting in oil production as compared to XOM. However, as detailed in the Forbes article, I think management also has much to do with the outperformance. While XOM is generally regarded as paying top-dollar for XTO's natural gas production and reserves, Chevron CEO John Watson shrewdly picked up some prime Permian Basin west Texas acreage recently from struggling Chesapeake Energy (NYSE:CHK) at what some analysts believe was at a very favorable price.
Chevron's largest shale deal was late in November 2010, well after natural gas prices fell substantially, when they bought Atlas Petroleum for $4.3 billion. Atlas was a leading Marcellus shale gas producer. The Forbes story contended Watson went after Atlas:
...because it already had a deal with India's Reliance Industries to put up $1 billion toward the cost of drilling wells. As a result, says Watson, "we can drill very economically down to the prices that we have today."
CVX: best of breed.
Capital Expenditures
CVX's capital expenditures have exceeded $100 billion over the past five years. As Helman points out in the Forbes article, Chevron will invest around $37 billion this year alone - about the same as Exxon Mobil despite having roughly half of its market cap ($225 billion versus $400 billion). It seems Chevron would rather invest more in its future oil production than in stock buybacks (see below).
Cash & Debt
But the large capex doesn't seem to have affected CVX's balance sheet. The company has about $22 billion in cash, and net debt is only $12 billion. In comparison, at the end of Q4, XOM had more debt than cash: $11.6 billion in debt and only $9.9 billion in cash.
Despite oil analyst Paul Sankey's continuing urgings for CVX to return some of this cash-on-hand to shareholders, I'm fine with Watson holding onto it for a rainy day. I'll take stock price appreciation any day over the massive stock buybacks that some competitors plow money into.
Advantage: CVX.
Rewarding Shareholders: Dividends Or Share Buybacks
For full year 2012, CVX returned roughly $7 billion in dividends directly to shareholders and spent $5 billion on share buybacks.
In comparison, XOM returned a total of $30.1 billion to shareholders in 2012. Yet only $10 billion of that (1/3) was in dividends directly to shareholders. That is, XOM spent $20 billion dollars on share buybacks in 2012. Considering XOM was up only 3.2%, and has the lowest dividend yield in its peer group, an investor has to question the value of XOM spending twice as much on share buybacks as it does in dividends.
CVX clearly wins over XOM on total shareholder returns.
The Future
But the past is not the future. Eventually oil company performance comes down to increasing oil and gas production. Watson says Chevron is on a path to boost the company's oil and gas volumes by 25% to 3.3 million barrels per day in just four years. He plans to do this on the back of LNG plants, deepwater developments of massive oil fields, and unconventional shale production. In my mind, Chevron's future success lies primarily in its execution of three major projects - the biggest of which is its massive Gorgon project.
Gorgon is a $52 billion liquefied natural gas (LNG) joint venture in Australia that's one of the biggest infrastructure projects in the world. Gorgon will produce the equivalent of 450,000 barrels of oil per day (half of which goes to operator Chevron) when it comes online in 2014. CVX recently announced yet another (its 20th) discovery offshore Australia. With over 50 TCF of gas discovered nearby, Gorgon should provide steady cash flow for at least the next 40 years. There is so much gas in the Gorgon area, Chevron and its partners Shell and Apache (NYSE:APA) have decided to invest $29 billion in another LNG project nearby: Wheatstone.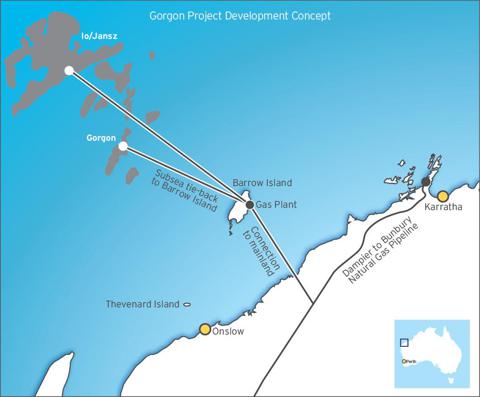 As I reported in my recent article on Chevron Phillips Chemical Company ("CPChem"), Chevron CEO Watson announced on the Q4 conference call that the Jack and St. Malo projects in the deepwater Gulf of Mexico were 60% complete. This project will have a capacity of 170,000 barrels of oil and 42.5 million cubic feet of natural gas per day. The fields are estimated to contain combined total recoverable resources in excess of 500 million oil-equivalent barrels. Chevron has working interests of 50 percent in the Jack field, 51 percent in the St. Malo field, and 50.67 percent in the host facility.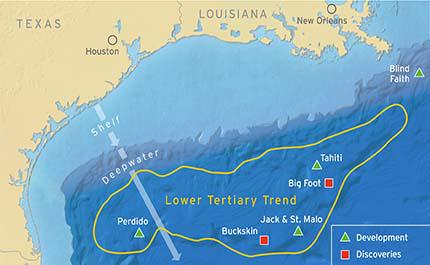 The Big Foot project is also in the Gulf of Mexico. The development will have production capacity of 75,000 barrels of oil and 25 million cubic feet of natural gas per day. Discovered in 2006, the Big Foot is estimated to contain total recoverable resources in excess of 200 million oil-equivalent barrels. Chevron has a 60 percent working interest in the Big Foot project.
Production Growth
Taken together, these three projects alone will add significantly to production and they are all coming on stream in 2014. Here is Chevron's percentage takes on the three projects discussed above:
Gorgon: 225,000 boe/day
Jack & St Malo: 88,500 boe/day
Big Foot: 39,500 boe/day
So we are looking at a combined 353,000 boe/day of added production when these projects are operating at full capacity. To put that in perspective, that is over twice the average daily production EOG Resources (NYSE:EOG) had in 2012.
Risks
The primary risks for Chevron are:
Operational Execution
"Existing Issues"
On the operational front, the company will have to deal with the increased costs associated with the Gorgon project as wage, price, and FX inflation have combined to significantly increase the cost of the project. And, as with any oil company developing off-shore projects, it must execute its deepwater projects safely and without creating any large environmental issues. On this front, it is of some confidence to know Chevron has safely and successfully drilled seven exploration and appraisal wells at the Jack and St. Malo fields since 2003. Likewise, in the process of defining the Big Foot structure, three exploration and appraisal wells with multiple sidetracks have been drilled safely and successfully in the field. This bodes well for the company's success in the GOM.
The "existing issues" include on-going legal battles associated with Ecuador. CVX contends the suit is a product of bribery, fraud, and it is illegitimate. Recently, in a sworn declaration filed today in New York federal court, Alberto Guerra, who presided over the case when it was first filed in 2003, reveals that he was paid thousands of dollars by the plaintiffs' lawyers and a subsequent judge, Nicholas Zambrano, for illegally ghostwriting judicial orders issued by Zambrano and steering the case in the plaintiffs' favor. Guerra, who is no longer a judge, attests that the plaintiffs' lawyers were permitted to draft the $18 billion judgment in their own favor after they promised to pay Zambrano a $500,000 bribe out of the judgment's enforcement proceeds, and that Guerra then reviewed the plaintiffs' lawyers draft for Zambrano before the judge issued it as his own.
And then of course we have the on-going saga of the Frade field in Brazil. In late 2011, an oil slick appeared on the surface of the water near where Chevron was drilling a well. About 2,400 barrels of oil seeped out from the seafloor to the surface. Chevron attempted to capture the oil, and what it didn't capture dissipated in the sea with no lasting sign of environmental damage. Brazil over-reacted and a Brazilian prosecutor sued Chevron for $22 billion in damages. Even Petrobras , which owns 30% of the Frade field, called it unreasonable.
In December of 2012, Chevron offered to settle with the Brazilian government for $150 million, an amount CEO Watson says "seemed commensurate with what transpired." Given Petrobras' on-going financial problems, and the recent extreme drop in its stock, I would suspect Brazil is probably as anxious to get Frade production back up-to-snuff as quickly as is Chevron. Expect a settlement soon.
Lastly, we have the Nigeria incident of January 2012 where a Chevron rig was drilling a high-pressure gas well 6 miles off the coast. There were 154 personnel on the rig and a support barge, and 152 were safely evacuated. Tragically, the fire claimed two lives. On March 2, the fire at the well was extinguished when a portion of the well sealed itself. There was little environmental damage since the well was mostly gas. No settlement on this incident has been announced. Chevron has since sealed and abandoned the shallow water well after completing the drilling of a relief well. Production at the North Apoi field, which had been shut in as a precaution, has also been restored and the field is now producing approximately 2,000 barrels of oil per day.
While these issues are to be taken seriously, the Frade case certainly seems blown way out of proportion. On the other hand, the Ecuador case will only end when the plaintiffs' lawyers give up. However, the recent admission of bribery by the original presiding Judge seems to corroborate what Chevron has been saying all along. With respect to Nigeria, I honestly have no idea what it will take the settle that incident.
Perhaps these issues are one reason Chevron is hanging on to its $22 billion cash hoard. That said, I'd be surprised if all three issues together amounted to more than $2.5 billion, tops. More possible is something on the order of $1 billion for all three, and that's with something thrown in for Ecuador just to settle it and move on.
Summary
At the end of the day, Chevron's financial performance is at the top of the heap, and the stock deserves to be valued as such. That it trades at a market discount to XOM is very surprising. I doubt it will stay that way much longer. 2014 looks to be a great year for the company. Chevron is a STRONG BUY. Given a functioning global economy (sans a financial disaster of some sort...), my target is $150/share in the next twelve months. In addition, I see a substantial increase in the dividend and a stock split. Investors who like energy companies should seriously consider CVX. It truly is the world's best integrated oil company.
Disclosure: I am long CVX, STO, XOM. I wrote this article myself, and it expresses my own opinions. I am not receiving compensation for it (other than from Seeking Alpha). I have no business relationship with any company whose stock is mentioned in this article.
Additional disclosure: I am an engineer, not a CFA. Please do your own research and contact your investment adviser. I am not responsible for investment decisions you make. Thanks for reading and good luck!