Seth Klarman is a well known value investor that founded the Baupost Group in 1982. Baupost's assets were $30 million in 1982 and grew to $29.4 billion last year, making Baupost one of the most successful hedge funds. Baupost and Klarman are known for emphasizing risk management, including refraining from high usage of leverage, and often maintaining significant cash holdings. This is a review of the purchases and sales made by Baupost last quarter. This only includes U.S. equities, while Baupost is also known to hold substantial positions in debt instruments, real estate, private businesses, hedges and cash.
Added Position:
According to Baupost's latest 13F-HR, filed on February 13, 2013, the fund increased its positions in several of Baupost's already existing investments during the fourth quarter of 2012, but added only one new position. The sole new U.S. equity position taken by Baupost in the fourth quarter of 2012 was American International Group (NYSE:AIG). Baupost acquired seven million AIG shares, which were worth about $250 million by the end of 2012. AIG has appreciated since the start of 2013 and now trades slightly above its Q4 2012 trading range. Below is a recent performance chart for AIG: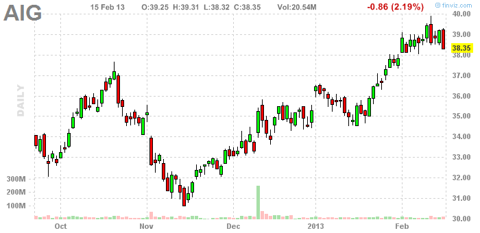 Baupost listed multiple position increases during the last quarter of 2012. Baupost also bought more Idenix Pharmaceuticals (NASDAQ:IDIX), a position the fund first acquired in Q2 of 2011. The company peaked around the start of 2012, and subsequently declined by over 70 percent. Baupost acquired 8.7 million shares of the company last quarter and bought two million shares the previous quarter, bringing the total to around 20.7 million shares at the end of 2012, or about 15.4% of the company worth around $100 million. Below is a performance chart for IDIX: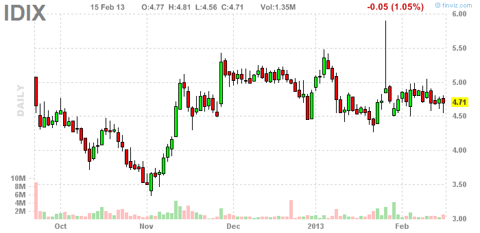 Baupost purchased more of both NovaCopper (NCQ) and Novagold (NYSEMKT:NG). Baupost's position in NovaCopper increased by about 400,000 shares after doubling in Q3 of 2012. The total position is minor to the portfolio, representing a fraction of one percent of Baupost, but it is a large position to NovaCopper, representing about 9.64% of the company. Below is a recent performance chart for NCQ: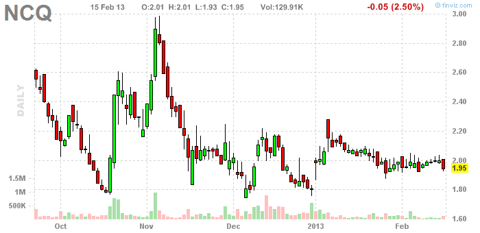 Boost first acquired shares in NCQ through its spinoff from NovaGold in Q2 of 2012. Klarman has been acquiring shares in NovaGold Resources for about 1.5 years. Klarman continued the trend of consistently purchasing NovaGold, but acquired far less last quarter than had been the investment fund's trend, but now owns almost seven percent of the $1.1 billion dollar company and its speculative Alaskan gold prospecting claim. See a recent performance chart for NG: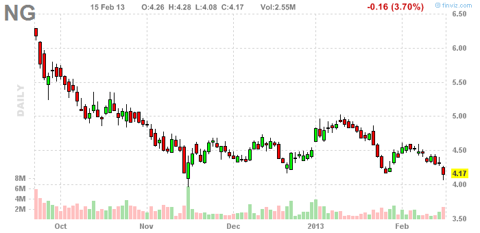 Baupost also purchased more Viasat (NASDAQ:VSAT), which now accounts for about 13 percent of the fund's U.S. public equity portfolio. Baupost first purchased Viasat shares in 2008 and has acquired more over time. Last quarter, Viasat added 250,000 shares, which is a minor addition to the fund's large position in the satellite provider. Baupost now owns 11 million shares of the company, or almost one quarter of the equity. The company recently spiked up to the higher end of its price range and above any possible purchase price last quarter. Below is a performance chart for VSAT: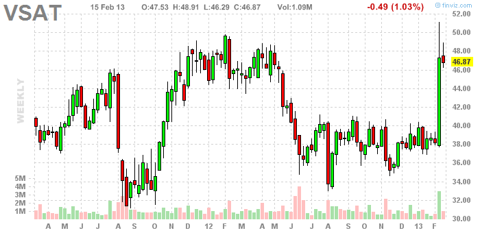 Position Disposals:
According to Baupost's latest 13F-HR, the fund sold out of two of its already existing investments during the fourth quarter of 2012, and reduced its position in several others. The most substantial sale by Baupost was of Hewlett Packard (NYSE:HPQ), where Baupost sold out of what was one of his larger publicly traded holdings. The position was fairly new, and was apparently a losing investment. Baupost sold over 14.3 million shares of HPQ during Q4 of 2012, all at a loss, and sold a similarly large sum of shares the prior quarter, also at an apparent loss. Below is a performance chart for HPQ: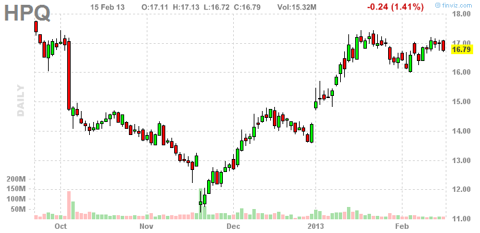 Upshot also sold out of its position in Sycamore Networks (NASDAQ:SCMR), which it acquired in the first half of 2011. The position in SCMR was worth about $8 million at the end of the third quarter of 2012, and fairly small within Baupost's portfolio. SCMR was a very small position that was established in the first two quarters of 2011 and was eliminated last quarter. Though SCMR was sold at a substantially lower price than its acquisition, it paid out some significant dividends related to the winding down of operations that offset a significant amount of the total probable loss on the shares.
Reduced Positions:
Boasts reduced its stake in Allied Nevada Gold (NYSEMKT:ANV), which was one of Baupost's gold miner holdings. Baupost sold just under 45 percent of its position in ANV. While Baupost sold ANV shares, it did acquire shares in another gold miner, NovaGold. Baupost initiated its ANV position in Q1 2011 and increased it in Q2 of 2012. The company largely declined throughout the last quarter and so far into 2013. Baupost still held about 3.12% of ANV at the end of 2012. Below is a performance chart for ANV: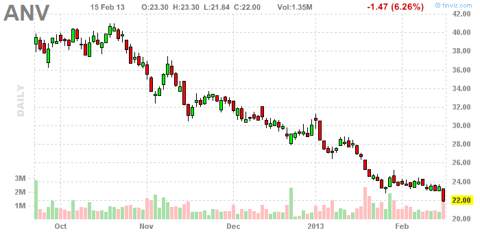 Baupost sold a small part of its still sizable investment in BP PLC (NYSE:BP). Klarman sold shares of BP the prior quarter as well. Baupost first acquired BP shares during Q2 of 2011, sold some in Q1 of 2012, bought a good deal more in Q2, and sold some again during the third and fourth quarters of 2012. While Baupost has dramatically varied the size of its position in BP, it has continued to maintain a substantial investment in the company. Baupost reported having slightly over 10.9 million shares of BP at the end of 2012, worth around $455 million. Below is a recent performance chart for BP: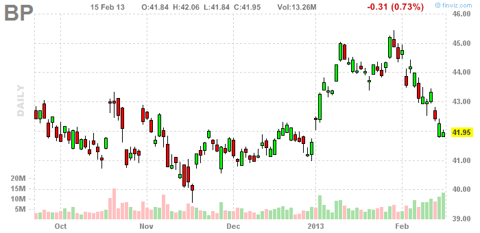 Baupost also sold shares of News Corporation (NASDAQ:NWSA), which is another of the fund's substantial holdings. Baupost owns both Class A and Class B (NWA) shares, and sold about five million Class A shares last quarter. Baupost still holds a substantial position in News Corp, with the holdings combining to equal about $455 million at the end of 2012, and further appreciating since then. Below is a performance chart for NWSA: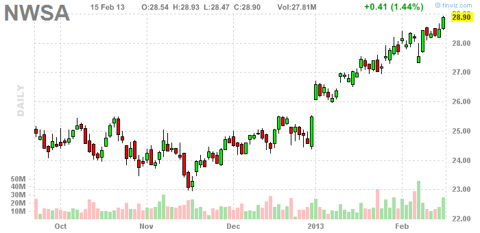 Baupost reduced its position in Oracle Corporation (NYSE:ORCL), though it also continues to hold a sizable position in the company. Baupost initiated a position in ORCL in the second quarter of 2012. Oracle subsequently appreciated during the third quarter. Baupost sold a few million shares in each of the last two quarters, but still held about 10.4 million shares at the end of 2012. Baupost has gained on its investment in ORCL, and still has more than half of the shares it initially bought, but it does appear that Baupost may sell more shares this quarter if its recent strength continues. Below is a performance chart for ORCL: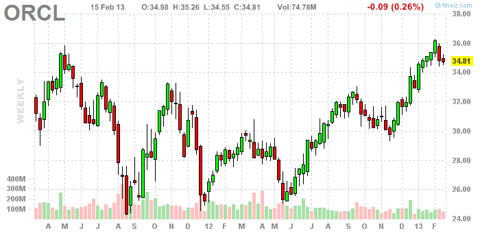 Baupost also trimmed its positions in two small-cap pharmaceutical companies, Aveo Pharmaceuticals Inc. (NASDAQ:AVEO) and Enzon Pharmaceuticals Inc. (NASDAQ:ENZN), last quarter. Both are minor but long-term positions in Baupost's portfolio, and the reasonably small changes to the holdings do not clearly indicate that Baupost would further exit the companies. Baupost still holds over 17 percent of ENZN and over 11 percent of AVEO.
Similarly, all of Baupost's investment increases involve positions that represent significant stakes within the underlying companies, indicating a continued confidence in the businesses and/or their assets. Additionally, though the position Baupost initiated in AIG is not so substantial a percentage of that total business, AIG is a much larger company.
Disclosure: I am long NG. I wrote this article myself, and it expresses my own opinions. I am not receiving compensation for it (other than from Seeking Alpha). I have no business relationship with any company whose stock is mentioned in this article.