This article suggests several guidelines and precautions for choosing trend-trading methods and long-short mutual funds, and also cautions the average investor to avoid short-selling, while instead suggesting US Treasury TIPS.
Long-buying or going long. The usual miserly buying of valuables, profiting as prices go up.
Short-selling. The selling of borrowed valuables, profiting as prices go down.
Inverse ETFs or short ETFs. ETF mutual funds approximating daily short-selling of a market index.
Trend-trading or trend-following. Attempting to act on whether prices are trending up or down.
Long-short equity investing. This may refer to short-selling some stocks while long-buying others, or trend-trading between long and short ETFs, or any equivalent combination.
Who can argue with the basic idea of stable returns whichever way the wind blows? As shown in the graph below, an aggressive "long" investment strategy might do well during 2000-2006, but lose half of these gains during 2007-2011 (blue line). Combine this with short-selling, and you have a long-short system (green line). In addition to providing a failsafe if 2008 were to happen several times in a row, effective long-short investing can be mathematically destined to rise increasingly above both individual methods.

However, the odds of picking winners in long-short may seem similar to roulette. As of February 2013, my screener finds 80 available long-short funds with 3 year histories. Of these, only MFLDX has the stable performance that supposedly defines long-short investing, with 3-year NAV returns of 10% annually and a 2008-2009 valley in total growth of -23%. Only BPLSX, SAOIX and RLSIX also seem worth considering, with NAV returns of 10% to 14%, and drawdowns around -28%. ETFs do not yet provide considerations here. Also, due to the slight mismanagement risk, I avoid placing more than 1/10 of net worth in any single mutual fund family. Also, I will be pleasantly surprised if anyone can tell me of a private account manager who combines a reasonable fee with a reasonable long-short performance record. (A Morningstar chart in Growth mode shows total fund performances.)


Mirror trading is another long-short possibility in early development. A "mirror account" is an account that you own but which automatically mimics one or more model accounts. The most reputable source is at Search.Covestor.com. However, pay attention to the "Covestor Risk Score" and ask questions. In my opinion, short-selling should not exceed 1/40 of account per individual stock, or 1/10 of account per ETF, and should maintain stop orders. If you can afford the $10,000-$20,000 minimums, perhaps monitor Covestor for new performance data every six months.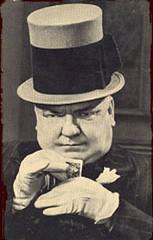 Why do long-short systems often fall short? Most likely, the short component is being dealt from the bottom. Short-selling is like investing during a recession 3/4 of the time. Then still faces the oft-mentioned open-ended risk. Put Options are often lauded for moderating this risk but cannot be called moderate-risk. (See: "13 Reasons Not to Trade Stock Options," 2007.) To top it off, going short does not qualify for tax breaks. Perhaps it should. Short-sellers probably lose money while probably reducing the severity of bubbles and crashes. Casinos encourage similar magnanimity with VIP parking. Nonetheless, short-sellers can only expect to be taxed and scapegoated.
The popular choice for short-selling is now inverse ETFs, with daily compounding that maximizes profits when timing is accurate and maximizes losses when timing is inaccurate, and which inverse indexes not designed to be inversed. My simulation results below show that it might be possible to design a non-index whose non-daily inverse can more likely be used with success. However, such an ETF seems neither available nor clamored for.

Fortunately, there is a bullet-resistant alternative to going short: TIPS. As shown in the graph below, US Treasury ETFs are usually market-inverse, also called "beta-negative." In addition, after the controversial bailouts of major financial institutions in 2008, we can hardly assume that inverse ETF underwriters are immune to collapse or would be high on the list for future government bailouts. In contrast, US Treasuries are the government. Inflation-protected US Treasury TIPS are better still in case of a dollar devaluation. Of course, this does not prevent some doomsayers from providing a laugh, by shifting their emphasis from gold to inverse ETFs with no clear timing strategy. (Graph source: Finance.Yahoo.com.)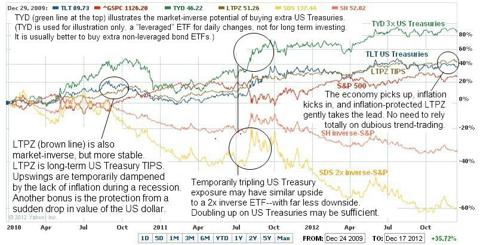 However for serious security, buy TIPS directly. By most accounts, most US Treasury funds are currently overpriced. See: "TIPS are tipped against you," by Kurt Shrout, 2012.11. Even when well-priced or short-termed, bond funds offer scant protection against a plummet in popularity or credit faith. Also as shown in the graph below, basic trend-trading does not work well with US Treasury ETFs.
At online brokers, you can buy TIPS directly, be immune to ETF downswings, and still take advantage of ETF-style gains and tax advantages with routine trading. Even so however, TIPS might not keep up with inflation. See: "TIPS, not the inflation hedge you might think," by Elliott Orsillo, 2012.07. You cannot expect significant long-term gains without stock market investments.
Meanwhile, low-frequency trend-trading may provide market gains along with doable depression-dodging. In this simulation study, the dark green trend-trading line, after substantial savings during 2008, is underperforming the S&P. Nonetheless it moves upwards and does not crash. Also note that it is mainly "not trying too hard," i.e. not over-trading or short-selling, that enables this simple method to surpass by far Morningstar's long-short benchmark. Also with less risk involved, you might do better by investing more and in more aggressive ETFs.

However, it seems advisable to look somewhat beyond basic trend-trading. According to my simulation results below, following the 200-day SMA would likely have cut in half your 1970-2012 gains. Following the 300-day SMA may restore most long-term gains, but reduces the 2010-2012 gain from +28% to -3%. This could be a problem if the future holds more of the mini-dips that made trend-trading inefficient in 2010 and 2011.
There seem to be acceptable solutions to such problems. I have tweaked the SMA for a better expectation (see the chart below) and there are many trend-trading systems available. I might discuss this in later posts, along with suggestions for trend-trading individual ETFs. Well-chosen diversity is likely to improve results, including a different tactic for each ETF.
Results of Trend-Trading the S&P with 5-day SMA Crossovers
Strategy
Leeway
70-79
80-89
90-99
00-09
10-12
1970-2012
Max-Loss
Buy&Hold
n/a
17%
227%
316%
-24%
28%
1,449%
-57%
200d SMA
0.0%
21%
164%
149%
28%
12%
1,034%
-37%
200d SMA
-0.2%
11%
152%
135%
20%
9%
764%
-37%
300d SMA
-0.2%
16%
178%
233%
33%
-3%
1,296%
-33%
Tweaked SMA
-0.5%
41%
180%
228%
57%
10%
2,132%
-33%
Meanwhile, please take care. If short-selling is avoided, trend-trading is safe in that it minimizes downturns and usually cannot turn a long-term positive into a negative. On the other hand, it seems better to cut an allocation in half than to use the 200-day SMA. I have a shelf full of books by high-paid writers and institutional consultants, packed with assumptions about the 200-day SMA and other technical strategies, while apparently never asking a secretary to perform simple spreadsheet confirmations.
In any event, for consistent performance and tax advantages, it seems advisable always to retain 1/5 to 1/3 of each position. Also consider investing mainly with ETFs, and keeping the trading fee below 0.05% or $1 per $2,000. (Easily done at Interactive Brokers, Merrill Edge, Vanguard or Schwab. E*Trade and TD Ameritrade also offer free ETF trading if held for 30 days.) Nonetheless to improve the chances that a system works and is worth your bother, be wary of simulations that fail to include a leeway of -0.5% per trade for fees and slippage.
In conclusion, perhaps an all-weather sort of person might consider allocating total market investments something like this.
1/5 in TIPS, bought directly and traded routinely.
1/5 to 2/5 in several long-short mutual funds or mirrored accounts. Any reputable long-short system that fell less than 30% during 2008-2009 and yet beat the S&P during 2010-2012 bears consideration.
1/5 to 2/5 in your own low-frequency trend-trading as discussed above. During S&P downtrends, reduce equities and increase TIPS.
1/5 in physical gold, silver and platinum, in small increments, several bank locations, inspected annually.
Please note that monetary metals are suggested for long-term diversity, not short-term gain. Their trading values may fall. Also contrary to popular myth, they are not market-inverse. During a recession is usually the worst time to be caught holding excessive monetary metals. Nonetheless, just as it is prudent never to trend-trade 1/5 of each trend-traded position, it seems prudent to hold 1/5 of total portfolio in an indestructible form which is never traded except for dire emergency. Tax consequences might be minimized via charitable or other strategies.
Due to ubiquitous misconceptions, I also feel obliged briefly to point out the following.
I do not advocate buying individual stocks unless recommended by several prominent fundamental analysts.
Singapore is a good place to invest, but ought not to be compared to the USA so much as to Disney World. It is contrary to the spirit of long-short investing to entrust more than 1/5 of net worth in a single sector, corporation, municipality or island-state.
Aside from gold, the 2000-2010 performances of gold-recommending newsletters tracked by the Hulbert Financial Digest were never more attractive than the S&P. However they did demonstrate one effective hedge strategy. To make money during recessions, publish newsletters predicting new recessions each year.
Similarly, the PhD in the newspaper and the doomsday guru in the inbox who advise an imprecise buy-and-hold for inverse ETFs are certainly superficial about inverse ETFs and possibly some other things.
Disclosure: I hold some investment in MFLDX. I am also preparing to mirror-manage long-short accounts at Covestor.com. I have no positions in any stocks mentioned, and no plans to initiate any positions within the next 72 hours. I wrote this article myself, and it expresses my own opinions. I am not receiving compensation for it. I have no business relationship with any company whose stock is mentioned in this article.