The exceptional prospects of gas exploration and production are understood at this point, but investment opportunities are still abundant for those who are willing to look beyond the well-known names. With such an important trend underway, finding smaller, niche companies who can truly differentiate their offerings should be extremely lucrative for the investors who can find them.
Geospace Technologies (NASDAQ:GEOS) is a seller of seismic equipment for oil and gas exploration. With a relatively small $1.35 billion market capitalization and a revolutionary wireless technology, GEOS has outstanding prospects.
Business Overview
Geospace has sold seismic related products since 1980. Seismic equipment is used to find oil and gas reserves by mapping hydrocarbon formations. GEOS sells seismic acquisition systems and geophones, hydrophones, leader wire and other seismic related core components.
Historically, seismic acquisition systems have been cabled, which are more expensive and time consuming to set up. If the cables broke, crews would have to spend time finding and repairing the problem. Sales of Geospace's GSX wireless technology began to take off in 2010 as geophysical companies welcomed the innovation. In 2010, GEOS sold $23 million worth of its GSX technology. In fiscal 2012, the product had $83 million in sales; the company's 50% revenue growth can be nearly entirely attributed to the sales growth of GSX. In Q1 2013 alone, GEOS sold $47 million of GSX, with total revenues of $78 million.
While the wireless acquisition system is the core growth story, GEOS also sells seismic reservoir products, which monitor the effects of production at ocean bottoms, helping producers to prolong the life of the resource. GEOS also generates 30% of its revenues from the sale of traditional seismic products; this segment has been essentially flat since 2010.
Rapidly Accelerating Growth
GEOS is essentially an engineering company, consistently developing new niche products at great margins which play an important role in the international oil and gas exploration trend.
In fiscal 2008, GEOS had sold a mere 2,000 wireless channels to its customers. By the end of Q1 2013, it had sold about 200,000 channels, with another 70,000 available to lease: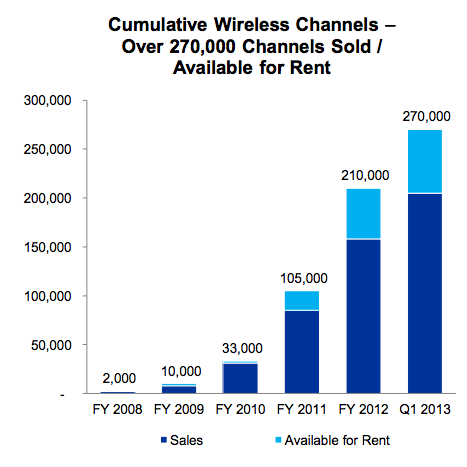 While there is some competition in the sale of seismic acquisition systems, GEOS believes it has sold more wireless channels than any of its competitors. The company recently announced an absolutely blowout Q1, earning $1.70 per share, with $47 million coming from its wireless products as previously mentioned.
Revenues derived from the sales of its wireless technology were greater than all of the company's sales in Q1 2012.
Perhaps the most positive factor as far as long-term fundamentals go was the scalability demonstrated in Q1. Despite the enormous uptick in year-over-year sales, operating expenses as a percentage of sales dropped from 18.6% to 11.6% in Q1 2013. The rapid increase in sales suggests that its products are leading the pack, and GEOS' ability to improve bottom line earnings this quickly reflects the company's unique position as a differentiated, low-cost producer.
In Q1, GEOS also started recognizing revenue from its recent seabed seismic reservoir monitoring system deal with Statoil (NYSE:STO) for $160 million. The company will recognize the revenue over the course of fiscal 2013, 2014, and 2015 (45, 40, and 15% respectively).
Management also recently noted that its new OBX subsea nodal system has generated substantial interest, prompting some analysts on the Q1 conference call to compare its growth prospects to those of the GSX line.
To meet demand for the OBX product, GEOS will be expanding its investments in plants and equipments by about $20 million. In the Q1 conference call, management reported that they've given "lots of quotes" on the subsea nodal system, and that tests have shown excellent results. OBX is expected to be more of a "niche" product, but based on CAPEX guidance and the aforementioned comments, there appears to be serious upside for OBX-driven sales.
In terms of GEOS' other lines, its traditional seismic business (cable systems) has been a steady cash producer for several years, producing about $67 million in annual revenues. The seismic reservoir business has gotten a huge boost from the Statoil contract, but the activity is encouraging and like the traditional seismic line, the segment is steady and can be expected to produce about $70 million in annual revenues.
Long-term with mid-double digit growth from the GSX-led wireless segment, significant upside in the reservoir business driven by OBX, and stable cash flow generation from the traditional cable business, top-line growth should be able to surpass historical 10-15% rate past 2013. Current analyst models appear to be plugging in over $300 million in net sales based on EPS estimates for FY 2013, up more than 60% from 2012.
Valuation
With GSX growth on pace to be up over 100% year-over-year, GEOS is currently expected to earn $6.36 in 2013 - nearly 150% annual EPS growth.
On a forward basis, GEOS is trading at a market multiple 16 times earnings. At a mere $1.5 billion market cap, GEOS is a small firm growing at a top-percentile rate, with a multiple that assumes only average future growth.
Comparisons will begin to get tougher to beat, but GEOS is still displaying triple digit net income growth (153% in Q1), nearly doubling their revenues. This may be a difficult quarter to repeat, but with the exception of a relatively small recognition of revenues from the Statoil contract, there were no one-time items. With more than $30 million being allocated to manufacturing growth this year, I believe GEOS is preparing for a tremendous surge in demand for its best-in-class GSX wireless system.
At a price to earnings multiple of only 16, investors seem to be confident that an abrupt halt in growth will take place after 2013. This seems highly unlikely; only ~200,000 cumulative GSX channels have been sold thus far, and the company believes the entire market is 4-5 million deep. This is based on existing cable channels that will be replaced over time, and a steady increase in demand for seismic acquisition systems in general. It's difficult to find the earnings growth that GEOS is offering investors, especially at a market multiple.
Geospace appears to have only penetrated a small fraction of the existing potential market - after all, it's only been about five full years since the product was first introduced. When you take into account future growth in seismic systems in the aggregate, a $1.3 billion capitalization looks like a steal.
The company has $65 million in cash, and no debt.
Conclusions
Shares of GEOS had a huge run in 2012, but don't let that deter you from building a position. The growth prospects that GEOS displays deserve a significant valuation premium to the broader market.
While GSX has been a game-changer, the company has continued to invest in R&D and develop additional niche products. The OBX subsea nodal system, while in its infancy, is generating substantial interest and the traditional reservoir products appear to be receiving some renewed interest, with large recent orders from Shell (NYSE:RDS.A) (NYSE:RDS.B)and Statoil.
While modeling EPS past this year is futile considering we don't know how some of GEOS' newer products will be received, it's quite likely that the company will be earning far more than $6.50 by 2015. What is clear, however, is that cable systems are out, and GEOS' GSX wireless systems are in. Given the lack of a forward earnings multiple premium, investors at these prices are receiving GEOS' growth for a huge discount with a large margin of safety.
Disclosure: I am long GEOS. I wrote this article myself, and it expresses my own opinions. I am not receiving compensation for it (other than from Seeking Alpha). I have no business relationship with any company whose stock is mentioned in this article.