"Those who cannot remember the past are condemned to repeat it"
George Santayana, 1905
One of the more fascinating trends I have picked up upon over the past few months has been the flurry of articles on Seeking Alpha surrounding the burgeoning marijuana industry. I have to admit to thinking about how the changing legal landscape will play out and have wondered if there are ways to invest. It turns out that, indeed, there are.
One author has taken the time to write about the topic several times. "Elite E Services," who tends to focus on foreign exchange, has shared his/her thoughts seven times over the past two months, initially here on December 17th. This author has formally recommended Medical Marijuana (OTCPK:MJNA), calling it the "best play," and has mentioned several others, including:
I would add Rapid Fire Marketing (OTCPK:RFMK) and X-Change (XCHC.PK) to this list as well. Please note, as I discuss below, SRER.OB is NOT a pot stock. I credit Elite E Services for not only highlighting the potential investments, but also to pointing to some of the risks in every single article. Unfortunately, it seems that the biggest risk of all goes unmentioned: These stocks are likely overvalued substantially, leaving owners at risk of seeing their investment go up in flames.
I don't intend to analyze any individual security in depth but rather discuss the big picture, though I have spent some time looking at the largest one, MJNA.PK, where I will share some thoughts. It wasn't that long ago that domain names were considered companies, and we know how that ended. Concepts are not businesses, and investing in a concept is very dangerous. Even real businesses in new industries fail - think back to the early days of the automobile industry or the television industry.
Before I share why I think that investors have bid up these stocks in a speculative frenzy, let's look at the eleven stocks: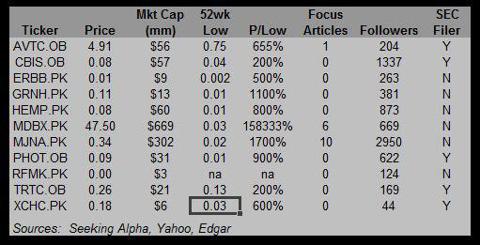 Please note that assembling this data was tedious and, while I hope that it is accurate, it is very possible that there are errors in either the current market cap or the 52-week low. If you believe there to be an error, please let me know and I will be glad to revise the table if that proves to be the case.
It's early in the game. Investors are betting on concepts, names, hopes and dreams. Look how much excitement there has already been! Almost 3000 Seeking Alpha members have agreed to get email alerts on MJNA.PK. Most of these stocks are high multiples of their 52-week lows. Two stocks appear to add up to almost $1 billion in market cap with minimal operating histories.
The real reveal, though, is in the comments in response to two recent articles on MJNA.PK. First up was Infitialis, with "Chronically Criminal: Shielding the Public from Medical Marijuana," a hard-hitting look at some serious issues with respect to the ownership and the management team. Ashraf Eassa called it "A Pump and Dump." In less than a day, this warning generated 160 comments already, while the Infitialis article, since Friday, has generated 377 as I type.
If one takes the time to read through the comments, it is clear that proponents of this stock are investing in a theme, with no grounding in any sort of financial frame-work. The authors are treated as though they are lying or manipulating when they share their views. I can understand some suspicion about an anonymous author who discloses himself as being short, but he makes some very strong arguments that shouldn't be dismissed in my opinion.
My review of MJNA.PK leaves me scratching my head. Greater than $300mm market cap? The share-count has ballooned, the former President signed off on the Q3 quarterly report after he was no longer with the firm, the Chairman doesn't own a single share directly, the company has apparently booked a $35mm sale but can be paid in cash or stock and doesn't disclose the name of the buyer, who has signed an installment agreement. This is before even considering some of the more alarming accusations made by Infitialis.
The company apparently failed to meet its deadline that it had shared last month when it reported Q4 earnings:
Once the Q4 audited financials are filed, The Company plans on having each prior quarter audited in order to obtain a full 24 months of audited financial statements. "The audit process is crucial to our up-listing plans as well as to provide our shareholders confidence in our financial reporting", stated Michelle Sides, Chairman of Medical Marijuana Inc. Ms. Sides went on to say "We are obviously pleased with our Q4 results, but are even more excited about the opportunity for MJNA in this ever growing industry."

The Company also reported that it intends to issue its annual shareholder update for 2012 on February 17, 2013 which will include full year results as of December 31, 2012. Additionally, as part of the report, the Company plans to announce its first ever projections for 2013 and 2014.
It's curious as to why they would have intended to issue an update on a Sunday, but, as of 2/18, there doesn't appear to be either a release of full year results or an outlook. Perhaps the Infitialis article has resulted in a delay, as the company potentially addresses the issues raised. It will be interesting to see their process in establishing projections, as it is such a nascent industry that visibility would seem very limited.
MDBX has some information on its website that includes "confidential projections" that project everything on the income statement out to 2016 but lack any signs of share count. Their audited financials seem to indicate 14.08mm shares, but I find this hard to believe. Did I miss some sort of reverse split? Author John Ford recently called the stock at least 25X higher than fair value, and I think he was generous based on my read, though the stock has declined from $88 already. The company is expecting to become an SEC filer later this quarter. Here is a link to a story that had lots of interesting items, like the founder liquidating and taking back restricted stock (seems positive) and the fact that the CEO attended the JPM Healthcare Conference in January.
Here are some quick tidbits from the PHOT.OB 10-Q, filed in November:
Successful completion of the Company's development programs and its transition to attaining profitable operations is dependent upon obtaining additional financing. The Company does not have sufficient resources to fund its operations for the next twelve months. Accordingly, the Company needs to raise additional funds in order to satisfy its future working capital requirements, which it may not achieve on commercially reasonable terms.

From time to time the Company's Chief Executive Officer (CEO) has advanced various amounts to the Company. As of December 31, 2011, the amount due the CEO was $183,103, and additional advances of $98,897 were made to the Company through April 5, 2012. On April 5, 2012, the CEO converted $282,000 of these advances into a 6% senior convertible note. The CEO made further advances during the nine months ended September 30, 2012 which were converted into a 6% senior convertible note.
CBIS.OB shared this in its 10-Q:
In consideration of this agreement, on January 1, 2012, the Company entered into a 25 year management agreement with Dr. Mohammad Afaneh to act as Chief Operating Officer of Cannabis Science, Inc. Dr. Afaneh received 28,500,000 common shares valued at $299,250 under this agreement. In addition, on February 10, 2012, Dr. Afaneh signed a management bonus agreement where he received 5,000,000 common shares valued at $185,000 as a signing bonus for entering into his management agreement. In addition, on January 1, 2012, the Company entered into a 25 year management agreement with Bret Bogue to act as Director of Horticulture and head of research and development. Mr. Bogue received 28,500,000 common shares valued at $299,250 under this agreement. In addition, on February 10, 2012, Mr. Bogue signed a management bonus agreement where he received 5,000,000 common shares valued at $185,000 as a signing bonus for entering into his management agreement. These common shares were issued on April 24, 2012.
25-year management agreements? They might not last that long:
In view of the matters described, there is substantial doubt as to the Company's ability to continue as a going concern without a significant infusion of capital. At September 30, 2012, the Company had minimal operations. There can be no assurance that management will be successful in implementing its plans. The consolidated financial statements do not include any adjustments that might result from the outcome of this uncertainty.

We anticipate that we will have to raise additional capital to fund operations over the next 12 months. To the extent that we are required to raise additional funds to acquire research and growing facilities, and to cover costs of operations, we intend to do so through additional public or private offerings of debt or equity securities. There are no commitments or arrangements for other offerings in place, no guaranties that any such financings would be forthcoming, or as to the terms of any such financings. Any future financing may involve substantial dilution to existing investors. We had been relying on our common stock to pay third parties for services which has resulted substantial dilution to existing investors.
SRER.OB, one of Elite E Services "pot stocks" appears to have exited the pot business, having sold weedmaps.com and marijuana.com:
The sale of WeedMaps resulted in a significant change in the direction and industry in which our business was concentrated. While we will continue in the internet search and marketing business, the sale completed our comprehensive exit as a finder and marketing site for the medicinal cannabis industry. We do not anticipate operating in or returning to the medicinal cannabis industry in the future. Our continued business focus will be internet search, advertising, and operating finder sites in the recreational sports, manufactured housing, tattoo, and other industries identified by our management as having high growth potential.
TRTC.OB, which had some restatements, was late on its 10-Q for Q3, but here is what it said:
However, the Company has incurred net losses for the nine months ended September 30, 2012 and has accumulated a deficit of approximately $3.43 million at September 30, 2012. The Company has not been able to generate sufficient cash from operating activities to fund its ongoing operations. There is no guarantee that the Company will be able to generate enough revenue and/or raise capital to support its operations. These factors raise substantial doubt about the Company's ability to continue as a going concern.
The same type of language from XCHC.PK's 10-Q:
As of September 30, 2012 and December 31, 2011, respectively, the Company has no operations, no cash on hand, and significant debt related to the financing of the operations of its former subsidiary, AirGATE. Because of these factors, the Company's auditors have issued an audit opinion on the Company's annual financial statements which includes a statement describing our going concern status. This means, in the auditor's opinion, substantial doubt about our ability to continue as a going concern exists at the date of their opinion.

The Company's business plan continues to seek an acquisition or merger with a private operating company which offers an opportunity for growth and possible appreciation of our stockholders' investment in the then issued and outstanding common stock. However, there is no assurance that the Company will be able to successfully consummate an acquisition or merger with a private operating company or, if successful, that any acquisition or merger will result in the appreciation of our stockholders' investment in the then outstanding common stock.

The Company's current controlling stockholder has maintained the corporate status of the Company and has provided all working capital support on the Company's behalf since the December 2008 foreclosure action. Because of the Company's lack of operating assets, its continuance is fully dependent upon the majority stockholder's continuing support. It is the intent of this controlling stockholder to continue the funding the nominal necessary expenses to sustain the corporate entity. However, no formal commitments or arrangements to advance or loan funds to the Company or repay any such advances or loans exist. There is no legal obligation for either management or significant stockholders to provide additional future funding. Further, the Company is at the mercy of future economic trends and business operations for this controlling stockholder to have the resources available to support the Company. Should this pledge fail to provide financing, the Company has not identified any alternative sources of working capital to support the Company.

The Company's ultimate continued existence is dependent upon its ability to generate sufficient cash flows from operations to support its daily operations as well as provide sufficient resources to retire existing liabilities and obligations on a timely basis. The Company faces considerable risk in its business plan and a potential shortfall of funding due any potential inability to raise capital in the equity securities market. If adequate operating capital and/or cash flows are not received during the next twelve months, the Company could become dormant until such time as necessary funds could become available.

The Company anticipates future sales or issuances of equity securities to fulfill its business plan. However, there is no assurance that the Company will be able to obtain additional funding through the sales of additional equity securities or, that such funding, if available, will be obtained on terms favorable to or affordable by the Company.
As I said, my purpose isn't to dig into each and every single stock but rather to share my overall impression. MJNA.PK is the second biggest in terms of market cap, and the valuation reminds me of the internet days. The SEC filers all include statements indicating additional funds need to be raised. Marijuana legalization in 2 states and the changing regulatory environment could create a lot of wealth, but it would be foolish to expect that these companies will be the winners. The theme could be right, but the stocks a disaster. CNBC had a fantastic documentary on the industry, Marijuana Inc. It was pretty clear to me that there will be lots of winners and losers, but the barriers to entry once a proper legal frame-work is established are likely not that great. In other words, where is the "first mover advantage"?
One can never rule out potential long-term gains from Pink Sheet or Bulletin Board stocks, but my view is that roulette offers a better chance of winning. Whether one spends $10 per share or ten cents, the downside risk is 100% of the total investment. A low price per share is not a sign of a low valuation. The 11 stocks discussed are all tiny businesses with little or no operating history, limited information and no institutional support. These stocks are all speculation, and most likely not even reasonable speculation. My purpose in sharing this article is to remind investors that fundamentals matter. Don't make the same mistakes that "investors" have made time and time again in betting on hype and emotion.
Disclosure: I have no positions in any stocks mentioned, and no plans to initiate any positions within the next 72 hours. I wrote this article myself, and it expresses my own opinions. I am not receiving compensation for it (other than from Seeking Alpha). I have no business relationship with any company whose stock is mentioned in this article.