Tesla Motors (NASDAQ:TSLA) crossed my radar screen this week because of the unusual debate going on between the New York Times reporter who disparaged Tesla's Model S (Motor Trend magazine's "Car of the Year" for 2013) and the Tesla's CEO Elon Musk, and because the company announces earnings on Wednesday after the close.
Tesla has sold about 2400 Roadster 2 electric cars in 31 countries from 2008 to 2012 (list price $107,000), presumably mostly in Europe where gasoline costs about double its U.S. cost. In late 2012, it commenced production of its Model S with a base price of $60,000. Its goal is to ramp up to a 20,000 annual production level, or about 16 times as many cars as its average annual production so far. That seems to be quite a big leap, but I thought I would check out what a car manufacturer might be worth if it were able to increase sales by that much.
Tesla is essentially a bet on the future of all-electric cars. There are apparently a huge number of believers - the market cap is in excess of $4 billion for a company with no earnings or significant production. This seems like an excessive valuation if electric cars ultimately end up being a niche market rather than a mass market. The other car manufacturers are focusing on hybrid models rather than all-electric, and are offering new models and lower prices each year, reducing (in my opinion) the long-run potential of an all-electric alternative.
Ford (F) sports a market cap ($49.64 billion) which is about 13 times Tesla's market cap ($4.4 billion). Ford sold 5.668 million cars in 2012, so each car sold is worth about $8758 in market cap value. General Motors (GM) has a market cap of $37.93 billion and sold 9.29 million cars last year, so each car sold is worth about $4082 in market cap value.
The Wall Street Journal reported that Tesla planned to have sold 3,000 cars by the end of 2012, and production of the S car had ramped up to 400 per week by December, making the 20,000 goal a possibility. Of course, making cars is a whole lot easier than selling them, especially with a $60,000 base price tag.
Let's give the company the benefit of the doubt and assume that it can reach their goal of 20,000 a year. What will the company be worth at that point? If we use Ford's valuation per car sold (since it is more than twice as high as GM's value per car sale), we come up with a market cap for Tesla as a U.S. car manufacturer of $175 million. That's quite a bit lower than the $4.4 billion current market cap value.
In fact, Tesla's current market value is 25 times higher than it would be if it were being valued as a car manufacturer rather than an idea whose time is about to come.
If Tesla were valued as a car manufacturer at Ford's valuation ratio, it would have to produce about 440,000 cars each year. That's over 20 times its current production goal. Are there that many luxury car buyers out there who are willing to live with the limitations of an electric car? It seems doubtful to me.
John Peterson penned a compelling Seeking Alpha article which calculates that Tesla's newest electric car just doesn't make economic sense to if you structure in depreciation on the $10,000 or $20,000 batteries that are part of the package. He concludes "Support from the auto industry is fading fast. Politicians are backing away from electric drive like scared crawfish. The mainstream media is beginning to understand the costs and performance limitations and customers are beginning to share their personal horror stories." He sure paints an ugly scene for Tesla.
There are a huge number of potential problems that could result when an electric car start-up becomes a true manufacturer, including
Product recalls.

No infrastructure to support repairs and parts availability.

Potential lawsuits (e.g., brakes fail, a pedestrian gets hit because he couldn't hear the car coming, battery acid burns someone in an accident, etc., etc.) - we live in a litigious society, and a lawsuit does not need much of a claim to get filed. Auto companies are prime legal targets for all sorts of suits, and defending them can be quite costly.
At the risk of appearing entirely negative on the company, I would like to express my concern about top management. First, CEO Elon Musk also runs the SpaceX commercial spacecraft maker and is chairman of successful solar IPO SolarCity (OTC:SCTY). Part-time CEO's are never a good thing in my mind, even if they collect only a $33,000 annual salary from TSLA, as does Mr. Musk.
Second, the other top four managers aren't being paid reasonable salaries. They earn an average of $326,000 a year. This compares to $3.77 million average salary for the top five executives at Ford. What can explain why they are willing to work for less than a tenth of what comparable managers are earning? Are they less competent? Or do they believe so strongly in TSLA's future that they are willing to forego current compensation?
It seems to me that they are expecting to be paid in big-time fashion sometime down the road, and that will depress earnings and/or earnings-per-share (if huge amounts of options are issued). With a market cap of over $4 billion already in place, the upside potential does not seem so great that employee stock options will amount to significant gains anytime in the near future. That means these currently under-paid top executives will be demanding real compensation in dollars as soon as the company grows a little, and the time for decent company profits will be pushed far out into the future.
There is a good chance the company will be running out of money soon. Tesla only had $86 million in cash at the end of October and its loss for the most recent quarter was $111 million. The company sold $222 million of stock in the fall of 2012 to get it through a few months.
At some point, large amounts of cash will be required to create a supporting infrastructure that conventional car companies already enjoy (retail stores, parts suppliers, repair shops, fill-up stations, etc.) A new stock sale might be announced soon, and that would surely depress the stock.
Nasdaq reports that 26.4 million shares have been sold short, or about 23% of the 113.8 million outstanding sales. In the words of the Wall Street Journal, "placing it among the most shorted stocks on the Nasdaq." So a significant number of people seem to have concluded that the stock is headed lower. I agree with them that this is the likely direction the shares will take in the long run.
While the long-run outlook looks dismal, what about Wednesday the 20th when the big announcement takes place? Not only "earnings" but other developments, such as production levels, affiliate arrangements, orders for new cars, capital infusion plans, sales guidance, etc.? According to one analyst, "this is a make-or-break quarter." The big question involves the ramping-up process toward becoming a viable car manufacturer.
Expectations for this announcement are enormous. The stock has moved nearly 50% higher since its low in August: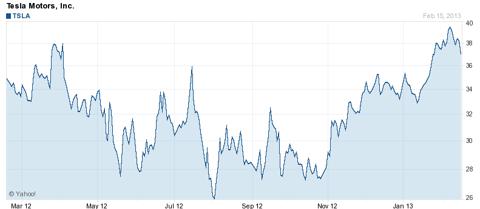 The CEO has publicly suggested that the company will report a profit for the quarter (for the first time, of course). If Tesla manages to accomplish such a feat, surely it will be accused of cooking the books, and someone will bring out the fact that if top management officials were paid a going wage, all profits would disappear.
It seems to me that when earnings announcements are made, there is always something reported that many investors don't like. It might be the earnings themselves, the earnings compared to the whisper numbers, sales levels, production levels, guidance, or any number of other issues and numbers that are likely to be discussed or revealed.
No matter how good most numbers seem on the surface, the stock seems to trade lower much of the time after the announcement. A couple of weeks ago, for example, Green Mountain Coffee Roasters (GMCR) beat expectations across the board by a wide margin, renewed guidance at the same levels, and the stock fell 5% the next day.
There are so many possible announcements that might be interpreted negatively next Wednesday by TSLA management and the fact that the company seems to be grossly over-priced on a fundamental basis makes me believe that the stock is quite unlikely to head higher and may very well head lower, possibly much lower.
Given this outlook, I will make the following option trades on Tuesday: with the stock trading around $37, buy TSLA June 39 calls and sell March 37 calls. This diagonal spread will cost about $1.05 ($105) to place (the natural price is $1.15 but a lower execution should be possible). There will be a $200 maintenance requirement per spread.
If TSLA ends up at any price below $37 when the March options expire on the 15th, they will be worthless and I will end up owning June 39 calls which surely should be worth more than $1.05 (currently $3.00 - $3.40). I hope to exit the positions shortly after the announcement is made.
I also plan to buy half as many June-13 - March-13 33 put calendar spreads (cost about $1.90) to protect me against a possible 10% drop in the stock after the announcement. If you bought 10 of the above diagonals and 5 of these calendar spreads, your total outlay would be about $4000 (mostly the non-cash $2000 maintenance requirement on the 10 diagonal spreads) and this is the risk profile graph for the March 15 expiration date:

A decent gain (about 25% average) should be made if the stock falls 12% or less, or goes up by less than 5% after the announcement. The June option prices will likely fall after the announcement and reduce the possible gains outlined above, but I suspect they will not drop too much because these options will still exist when the next earnings announcement comes around, and that feature should keep much of their values intact.
If your outlook is more bearish, you could lower the strike prices for all of the strikes (as I intend to do in addition to the above trades). It will be an interesting Wednesday evening and Thursday trading day.
Disclosure: I am short TSLA. I wrote this article myself, and it expresses my own opinions. I am not receiving compensation for it (other than from Seeking Alpha). I have no business relationship with any company whose stock is mentioned in this article.
Additional disclosure: I will be short TSLA options in the next 48 hours.