The S&P 500 is heading into this shortened trading week on a seven-week winning streak. Below is a look at where the S&P 500 and its ten sectors are currently trading within their "normal" trading ranges. In the screen below, the black vertical line represents each sector's 50-day moving average. The white zone is between one standard deviation above and below each sector's 50-day moving average, and moves outside of the white zone are considered overbought or oversold. Moves into the red zone are considered overbought, while moves into the green zone are considered oversold. The dot represents where each sector is currently trading, while the tail shows where it was one week ago.
As shown, the S&P 500 and eight of ten sectors are currently trading in overbought territory. Over the last week, however, all of the sectors have moved lower within their trading ranges. After having a rough week, the Telecom sector is currently the closest to its 50-day moving average. The Materials sector is the only other one that's not overbought, although Technology and Energy are getting close. Consumer Staples enters the week the most overbought, with Industrials right on its tail.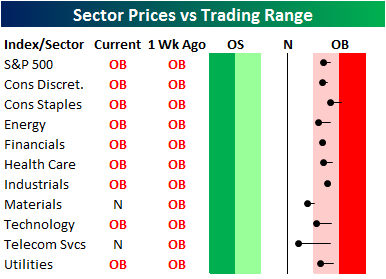 We also ran our trading range screen on the 30 Dow Jones Industrial Average stocks. Of the 30 Dow stocks, 16 are in overbought territory, while none are oversold. Last week at this time, 21 Dow stocks were overbought, so 5 names have pulled back into neutral territory. The one stock that was oversold last week -- Merck (NYSE:MRK) -- moved into neutral territory as well.
The three Dow stocks that enter the week with the most upside momentum appear to be Alcoa (NYSE:AA), General Electric (NYSE:GE) and Microsoft (NASDAQ:MSFT), while Boeing (NYSE:BA), Coca-Cola (NYSE:KO) and Wal-Mart (NYSE:WMT) have the most downside momentum. Coca-Cola started last week as the most overbought Dow stock, but by the end of the week it was just barely above its 50-day moving average. Boeing (BA) and Wal-Mart (WMT) were both overbought a week ago, but they closed out the week below their 50-days.
In terms of year-to-date performance, Hewlett-Packard (NYSE:HPQ) is up the most so far in 2013 with a gain of 17.82%. HPQ was the worst performing Dow stock in 2012, and many feel that this is just a dead-cat bounce. However, a lot of people thought Bank of America (NYSE:BAC) was just having a dead-cat bounce in early 2012 when it shot out of the gate, but it ended up more than 100% in 2012.
Seven other Dow stocks are up more than 10% so far this year. These seven stocks are DIS, GE, JPM, MMM, PG, TRV and UTX. Just one Dow stock is down in 2013 -- Boeing (BA).
Running this screen on a regular basis really helps you stay on top of your portfolio. If you're interested in having this done, please email or call 914-315-1248.