Since the September 2010 Chinese/Japanese dispute over the Diaoyu Islands which led to a Chinese embargo on rare earth minerals, there has been a global manhunt for rare earths. Several junior minors have raised capital to open mothballed mines in order to take advantage of price increases created by the embargo and/or lessen global dependence on China for rare earth minerals. One such "junior minor" is Tasman Metals (NYSEMKT:TAS). Based in Canada, Tasman's flagship rare earth project is Norra Karr, the fourth largest rare earth project in the world. According to an August 2011 report by Technology Metals Research, of all non-Chinese rare earth suppliers, Norra Karr also has the highest percentage of critical rare earth oxides ("CREO") to total rare earth oxides ("TREO") at 51.8%; Alaska's Bokan Mountain, which is owned by Ucore Rare Metals (OTCQX:UURAF), ranks second at 44.5%. Norra Karr was discovered in 1906; Tasman claimed the ground in mid-2009 and first drilling began in December 2009.
Critical v. Non-Critical Rare Earths
On Molycorp Price Deterioration: 8 Competitors Who Should Be Concerned, I noted how a deterioration in rare earth prices may cause an eventual shakeout in the industry. I also compared Molycorp (MCP) to Lynas Corporation (OTCPK:LYSDY), Avalon Rare Metals (NYSEMKT:AVL), Rare Element Resources (NYSEMKT:REE), Arafura Resources (OTCPK:ARAFF), Quest Rare Metals (NYSEMKT:QRM), Great Western Minerals (OTCPK:GWMGF), Montero Mining & Exploration (OTC:MXTRF), Frontier Rare Earths (OTC:FREFF), Tasman, Ucore, Hudson Resources (OTCPK:HUDRF), and Matamec Explorations (OTCPK:MHREF) based on their composition of light rare earth elements ("LREE") to heavy rare earth elements ("HREE").

However, another distinction may need to be made, as some junior minors produce rare earths that are more "critical" than others. According to the Department of Energy ("DOE"), whether a rare earth element is critical or not is due to its supply risk, and its importance to clean energy. Based upon that criteria, the DOE determined that Neodymium ("Nd"), Europium ("Eu"), Terbium ("Tb"), Dysprosium ("Dy") and Yttrium ("Y") were the five critical rare earth elements ("CREO"). Since the DOE's conclusion, industry experts have deemed the five CREOs to have the most commercial viability and command higher prices vis-a-vis non-CREOs.
The following chart illustrates Norra Karr's basket price based upon Tasman's internal pricing model and China's FoB price. The company's projected "basket price" of $51 compares favorably to the prices for Lynas ($37) and Molycorp ($24) that have been tossed around by industry insiders on my previous articles.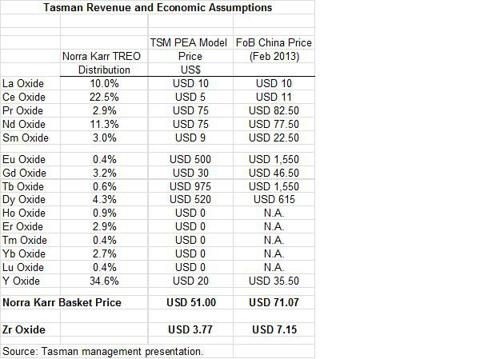 Tasman Historical Financial Performance
The following chart displays Tasman's historical financial performance. The company is in the process of exploring and evaluating its mineral properties; it has not yet determined whether these properties contain economically recoverable ore reserves. Tasman's ability to operate as a going concern is dependent upon its ability to obtain the necessary financing to develop properties and produce minerals at a profit.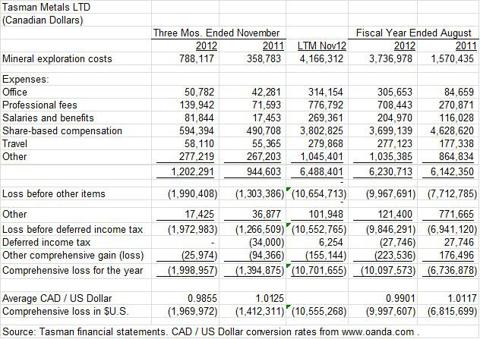 The company generated operating losses of CAD7.7 million, CAD10.0 million and CAD10.7 million for FY 2011, FY 2012 and last twelve months ended November 30, 2012 ("LTM1112"), respectively.
Mineral exploration costs represented 20%, 38% and 39% of operating losses for FY 2011, FY 2012 and LTM1112, respectively. When Tasman will bring products to market and generate operating income is not yet known. However, management's target production is 2016.
Working Capital
A major component of a junior minor's ability to operate as a going concern is its level of working capital and its ability to access the capital market to help fund future cash flow needs. Tasman's working capital peaked at CAD15.0 million in FY 2011 and stood at CAD8.2 million at November 30, 2012. The company raised CAD13.1 million and CAD620 thousand through issuance of common shares in FY 2011 and FY 2012, respectively. Similar to Molycorp's recent dilutive event, Tasman may have to tap the capital markets again to help fund future operating losses.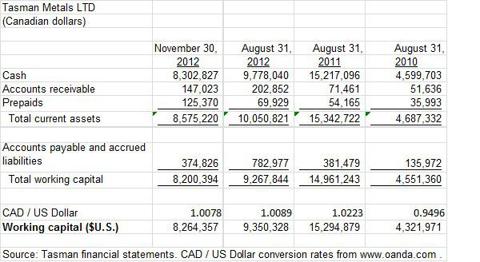 Rare Earth Comparable Company Analysis
Below are the market capitalizations and multiples of earnings and book value for Tasman and comparable companies. Only one of the selected junior minors (Matamec) is profitable, so the price-to-earnings multiples are all but meaningless. However, Tasman trades at 7.7x multiple of book value, which is well of above the median of 1.4x for the industry. The comparable company analysis implies that the market may be placing a premium on those companies - Molycorp, Tasman, Lynas, Rare Element, Ucore, Hudson Resources - that it thinks will survive the coming rare earth shakeout.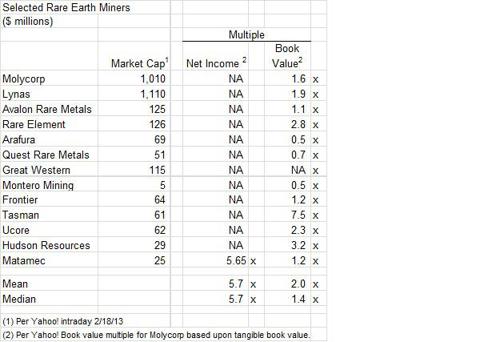 Conclusion
Rare earth prices have fallen back to earth since the Chinese embargo of 2010; price deterioration may soon cut the wheat from the chaff, as junior minors [i] may not have enough capital to continue funding exploration costs or [ii] may not be able to turn a profit once they bring product to market. Tasman has the necessary working capital to sustain itself for the near term, access to capital markets to fund future exploration costs, and rare earth minerals most commercially viable and deemed most "critical" by the DOE. The stock is not for the faint of heart as management's target production is at least three years away. However, for investors looking to add an aggressive growth stock to their portfolio, Tasman's upside potential may be worth the wait.
Disclosure: I have no positions in any stocks mentioned, and no plans to initiate any positions within the next 72 hours. I wrote this article myself, and it expresses my own opinions. I am not receiving compensation for it (other than from Seeking Alpha). I have no business relationship with any company whose stock is mentioned in this article.