Tracking the portfolios of master investors you admire whose investment strategies align with your own can be very profitable and enlightening, but one should not follow another investor blindly into any company, no matter how great an investor they are. Warren Buffett is one famous investor I certainly admire and follow.
Buffett's Strategy
In order for Warren Buffett to invest in a company, the company must fit most or all of the following descriptions (I'm pulling these right from Hagstrom's The Warren Buffett Way as it is the most definitive, accurate list I've found in my research thus far)
Simple and easy to understand
Show consistency and be predictable
Favorable long-term prospects
Quality, upfront management willing to go against industry norms
High, consistent return on equity
Steadily increasing free cash flow or "owner earnings"
Higher net profit margin than industry competitors
Smart, shareholder-friendly capital allocation
Meaningful, durable competitive advantage or "economic moat"
Undervalued
Follow the Leader
Buffett has had plenty of success with this strategy and it really hasn't changed much over the years so we know it works. I've done plenty of research on his strategy and it certainly all makes sense. Since we've established that Buffett is worth listening to, let's see what he's telling us to do. Buffett doesn't make many moves but most of them are very reasonable. One move that this article will focus on is shown below:

Buffett currently owns over $3 billion worth of Wal-Mart (NYSE:WMT) stock through his company, Berkshire Hathaway (BRK.A, BRK.B). He first invested in the company over a decade ago and has added to his position several times, most recently a year ago at an average price of $61 per share. Berkshire has done well with its Wal-Mart shares but I think the price is about right to get rid of them. The stock is certainly not a buy anymore.
Wal-Mart - The Good
Wal-Mart is one of the greatest American business success stories of the past 50 years. It definitely is a great company. It has a lot of what Buffett looks for. Management has mastered the supply chain and is constantly cutting expenses. They are very candid in their reports and they allocate capital in a shareholder friendly manner, returning over $10 billion a year through dividends and buybacks. The company is easy to understand and has a tremendous moat through its low prices and globally well-known brand. Financially the company displays consistently high ROE around 20% and same-store sales and revenues have both increased for 5 straight quarters. So why not buy the stock?
The Bad
Despite being a great company, there are a few things keeping me from investing that Wal-Mart can't control. The first problem I have is that the company is clearly nearing market saturation. With over 10,000 stores globally, the company is very constrained in its ability to open new stores. With ROA at 8%, why would it open a new store if it will only make an 8% annual return doing so? Earnings growth has outpaced revenue growth, a sign that the company is limited in its ability to increase sales and is relying on cutting expenses to improve earnings.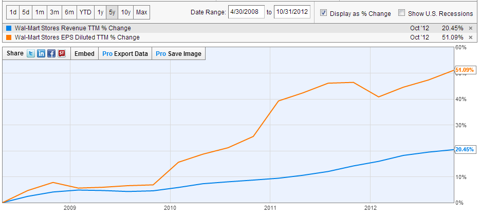 This strategy may be working now, but expenses can only be cut so far; inventory and labor doesn't just pay for itself. Even if you look at the revenue increases, much of the growth is due to improving same-store sales, but the company can't improve this number forever either. A Wal-Mart store can only support so much consumer traffic and the stores seem pretty busy to me already. All of this makes me think that Wal-Mart is nearing saturation really soon, and as the company becomes more constrained by it, 9% annual earnings growth will become unrealistic.
My other problem with Wal-Mart is that the stock is clearly overvalued in my opinion. I valued the company the Peter Lynch way, by coming up with an earnings growth percentage and comparing it to P/E. To come up with earnings growth I first looked at analyst consensus estimates which were 9.26% per annum for the next 5 years. Then, since Wal-Mart has such consistent ROE and mostly tangible assets, I divided ROE by P/B to come up with an expected return on market price: 7.47% per year. To be consistent and because I am less than optimistic about the company's prospects, I went with 8% per year. Wal-Mart currently trades at a P/E of 14.26. This alone is much higher than the 8% growth we assumed. When I calculate P/E, I also subtract cash and investments from market cap and add long-term debt. Because of Wal-Mart's weak balance sheet, the net P/E I came up with was higher: 15.8. This is nearly double the 8% growth we calculated before.
I don't actually think Wal-Mart is 50% overvalued, but it's certainly not undervalued and I don't think the future bodes well for this company simply because of how large it is. The best time to invest in a retail company is early on when it still has plenty of markets to expand into. Wal-Mart is way past that point and I think the market will recognize that eventually. Sell your stock, Warren.
Disclosure: I have no positions in any stocks mentioned, and no plans to initiate any positions within the next 72 hours. I wrote this article myself, and it expresses my own opinions. I am not receiving compensation for it (other than from Seeking Alpha). I have no business relationship with any company whose stock is mentioned in this article.