Are REITS Ready For Future Interest Rate Hikes ?
REITs have been booming lately. Sure, this is a strong statement that may not be right for 100% of the REITs out there, but generally speaking, the recovery in the stock market since 2009 did not miss them, to say the least. There are several REIT types. The ones I am interested in are equity REITs; they buy real estate for the rent and capital gains and profits are paid to shareholders as dividends.
REITs are often considered a relatively safe investment thanks to several "built in" advantages, the main ones being:
1. When they buy good assets in good locations - rent should continue to arriving quarter in - quarter out.
2. Dividends should increase over time with rent hikes or utilization rate going up.
3. REITs usually finance a major part of their assets via loans - from banks or the public (short term credit facility, loans, notes payable or bonds). When done correctly and cautiously, leverage is not necessarily a bad thing and can help increase the yields and dividends.
However, risks do exist in REITs investing:
1. If assets were bought at high prices, yield on them might not be as high as expected.
2. When an asset is not located in a prime (or even good) location - there may be a substantial part of the year when it is not leased.
3. When a tenant leaves as asset - rent will stop flowing in, possibly hurting the dividend flow.
4. Since a major part of their activity is financed by loans, interest rate increases may severely affect REITs performance and future dividends.
5. Refinancing or equity sale may not always be an option, depending on the market situation.
Over the past few years real estate market saw 2 trends that have substantially affected the performance of REITs:
1. The real estate bubble burst: a collapse in real estate prices that sent REIT prices down sharply.
2. A dramatic decrease in Federal Funds Rate, meaning a drop in market interest rate - practically to a level of zero. Keep in mind that for highly leveraged entities such as REITs that should be the best time to deliver outstanding results thanks to almost free money they receive (obviously they do not borrow at 0% but at a rate much lower than their usual cost of capital).
As we see the real estate prices beginning to rise (or at least - stop dropping), clearly the second trend - interest rates, had been the dominant one recently. However, good times (interest wise) may be nearing their end as FED is likely to start raising interest rates when inflation will raise its ugly head.
First, let us compare the Federal Funds Rate Vs. Dow Jones Equity Reit Index. The latter shows the average pricing of equity REITs of various sectors (housing, hotels, industrial etc.):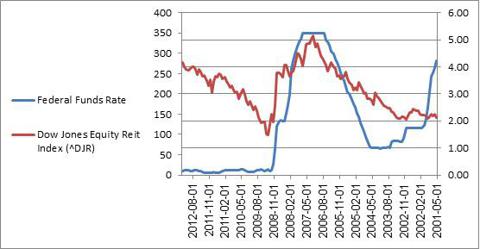 The graph clearly shows that while it takes some time for interest rate changes to effect REIT prices; eventually when Interest goes down, the REITs shoot up and vice versa.
With that in mind, I performed my very own "Interest Rate Stress Test" on some of the REITs in which I own shares or just follow, in order to see how 2 of their most important metrics should react to future interest rate hikes: P/FFO and dividend yield.
To begin with, the following table shows some of these REITs' current metrics:
| | | | | | | | | |
| --- | --- | --- | --- | --- | --- | --- | --- | --- |
| | Market Cap ($B) | Dividend Yield | EBITDA/Interest Expenses | AFFO Per Share ($) | P/AFFO | Total Debt ($ Thousands) | Average Time to Maturity (Years( | Debt/Market Cap |
| Senior Housing Properties Trust (NYSE:SNH) | 4.45 | 6.195% | 3.23 | 0.43 | 14.64 | 1,868,311 | 10.55 | 42.0% |
| Government Properties Income Trust (NYSE:GOV) | 1.38 | 6.801% | 6.46 | 0.54 | 11.71 | 610,709 | 3.88 | 44.3% |
| Realty Income Corp (NYSE:O) | 5.93 | 4.881% | 3.48 | 0.52 | 21.38 | 2,492,394 | 6.77 | 42.0% |
| Omega Healthcare Investors Inc (NYSE:OHI) | 3.12 | 6.486% | 3.39 | 0.47 | 14.76 | 1,588,539 | 12.72 | 50.9% |
| National Retail Properties, Inc. (NYSE:NNN) | 3.76 | 4.693% | 2.85 | 0.54 | 15.59 | 1,534,863 | 8.36 | 40.8% |
| HCP, Inc. (NYSE:HCP) | 21.66 | 4.393% | 3.69 | 0.69 | 17.32 | 7,819,418 | 3.43 | 36.1% |
| Ventas, Inc. (NYSE:VTR) | 20.53 | 3.570% | 4.92 | 0.96 | 18.13 | 7,494,774 | 5.85 | 36.5% |
| Equity Residential (NYSE:EQR) | 18.69 | 5.338% | 3.09 | 0.73 | 19.71 | 9,309,153 | 5.70 | 49.8% |
| Kimco Realty Corp (NYSE:KIM) | 8.85 | 3.869% | 2.46 | 0.31 | 17.51 | 4,218,191 | 3.70 | 47.7% |
When you examine the table above, several facts appear:
1. All the mentioned REITs yield far above the S&P's 2%, with GOV leading the group ahead of SNH and OHI. KIM and VTR close the list with a respectable yield of over 3.5%. Keep in mind that although their performance in recent years has been booming - that is mainly thanks to the 2 trends mentioned above that practically enabled them to buy assets with almost free money. These times will not last forever.
2. P/AFFO is the ratio to use instead of P/E to examine REITs. The values in the table show Government Properties Income Trust (GOV) again leading the group with a relatively low 11.7, while the average is 16.75. The highest ratio is found with Realty Income (O) and Equity Residential (EQR) indicating possible overbought stocks compared to their AFFO.
3. As far as sensitivity to interest rate hikes the following observations should be considered:
a. National Retail Properties (NNN) and Kimco (KIM) are the only two with EBITDA/Interest Expenses lower than 3, indicating they may be subject to cash flow pressures faster than the others should interest rates rise or EBITDA drop. GOV, on the other hand, leads the group with a ratio of almost 6.5 (!).
b. Average time to maturity of total debt for the entire group is just under 7 years. Although floating rate is cheaper, I would like to see the REITs I own lock in on low interest rates for the long term. This way, when the FED begins raising the rates, their performance will not be damaged.
The REIT with the shortest time to maturity is GOV (just under 4 years), the longest OHI with almost 13 years. That could mean problems for GOV when the interest rates start rising unless they move to refinance for the long term now or issue more stock.
Next I wanted to check the effect of interest rate hikes on the P/AFFO ratio. The following table shows the result of a 1%, 2%, 3% or 4% change:
P/FFO Sensitivity

Change effecting floating rate debt Only

Change effecting Total Debt

Interest Rate Change

+1%

+2%

+3%

+4%

+1%

+2%

+3%

+4%

Senior Housing Properties Trust

14.67

14.69

14.72

14.75

15.61

16.72

18.00

19.49

Government Properties Income Trust

12.34

13.03

13.81

14.69

12.46

13.31

14.28

15.41

Realty Income Corp

21.86

22.36

22.89

23.44

23.49

26.08

29.30

33.43

Omega Healthcare Investors Inc

14.83

14.91

14.98

15.06

15.99

17.45

19.20

21.34

National Retail Properties, Inc.

15.59

15.59

15.59

15.59

16.66

17.89

19.32

21.00

HCP, Inc.

17.32

17.32

17.32

17.32

18.52

19.90

21.50

23.38

Ventas, Inc.

18.39

18.66

18.94

19.22

19.41

20.88

22.59

24.60

Equity Residential

19.97

20.23

20.50

20.78

21.90

24.64

28.17

32.87

Kimco Realty Corp

17.68

17.86

18.05

18.23

19.09

21.00

23.32

26.22
As the table shows, I tested two cases: the 4 columns to the left test only changes to the floating rate debt, being the short term risk. That means that if next month the FED chooses to raise interest - floating rates will rise but fixed rate debt will not change. The 4 columns to the right test the long term risk, meaning the fixed rate debt refinancing occurs when interest rates have already gone up.
The results offer several points to consider:
1. Regarding the short term risk (floating rate debt):
a. When interest rates rise, the interest expenses on floating rate debt will rise first. That will in turn decrease the AFFO and increase the P/AFFO, thus making your REIT investment less shiny.
The less floating rate debt the company has, obviously the smaller the short term risk on AFFO and P/AFFO. A leveraged company can, in that sense, better prepare for the future by decreasing floating debt in favor of long term fixed rate debt that take advantage of current low rates.
The safest in the group in this section are NNN and HCP (HCP) with no floating rate debt as of 30th September 2012. As the table shows, even when interest rates rise - P/AFFO will not be affected.
b. Since floating debt in the tested group is not the major part of debt and is not that material compared to total assets or market cap, the effect caused by it to P/AFFO is not that material.
An exception in the group is GOV where floating debt rate makes 85% of total debt and 38% of market cap. The result is that a 4% hike in interest rate will increase P/AFFO by 25.5% (!). While such a change does not happen overnight, it is definitely a risk to consider.
2. Regarding long term risk:
a. In this case I assume rates have already gone up when the REIT has to refinance its fixed rate debt. Therefore, the interest for the entire debt goes up and the results are far worse, obviously getting worse the higher the company's leverage.
b. In the REIT group I chose - EQR's P/AFFO gets hit the hardest as leverage is the highest while Senior Housing Property Trust (SNH), GOV, HCP and Ventas (VTR) are hit the least. Anyway, the results in this case are dramatically worse than the ones we saw for floating rate changes. After these results, I went on to examine the effect of the 1% - 4% interest rate hike on dividend yield.
To do that, I assumed dividend to AFFO ratio remains unchanged.
In this stage as well, I tested the 2 different cases: the 1st is the short term risk, where only floating rate debt is hit, the 2nd is the long term risk where the entire debt's interest rate increases.
The following table shows the results:
Dividend Yield Sensitivity

Change effecting Revolving Credit Facility Only

Change effecting Total Debt

Interest Rate Change

+1%

+2%

+3%

+4%

+1%

+2%

+3%

+4%

Senior Housing Properties Trust

6.18%

6.17%

6.16%

6.15%

5.81%

5.42%

5.04%

4.65%

Government Properties Income Trust

6.46%

6.11%

5.76%

5.42%

6.39%

5.98%

5.58%

5.17%

Realty Income Corp

4.77%

4.67%

4.56%

4.45%

4.44%

4.00%

3.56%

3.12%

Omega Healthcare Investors Inc

6.45%

6.42%

6.39%

6.36%

5.99%

5.49%

4.99%

4.49%

National Retail Properties, Inc.

4.69%

4.69%

4.69%

4.69%

4.39%

4.09%

3.79%

3.48%

HCP, Inc.

4.39%

4.39%

4.39%

4.39%

4.11%

3.82%

3.54%

3.25%

Ventas, Inc.

3.52%

3.47%

3.42%

3.37%

3.34%

3.10%

2.87%

2.63%

Equity Residential

5.27%

5.20%

5.13%

5.06%

4.80%

4.27%

3.74%

3.20%

Kimco Realty Corp

3.83%

3.79%

3.75%

3.72%

3.55%

3.23%

2.91%

2.58%
As you can see in the table, the very same trends from the P/AFFO sensitivity test remain unchanged:
Since floating rate debt makes a smaller portion of total debt, total assets and market cap, its effect on dividend yield is relatively small. An exception to this in the group is GOV with most of its debt in floating rate, so its dividend yield gets hammered to 5.42% from 6.8% when interest rate increases by 4%.
When the fixed rate debt absorbs the increase, the results are - as expected - much worse. If you examine the results you will find that the dividend yield will increase for the group's REITs by 7% to 14% with each 1% interest rate increase. Ouch!
Conclusion:
When I try to analyze long term macro trends, my first guess is that we should begin to see inflation picking up and interest rates rising to prevent that from happening. When interest rates rise, as I explained above, leveraged companies will see results taking a hit. The first ones to be impacted will be companies with high floating rate debts, fixed rate debts will only be impacted when refinanced at higher rates.
Since REITs are usually heavily leveraged and play an important role in many dividend growth portfolios, I performed the tests described above, and the results were not surprising: if all else remains the same, increasing interest rate environment REITs may not be a good candidate for your portfolio, as they will be forced to cut dividends.
In the group I chose, GOV clearly leads the way in term of current metrics. But what I consider a wrong mix of floating/fixed rate debt may cause it to deteriorate much faster in results than its peers. In that sense, I like SNH much better, since it still supports good metrics (even after its recent run) but is better suited for the future interest hikes expected.
Still, keep in mind that even after a 4% interest hike - dividend yields for the group are substantially higher than the ones currently on the S&P. On the other hand, since interest rate changes will take time, I intend to continue holding on to my REIT holdings, but will closely monitor any such changes.
I do hope that until these changes take place, the companies that have to will take steps to defend their balance sheets, and several solutions exist: delelverage (equity issues), switch from floating rate to fixed rate debt or even hedge interest rate hikes by interest rate swaps. While it is not always easy for a CEO to "sacrify" short term results for the long term, I find it essential, given my macro outlook.
I strongly suggest you perform such tests to any leveraged companies you hold; do not let the low interest rate environment confuse you and mislead your way.
Disclosure: I am long GOV, SNH. I wrote this article myself, and it expresses my own opinions. I am not receiving compensation for it (other than from Seeking Alpha). I have no business relationship with any company whose stock is mentioned in this article.