On Thursday, February 14, 2013, Affymax (NASDAQ:AFFY) shares dropped 33%, but as the trading day progressed, shares rose back to close to opening levels. The precipitous drop in the share price was due to a letter from Fresenius (NYSE:FMS) executives stating that they will "pause expansion of the pilot that began in late July 2012." Investors reacted to this news negatively, interpreting this statement as indicating that Fresenius will not sign a long term agreement with Affymax for commercialization of Omontys (peginesatide). This, however, is only a small segment of the bigger picture in regards with Affymax.
Affymax , incorporated in 2001, is a biopharmaceutical focused on developing treatments for life threatening diseases in the field of nephrology. On March 27th, 2012, Affymax announced in partnership with Takeda Pharmaceuticals (OTCPK:TKPHF) that the FDA has approved its drug candidate, Omontys (peginesatide), for treatment of anemia due to Chronic Kidney Disease (CKD) in adult patients on dialysis. Since then, independent third party reviews of Omonty's Phase 3 trials have been published on the New England Journal of Medicine and has been assigned a permanent J-code to streamline reimbursements for dialysis clinics prescribing Omontys. Additionally, on January 7 2013, Affymax signed a supply agreement with DSI Renal, the 5th largest renal provider in the U.S.
Benefits of Omontys:
Omontys is the first once-monthly ESA for Chronic Kidney Disease (CKD) patients in the U.S. This is extremely beneficial for patients and providers as Omontys reduces the doses per year to 12 from 56-125 doses of current ESAs on the market. The reduction in injection saves time, net cost, and reduces the opportunity of infection. In 2012, the market for dialysis related ESA (erythopoesis-stimulating agents) reached $2 billion, and with our aging population, the trend is set to only increase. Currently, Amgen (NASDAQ:AMGN) has a near monopoly within this market, as EPOGEN and other Amgen dialysis drugs control ~96% of the market volume with patent protection until 2015. With the integration of Omontys into the market, however, Amgen could potentially lose its monopoly and a significant chunk of revenue to the newer competitor on the block.
Potential Future Revenue:
As mentioned earlier, the big question at hand is whether or not Omontys is going to be able to sign a long term agreement with Fresenius, the largest dialysis provider in the US, after the pilot program that is set to expire in April 2013. After a letter stating the cessation of the pilot program, Chief Medical Officer Franklin Maddux for Fresenius stated,
"We are now working to analyze the full set of efficacy and safety profile information and feel that the current scale of our experience with use of the drug is adequate to complete this analysis."
The takeaway from this message is not that Fresenius no longer wishes to partner long term with Affymax, but rather is simply an indication that the decision may come faster than April 2013. Maddux also mentioned that Affymax produced mild side effects that also appear in patients using the existing Amgen ESA, EPOGEN, but- "vast majority of patients who are receiving the medication on an ongoing monthly basis are tolerating it well." As a result, I believe it is erroneous to react negatively to this news and the correction throughout the day on February 14 demonstrates that investors realized those flaws as well. However, investors should be wary as the true intention of Fresenius are still unclear.
Additionally, Affymax collects 50% royalties from partner Takeda Pharmaceuticals, the number one biopharmaceutical in Japan. Takeda is responsible for developments and marketing of Omontys outside the U.S., and is currently filing a Marketing Authorization Application ((MAA)) with the European Medicines Agency (EMEA). If the MAA is approved in Europe, this opens up another set of doors for Affymax to collect royalty payments without incurring additional Operating Costs.
Technical Analysis: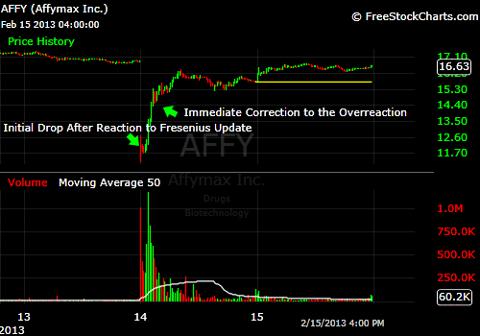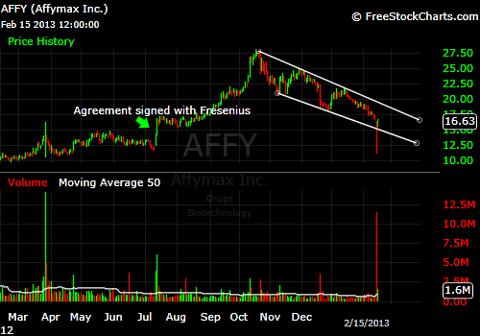 Currently AFFY is down nearly 40% from a recent high of $27.50 in October 2012, which was a result of investor confidence after the short term agreement Affymax signed with Fresenius. In mid-July, the news of a Fresenius Pilot Program brought the stock up nearly 50% of what it was trading at the day before. Thoughts of acquisition and long term partnership were in the minds of investors all the way through mid-October.
However, from then until now, Affymax is clearly in a downtrend and may stay this way until further news concerning a long term contract with Fresenius is released. Based on the what occurred last Thursday, if Fresenius discards future agreements with Affymax, there will most definitely be a drop that takes shares down to single digit values. Until then, watch the charts closely as Thursday's precipitous drop crossed the lower boundaries. The scary thing about Affymax is that after the letter last week, investors have no idea when the decision from Fresenius will be released. Anytime between now and April, the stock could either spike up or down. Once again, it is a binary future, just like the situation with ZIOP.
Financials:
According to CEO John Orwin, Affymax maintains $100 million in cash assets and investments as of Q3 FY2012. Revenue for 2012 totaled $34.6 million, but Affymax expects to incur an Operating Expense of $130-135 along with $10 million in share based compensation expenses. That is lower than the estimate for OE earlier, as Affymax has performed better than expected in cost reducing measures in selling, general, and administrative expenses. For Q3, Affymax has performed better than analysts estimate with a net loss of ($.68) per share, but forward looking estimate for Q4 are ($.61) per share.
Concerns:
The major concern, without a doubt, is whether or not Fresenius will sign a long term contract with Affymax. It is my opinion that Fresenius is hesitant about signing a longer term contract because of the safety ratings and health risks of Omontys. Based on reviews from the New England Journal of Medicine, Peginesatide (Omontys) received a cardiovascular hazard ratio based on a safety endpoint of 1.32 (1.32 inferior incidences on Omontys for every 1 on the comparable drug). Higher rates of mortality, angina, and arrhythmia were reported for pefinesatide.
Affymax also needs to generate higher profit margins in the coming quarters through royalty payments, additional sales/contracts of Omontys, and marketing of other drugs. Affymax has $100 million in cash assets, and the company needs to expand the sales of Omontys throughout the U.S., targeting the major dialysis providers such as Fresenius and DaVita (NYSE:DVA).
What move to make next:
Like many biopharmaceuticals, Affymax is encountering another binary moment in the future and that is a "yes" or "no" from Fresenius. However, due to a limited supply of knowledge and predicting accuracy, it is hard to say whether to go long or short. In regards to the drug itself, its specifications benefit not only medicine but to the market price for ESAs, and its reviews-- I would say that Omontys has a bright future. I think a competitor to Amgen is necessary and the lower dose frequency is highly beneficial. Yet, on the other hand, the downward trend over the past few months could be more than just a correction for the up trend that initiated near the end of 2011. I would consider purchasing a straddle for expiration in May 2012 to time the release of the Fresenius update as the stock is definitely going to move big. It's the direction that still remains uncertain.
Disclosure: I have no positions in any stocks mentioned, and no plans to initiate any positions within the next 72 hours. I wrote this article myself, and it expresses my own opinions. I am not receiving compensation for it (other than from Seeking Alpha). I have no business relationship with any company whose stock is mentioned in this article.