Last week, networking giant Cisco Systems (NASDAQ:CSCO) reported its fiscal second quarter earnings. While the headline numbers were good at first blush, Cisco's guidance again appeared mixed. Overall, the earnings report was decent, but not great. Since Cisco's last quarterly report in November, shares had rallied 25.5%. To me, Cisco's report last week did not justify the rally, which has put shares less than 2% from a new 52-week high. While Cisco is a strong value pick currently and a good company to own, I would encourage investors to wait for a pullback before entering the name. Today, I'll explain why.
Second Quarter Earnings:
For the quarter, Cisco reported revenues of $12.098 billion, which was a bit ahead of the $12.06 billion that was expected. The company reported non-GAAP earnings of $0.51, which initially looked like a three cent beat. However, that included one penny from a tax break, so realistically, they beat by two cents on an adjusted figure. In terms of GAAP results, Cisco came in at $0.59, which included a $0.17 tax break, which I'll get to in a little bit.
Margin analysis:
The following table shows Cisco's Q2 margins over the past couple of quarters. These are the numbers based off Cisco's GAAP results, which are the official numbers presented in the report. Cisco provides non-GAAP margin guidance, but does not give GAAP margin guidance.

Cisco saw a decline in both product and service gross margins. It was a bit troubling to see product margins fall by 84 basis points, given that they represented 78% of Cisco's sales in the quarter. Product revenues were up 3.50% over the year-ago period, but the cost of those products rose by 5.67%. Service sales rose by 10.46% over the year-ago period, but the cost of those services increased by 10.59%. With service margins also slightly lower, Cisco's overall GAAP gross margins fell by 59 basis points in the quarter.
Overall, Cisco's revenues were up 4.95% on the period, and gross margin dollars were up just 3.93%. Cisco did not do any better on the operating side. Cisco's R&D expenses were up $113 million over last year's period, a rise of 8.44%. That was more than offset by a 0.33% decline in sales and marketing expenses. However, Cisco reported a 17.51% increase in general and administrative expenses, along with a 21.65% rise in amortization expenses. Cisco also recorded $13 million in restructuring charges, compared to just $3 million in last year's period. Overall, Cisco's operating expenses rose by $223 million. That was a rise of 5.15%, faster than the rise in revenues and much faster than the rise in gross margin dollars. Operating income for the period only rose by 2.01% over the prior year period, which is why operating margins declined by 66 basis points, a bit faster than the 59 point decline in gross margins.
Cisco reported a slight improvement in interest income and slightly lower interest expenses. However, Cisco's "other income" swung from a positive $7 million to a negative $22 million. Cisco's pre-tax income rose by just 1.13% over last year's period to $2.78 billion. But here is where things get interesting. Cisco's bottom line results were helped tremendously by a tax benefit, described below.
GAAP net income and GAAP earnings per share for the second quarter of fiscal 2013 included total tax benefits of approximately $926 million or $0.17 per share, related to a tax settlement with the Internal Revenue Service and related to the reinstatement of the U.S. federal research and development (R&D) tax credit on January 2, 2013.
As you can see above, Cisco's GAAP net profit margin, which includes the tax break, soared 705 basis points for the period. However, if you were to tax out that tax break, Cisco's net profit margin would have come in at 18.33% for the period. That would have represented a 60 basis point decline over the prior year period. That decline would have been slightly better than the 66 point basis point in operating margins. While Cisco had those "other income" items that hurt, the effective tax rate (after taking out the $926 million) would have been 20.25%, an improvement over the 20.63% in the year-ago period.
Cisco's strong balance sheet:
Cisco, like many large cap tech companies, has a strong balance sheet. The company is flush with cash, but most of that cash is located outside the United States. This is not an uncommon practice. The following table shows some key balance sheet metrics for Cisco at the end of the fiscal second quarter over the last few years, plus a comparison to this fiscal year's Q1. Dollar values in millions.

You may notice that the cash and investments number in this table doesn't match the one in the Apple (NASDAQ:AAPL) article linked above. In the Apple article above, I've also included long-term investments. The balance sheet table above is just cash and short-term investments. Now, of that $46.3 billion or so in the cash pile, $39.4 billion was held outside the United States at the end of Q2. That means that only about $7 billion is held inside the United States. That $7 billion is the money that Cisco can use for dividends and share buybacks.
Cisco has increased its cash pile over the last couple of years. The company's working capital has also increased and so has the current ratio. The company's debt (liabilities to assets) ratio is also coming down, which is a good sign. Cisco has a strong balance sheet, and is not in any financial trouble currently.
The dividend and the buyback:
In 2011, Cisco started paying a dividend, which was originally set at 6 cents per quarter, and that was bumped up to 8 cents per quarter early in 2012. However, Cisco changed the game a few quarters ago, announcing a very unexpected 75% raise in the dividend to 14 cents per quarter. At that time, the 56 cents per share yearly dividend was yielding more than 3 percent. Thanks to the rise in share price, Cisco's annual yield was down to 2.67% as of Friday's close.
The dividend is good, and Cisco is also buying back a ton of its shares. I put together a table showing Cisco's buyback going back to Q2 of fiscal 2010. The table shows the number of shares bought back (in millions), total dollars spent (in millions), the average price paid, and the diluted share count (in millions) for earnings per share purposes. I like to use the diluted share count for earnings per share purposes instead of the outstanding share count. While the goal is to get both lower, the share count I use is factored into the quarterly and yearly earnings per share. The outstanding share count doesn't do that, and I like to analyze earnings per share.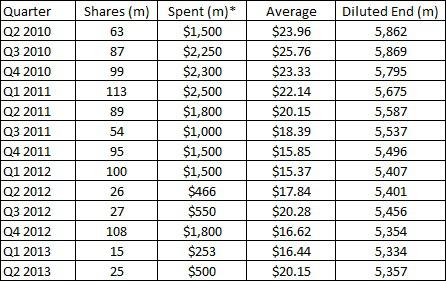 *Dollars spent is number provided by company, and may have been rounded. This total may or may not add up to the number of shares times price purchased.
Cisco has been criticized in the past for its buyback, which occasionally has come at above market prices. Critics also believe that the money could have been used elsewhere. While these two criticisms could be true to a point, the buyback has worked to an extent. Even with executive options diluting current shareholders and adding more shares, the buyback has reduced the count by over 500 million in the past three years. Think about it this way. Cisco produced GAAP earnings per share of $0.59 in the recently reported quarter. If you use the share count from Q2 of fiscal 2010, earnings per share would have been $0.54. The buyback is working in that respect, and has added a bit of a floor to the stock when prices are declining.
Guidance:
When it comes to fiscal Q3, Cisco guided to revenue growth in a range of 4% to 6%. This was seen as a slight disappointment, as analysts were looking for 5.5% growth at the time. Cisco can be slightly conservative when it comes to guidance, however. For the recently reported fiscal Q2, they had guided to revenue growth of 3.5% to 5.5%, and came in at 4.95%. I wouldn't think a beat is out of the question at this point, especially since analyst estimates have now come down to 5.3% growth.
On an earnings per share front, Cisco guided to a range of $0.48 to $0.50, in-line with analyst expectations for $0.49. In the past four quarters, Cisco has beat analyst expectations by one to three cents. The most disappointing part of the guidance might have been Cisco's non-GAAP gross margin guidance, but there's a point to be made here. Cisco guided to non-GAAP gross margins of 61% to 62%, which would be a little below fiscal Q2's 62.3%. However, Cisco also guided to that same 61% to 62% range when giving fiscal Q2 guidance, and they came in at 62.3%, so we'll see what happens. However, fiscal Q2 was down a bit from fiscal Q1, which saw 62.7% for non-GAAP gross margins. The numbers I provided above were all GAAP ones.
Comparisons / Valuations:
When it comes to comparing Cisco, I look at Cisco as a large cap tech stock that pays dividends and buys back stock. I've compared Cisco to Microsoft (NASDAQ:MSFT) and Intel (NASDAQ:INTC) in the past, so I will do that again. I'm also throwing in Apple, because Apple's dividend is almost rivaling those other names, and I think it will do so even more once Apple raises its dividend, which I talked about in the above linked article.
So in the following table, I have compared these four names on a few metrics. First is revenue and earnings growth for their current and next fiscal years (represented by "CFY" and "NFY"). Cisco's current fiscal year ends in July 2013, Microsoft's ends in June 2013, Apple's ends in September 2013, and Intel's ends in December 2013. I have also put in the dividend yields for each, as well as the P/E ratio, based on those earnings per share estimates for each fiscal year. One small note. Analysts use non-GAAP estimates for Cisco, while analysts use GAAP numbers for the three other names. Generally speaking, Cisco's non-GAAP numbers have been higher for earnings per share. In the latest quarter, Cisco's GAAP number was higher because of the tax break, which won't happen each quarter.

*Growth adjusted for extra week in previous fiscal year - for current fiscal year numbers.
If you were to use GAAP numbers for Cisco, the valuation would be even higher. There are a number of items to look at here. When comparing Cisco to Microsoft, Cisco looks overvalued. Generally speaking, Microsoft offers more growth, a higher dividend, and trades for a lower valuation. Microsoft currently is also buying back at least $1 billion of stock per quarter. In the past two quarters, Microsoft has bought back $2.6 billion worth of stock, while Cisco has bought back just $753 million. Even with Microsoft's market cap being a little more than twice that of Cisco, Microsoft is currently buying back more stock. That makes the premium Cisco trades at even more questionable.
When it comes to Cisco versus Apple, there is no question which is the better deal. While Cisco's dividend is a bit higher currently, Apple offers a lot more growth, and trades for a much cheaper valuation. Apple's dividend should get closer to Cisco's this year, and Apple has recently started buying back stock. While Apple's 3-year, $10 billion buyback probably won't be as impactful as Cisco's buyback over the next three years, Apple just started their plan. Cisco has been buying back stock for several years. Come back to Apple in a few years and I'm sure that their buyback will be much more impactful.
Intel is an interesting comparison to make. Cisco definitely offers more growth potential, as Intel is looking for a rebound in revenues this year and an earnings rebound next year. However, Intel offers a substantially higher dividend. Additionally, Intel is buying back about $1 billion or so in stock each quarter, much faster than Cisco is at the moment. Cisco's market cap is actually a few billion higher than Intel's, which means Intel's buyback is going a lot further than Cisco's is. Intel trades at a slight premium to Cisco, which I think the buyback more than compensates for.
For these reasons, Cisco looks a bit overvalued to me when looking at other large cap technology names. My personal opinion is that Cisco is a good name to own, although I'd let it come down a bit before buying. Cisco closed just under $21 on Friday, so it's easy to say buy at $20 or $19 or some other numerical value. One way I like to look at a name like this is to buy at certain annual dividend yield points. The following table shows some of those points. Cisco pays out 56 cents each year at the current rate, which yielded 2.67% as of Friday's close.

My personal opinion here is to wait until Cisco yields 2.75% before buying, which would be $20.36, and then average down for every 5 or 10 additional basis points in yield.
Conclusion - good company, wait for pullback:
Cisco is a good large cap technology company. The company produced a solid result in its fiscal second quarter, although the decline in margins was a little worrisome. The company pays a solid dividend yielding 2.67% currently, and although they have been criticized for it, the buyback program is working. Cisco's guidance might have seemed a little light on the surface, but it was probably right where it needed to be to set up another quarterly beat. I like the name going forward, but I think the rally over the past few months has stretched the stock a bit. I would wait for Cisco to pullback a little, and I've thrown in some entry point examples based on dividend yield.
Disclosure: I have no positions in any stocks mentioned, and no plans to initiate any positions within the next 72 hours. I wrote this article myself, and it expresses my own opinions. I am not receiving compensation for it (other than from Seeking Alpha). I have no business relationship with any company whose stock is mentioned in this article.
Additional disclosure: Investors are always reminded that before making any investment, you should do your own proper due diligence on any name directly or indirectly mentioned in this article. Investors should also consider seeking advice from a broker or financial adviser before making any investment decisions. Any material in this article should be considered general information, and not relied on as a formal investment recommendation.