I had recommended Baltic Trading (NYSE:BALT) last August as a value stock, as it was trading at a discount to its net asset value (NAV, as defined later). In this article, I will review the current financial position of BALT, including my estimates for its upcoming earnings results. Baltic Trading is scheduled to report earnings for the fourth quarter of 2012 on Wednesday, February 20th, after the market closing.
BALT is a dry-cargo shipping company that owns a fleet of 9 vessels ranging in DWT capacity from 34,000 MT to 178,000 MT. The average age of the fleet as of December 31st, 2012 was 3.2 years, so BALT owns one of the most modern fleets among publicly traded shipping companies. Based on last Friday's closing price of $3.36 per share, the company has a market capitalization of $77.3 million.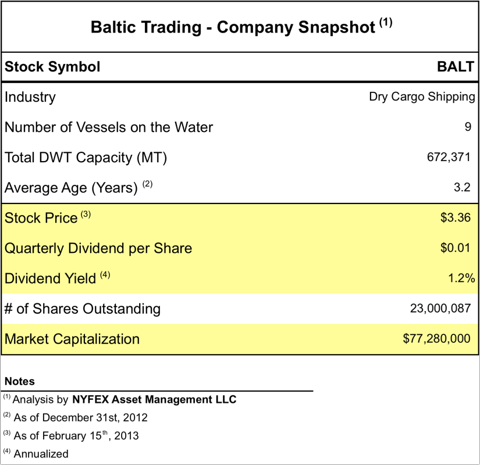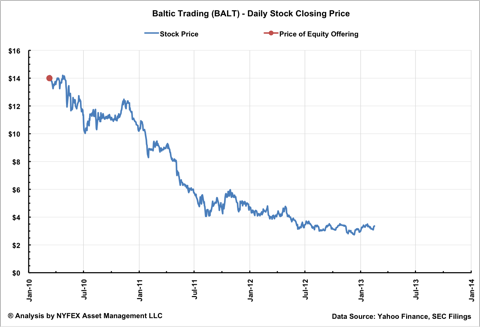 Many investors might have been attracted to bulk shipping companies because of their low price to book ratios. But a low price to book ratio is not necessarily proof that a shipping stock is undervalued. There is indeed a larger degree of correlation between price and net asset value, than there is between price and book value.
Stock valuations for shipping stocks reflect to a large degree the fair market value of their fleets. Even though vessels are long-term assets, (the typical economic life for a dry-cargo vessel is 25 years), there is an active vessel sale & purchase market. Like the spot freight and fixed-period markets, the sale & purchase market is inherently volatile.
Because of the active sale & purchase market, it is feasible to estimate the fair market value of a company's fleet on a charter free basis (investors will have to make adjustments in the case of long-term charters that are above/below current market values). Taking it a step further, if we also adjust for cash on hand, other tangible assets, debt outstanding, and share float, it is possible to estimate the net asset value ((NYSE:NAV)) of the company, based on the current valuation of its fleet.
Because the net asset value provides a better indicator of a company's intrinsic value, it should be expected to have a high degree of correlation with the stock price.
On the other hand, the book value per share is largely based on historical vessel costs (adjusted for depreciation). Since historical-based vessel costs rarely reflect current market values (and in this depressed market environment they are grossly overvalued), the correlation between stock price and book value is not robust.
The limitation of NAV is that investors have to estimate it. Whereas the book value is readily available in popular finance sites, or can be easily derived from a company's financial statements, investors must estimate the net asset value on a periodic basis.
Thankfully in the case of Baltic Trading, the company provides sufficient disclosure in its quarterly and annual reports with the SEC to help estimate its NAV. In the table below I summarize my NAV calculations for the most recent quarters.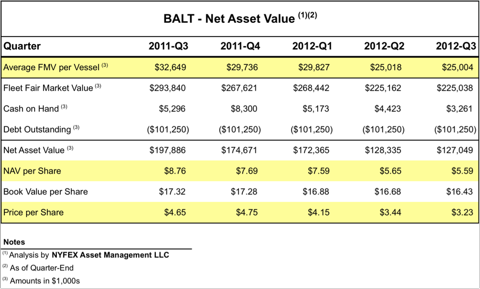 Based on the analysis above, it is evident that the stock price of BALT has exhibited a higher degree of correlation with its NAV that its book value. But surprisingly enough, the stock has also consistently traded at a discount to its NAV for the past six quarters. I had made the similar observation in my previous article last August.
Because it is trading at a 40% discount to its intrinsic value, and because it has a low-level of debt and a very modern fleet, I still recommend BALT as a low-risk asset play in dry-cargo shipping.
The company trades all its vessels on spot index-based time charters. This strategy exposes the company to spot market volatility but it ensures full capacity utilization. Given the current depressed state of freight markets, I do not expect BALT to generate any meaningful cash from operations in 2013. But the company has time on its side, because it is not required to make debt amortization payments until the fourth quarter of 2015.
Regarding its financial performance for the fourth quarter of 2012, I summarize my estimates on the table below.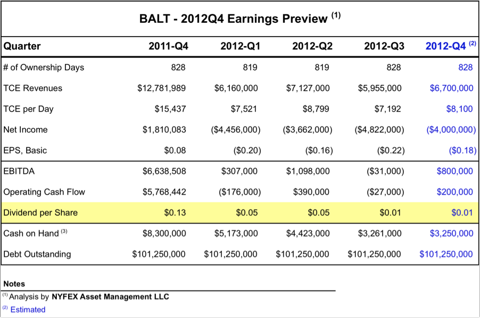 For the quarter ending December 31st, 2012, I estimate that BALT generated net loss of ($4,000,000) or ($0.18) basic loss per share. I estimate that its TCE revenues for the quarter were $6,700,000 and the average TCE was $8,100. I also estimate that BALT generated an operating cash flow of $200,000 or $0.01 per share, and forecast that it will declare a cash distribution of $0.01 per share. Based on my estimates, BALT ended the quarter with approximately $3.25 million cash on hand.
Disclosure: I am long BALT. I wrote this article myself, and it expresses my own opinions. I am not receiving compensation for it (other than from Seeking Alpha). I have no business relationship with any company whose stock is mentioned in this article.