If there's one class of investors that is more religiously tied to their asset than the Apple (NASDAQ:AAPL) crowd, that is the gold (NYSEARCA:GLD) and silver (NYSEARCA:SLV) crowd. No matter what the fundamentals say, no matter what the price actions says and no matter what the charts say, the gold and silver crowd will always tell you to buy gold and silver. I mean, if that is not a carbon copy of Apple gung-ho bull mentality - that always finds reasons to buy Apple - I don't know what is.
A bubble is a bubble until it pops and investors say it has popped. But if a bubble remains a bubble for a long time, then investors take it for granted and think it is not a bubble. This is what I think is going on with gold and silver today.
If you want a whole bunch of reasons to sell gold, please read my last post, for I discuss the issues in more depth in that article (please consider: Will 2013 Be The Year That Gold Dies?). In this article I want to show you some charts, because as we all know, a picture is worth a thousand words. But before I do so, a few more words. Investors need to understand we are living in deflationary times, whereby the Fed is trying desperately to pump up asset prices in order for bank balance sheets and stocks to be worth more. The logic is that if people feel rich, they will spend more. But what will happen if the Fed stops printing? The answer is that all those assets that supposedly were going up as a result of Fed action will probably correct. Stocks, however, are already very cheap. I don't see them falling by much - no matter what the Fed does. On the other hand, bonds and gold will take a beating.
But the market will not wait for the Fed to stop printing to take action. The market is a discount mechanism and will start to discount Fed action even before investors notice that the Fed's balance sheet is contracting. And a word of caution, try to follow the market - not decipher it. Take for granted that the market knows better and that it is above and beyond all of us.
And now to the charts...
The chart below is the well known Dow/Gold ratio. For those who are not familiar with it, at the peak points of the chart, gold is cheap in comparison to stocks and at the bottom points of the chart the opposite.
From what I see on the chart, the ratio seems to be at a turning point. If confirmed, it will mean that stocks will outperform Gold from now on. It is not crystal clear yet and probably needs several months or even perhaps a year to be confirmed, but if I were to take a bet, I would say that the era of gold outperforming stocks is probably over.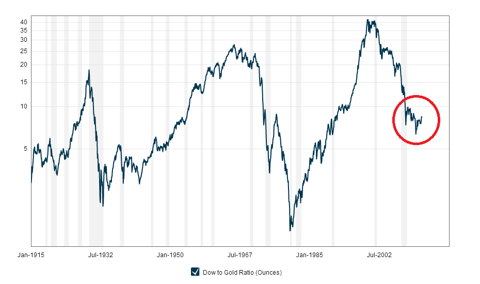 The chart below is probably one of the most interesting charts I have ever seen. Like the Dow/Gold ratio, this chart shows us the ratio of the average U.S. house price compared to gold.
As you can see on the chart, in 2002, the average house in the U.S. was worth around 400 ounces of gold and today the average house is worth less than 100 ounces of gold. I don't know about you, but given the choice to own 100 ounces of gold or an average house, I would take the house.
But the interesting thing with this chart is that this ratio is at extreme all-time lows. While there is no law that says the ratio will not continue downwards and gold will not go even higher - compared to the price of the average home - it is a historical indication that shows us just how much gold is overextended compared to housing. In other words, gold has never been this expensive before when compared to an average house.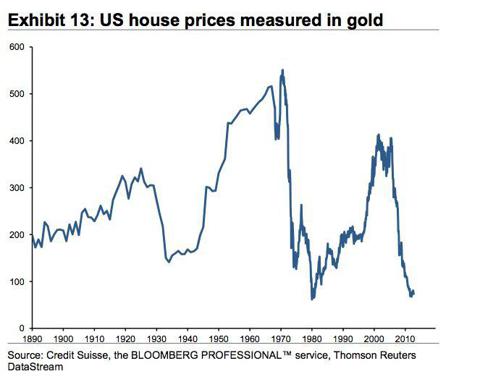 Finally, let's look at price action of gold. This is a broken chart anyway you look at it. While this chart is no indication of the future of gold, it does tell us that the long-term upward trend - for the time being - is no more. Also notice the fairly high volume just the past week and please take note of the MACD indicator that is approaching zero. Because unless gold rallies from this point, this indicator will continue to go down. And if the MACD falls below zero, then we will see technical program selling of mythical proportions.
Finally, if support is taken out at around $1.540, then I think gold will fall fast and hard.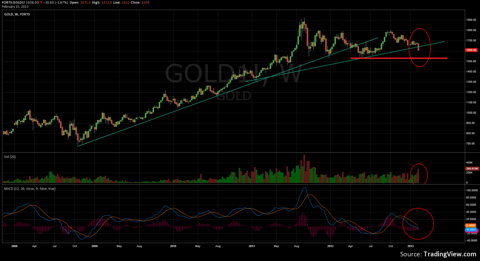 Silver (chart below) is more or less in the same boat. On a pure technical point, if we see $27.50 taken out, next stop I think will be below $20.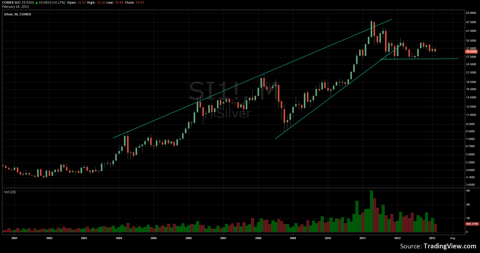 Bottom line
As far as I'm concerned, gold is just another asset and should be treated just like any asset. In other words, it can be bought and traded from time to time to make money. I have presented forensic evidence that I think makes a case that gold (as well as silver) will probably correct from these levels.
But you don't have to take my word for it, please use your own discretion. Whatever you, just don't get sentimentally involved with gold and silver or any asset, because getting involved sentimentally in this game can cost you a lot of money.
Disclosure: I have no positions in any stocks mentioned, and no plans to initiate any positions within the next 72 hours. I wrote this article myself, and it expresses my own opinions. I am not receiving compensation for it (other than from Seeking Alpha). I have no business relationship with any company whose stock is mentioned in this article.