Google's (NASDAQ:GOOG) Q4 performance has been extremely promising. It shattered projected revenues by over 2 billion dollars, produced 12.1% EPS growth and maintained 8% quarter-on-quarter revenue growth. Currently, Google is on the brink of breaking its 52-week high of $791.81. With a price target over $800, it is no surprise that stockholders and future investors have their eyes set on Google. There is strong support for investing in Google, but we must compare it to leading competitors, such as Microsoft (NASDAQ:MSFT) and Apple (NASDAQ:AAPL), to see if it is indeed solid investment.
| | | | |
| --- | --- | --- | --- |
| Name | P/E Ratio | EPS | Growth Estimate |
| Google | 24.37 | 32.21 | + 5.30% |
| Apple | 10.47 | 44.11 | - 16.70 |
| Microsoft | 15.30 | 1.82 | + 28.30% |
While the three companies are not directly comparable, we can draw some insight from the differences in P/E ratio. Google's P/E ratio of 24.37 can mean one of two things: they are expecting future growth or they are overvalued. Judging from Google's investment and growing international saturation, I believe it is the former. The growth estimates speak for themselves. Although Apple currently has the highest EPS of the three companies, they are predicted to have negative growth this quarter. This should raise a red flag when considering investment. Apple has had its share of innovations but if it does not revamp its current products or business model, it will fall behind Google and eventually Microsoft.
Androids, Androids Everywhere…
| | | | |
| --- | --- | --- | --- |
| Name | Phone | Market Share | Sales Growth |
| Google | Android | 69.7% | + 26% |
| Apple | iOS | 20.9% | - 11% |
| Microsoft | Window's Phone | 3.0% | + 124% |
Last year, Google was able to capture 34% of phone sales worldwide, while Apple was only able to reach 11%. If we narrow it down to just the smartphone market, Google is even further in the lead. Microsoft has a 3% share and Apple has 20.9% share. Both of these figures are dwarfed by Google's 69.7% stake in the market. Sure, the current market shares are important in determining the strength of the company but we must also recognize the growth of their sales.
According to the data, it shows that Microsoft had 124% growth from the previous year. However, the growth can only be attributed to a 1.5% jump in actual share increase. This detracts from the inflated growth percentage because it is quite easy to grow when you start with a minute share. Looking at Apple, we can see that they have decreased from a market share of 23.6% to 20.9% in Q4 2012. Bear in mind that this is compounded with the fact that the entire industry has grown a substantial amount. It does not necessarily show that Apple has decreased in global presence, but it does mean that they have stagnated. Since there are many new players in the mobile industry, Apple has to keep up with new innovations for the iOS if they hope to maintain above a 20% share in the industry. Once again, Google presents the most promising numbers. Android sales have skyrocketed from 51.3% to 69.7% in the Q4 2012. If we take into account the EPS growth and overall integrity of the company, we can see that Google's growth does not seem to be stopping any time soon.
The Busted Bing
In an attempt to dethrone Google, Microsoft poured billions of dollars into advertising and developing the Bing search engine. Bing's performance throughout the last fiscal year has been relatively positive, but it has yet to rival Google's search engine.
| | | |
| --- | --- | --- |
| Quarter | Paid Clicks | Cost Per Click |
| Dec. 2011 | + 33% | - 7% |
| Mar. 2012 | + 38% | - 12% |
| June. 2012 | + 42% | - 16% |
| Sept. 2012 | + 33% | - 15% |
| Dec. 2012 | + 24% | - 6% |
Bing would be problematic for Google if their growth was halted, but this is not the case. If we look at the chart above, it is a clear reminder that Google is showing strong returns when it comes to their search engine. The Google search engine grew from 66.7% to 67% between the months of December and February, while Bing only grew from 16.3% to 16.5%. Large investments and mediocre returns have placed Microsoft in a difficult situation. In 2012, there was a plethora of Bing vs. Google sentiments, but Bing was just a drop of water in the market. The biggest problem with Bing is that it entered the market at the wrong time and tried to challenge Google directly. I do not expect much from Bing's growth and prominence in the market. Google will continue to leverage its established position to attract even more traffic and widen the gap between the competitors.
Wearable Innovation
With technology becoming increasingly cheaper and compact, the race for wearable computing has begun. Microsoft is the weakest member of this category because much of its investment has been placed into "no-touch" devices. Although Microsoft is just starting to file patents, it may be too little too late. The iWatch will be Apple's attempt to capture their share of the market. The product will harmonize with other Apple products such as the iPhone or iPad. It will take advantage of the vast ecosystem of app to draw in a plethora of old and new consumers.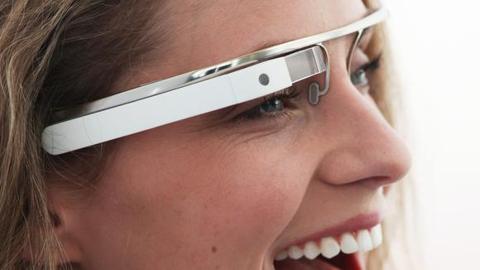 Google is pursuing a larger amount of venues for wearable technology. Google Glass and another patent on wristwatch technology have left Google with the first mover advantage. If they are able to properly create a suite of wearable devices that offer the same level of connectivity as Apple boasts, Google is already ahead of the game. Despite Google's slight advantage, I suggest investors remain tentative when considering this category because these products are mainly conceptual and success has yet to be seen.
Final Thoughts
Despite a lagging global economy, Google has been able to provide strong numbers and positive growth throughout FY12. Its financials, projected growth, and future innovation all factor into my recommendation for a Buy stance on Google. Currently trading around its 52-week high, I expect the share price to continue rising onto its price target, exceeding $800.
Disclosure: I have no positions in any stocks mentioned, and no plans to initiate any positions within the next 72 hours. I wrote this article myself, and it expresses my own opinions. I am not receiving compensation for it (other than from Seeking Alpha). I have no business relationship with any company whose stock is mentioned in this article.
Additional disclosure: Business relationship disclosure: Capital Traders Group is a team of Proprietary Trading and Equity Research Analysts. This article was written by Scott Shi, one of our Equity Research Interns. We did not receive compensation for this article (other than from Seeking Alpha), and we have no business relationship with any company whose stock is mentioned in this article.