Exactly two years ago, Nokia (NYSE:NOK) made a courageous decision. Soon after CEO Stephen Elop's historical memo about the burning platform, Nokia's radical change became a big story in the broader media. At Reuters, you found the following news on February, 16th, 2011:
Nokia announced it would partner with Microsoft (NASDAQ:MSFT) and would adopt Windows Phone software across its devices, replacing its home-grown Symbian platform and turning the world's largest cellphone maker into a pure hardware player.
There has been an emotional discussion during the last two years about whether Nokia's switch to Windows Phone was the right decision or not. This discussion is endless and, for many people who lost their jobs during Nokia's transition, also very painful. As you know, Nokia did not only go through a transition from Symbian and Meego to Microsoft within the last two years, but at the same time, it also radically restructured its network division Nokia Siemens Networks NSN. They cut jobs in Finland, Germany, USA, Japan and Rumania and moved complete divisions and production facilities to China, India and finally to Vietnam.
In this article, I don't want to discuss whether the adoption of Windows Phone was the right decision for Nokia or not or what could have been better alternatives. For you as an investor or speculator, it is more important to investigate if the Microsoft-transition will pay off at the end of the day.
In the first part of my article, I will show how the platform transition affected Nokia's stock price. Based on the analysis of the past two years, and especially of the last 12 months, I will compare today's situation with last year's and try to give an outlook on Nokia's future. Please keep in mind that my focus is on the smartphone business. I will neither consider the restructuring of NSN and Nokia's profitable Navteq location business nor the big Mobile Phone business ("dumb phones"), since this is beyond the scope of this article.
The holistic view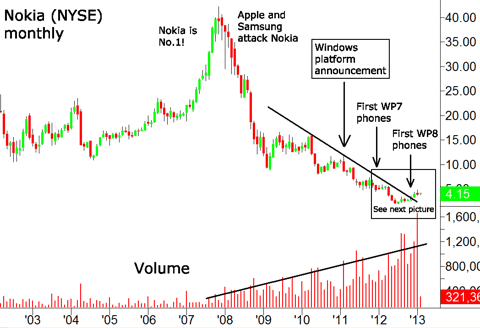 Back in the year 2000, Nokia traded at around $60. At that time, the stock had a price/earnings ratio over 100. Therefore, it was not surprising that afterwards it needed some years of consolidation, since it had simply become too expensive. Some years after the dot-com bubble burst, the stock regained momentum and increased back to $40 in the year 2007.
What had happened? Nokia became a well-known brand around the entire world, selling over 1 billion mobile phones, most of them just simple devices where the main feature was the call function. At the time when everything looked brighter than ever, Nokia bought the company Navteq for its location business for $8.1 billion. Note that today, Nokia's market cap is $14.7 billion, while Navteq makes, according to trevis only about 11% of the current stock price.
Some other things happened in 2007 which soon after turned out to become a bigger problem for Nokia. Steve Jobs presented a new product named "iPhone." The two years became terrible for Nokia stockholders. Nokia's share price fell from $40 to $10 as the company was hit from two sides. While at the high-end, Apple's iPhones revolutionized the mobile business, the Korean Samsung (and some other smaller Asian companies like HTC etc.) attacked Nokia from the low-end with unbeatable competitive smartphones that were extremely cheap. Nokia had mainly missed to make a better marketing for its early touch phones like the Nokia 7710. They had already invented them in 2004, but had given up to produce and sell them after the initial demand had been too low.
After losing more and more of the cake in the years between 2007 and 2011, Nokia's management started becoming desperate and finally chose Stephen Elop, a former Microsoft manager from Canada to become the first non-Finnish CEO in Nokia's 140-year history.
Shortly after joining Nokia, Elop wrote the above-mentioned internal memo titled "Burning Platform" which was immediately leaked to the press. In February 2011, he announced a new strategy for Nokia, which included the discontinuation of two of their in-house mobile operating systems, shifting its smartphone strategy to Microsoft's Windows Phone 7. You can see in the above chart that after the announcement and also after the introduction of WP7, the stock's decrease continued. At the time when the second generation of Windows Phones, the WP8, was introduced, a small sign of hope grew with the break of the long-lasting downward trend from 2008 to 2012.
Let's have a closer look at the last two years.
Nokia's two years with Microsoft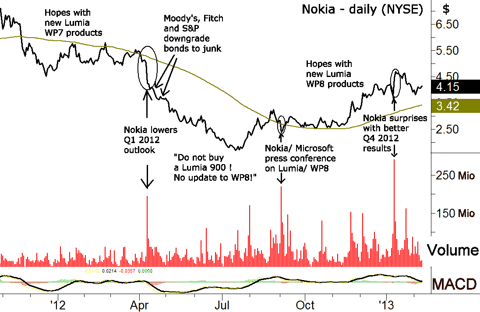 From Elop's Microsoft announcement in February 2011 until the final release of the first Nokia Windows Phone 7 smartphones, only nine months passed. This indicates that Nokia took its platform transition seriously. In November 2011, the first Lumias 800 were sold. The on-schedule released phones brought new hopes into Nokia's community, but the months after the release were difficult. Nokia sold fewer WP7 phones than expected (just about 1 million in the last quarter of 2011 and about 2 million in the first quarter of 2012) and, even worse, they could sell most phones with big discounts only.
But, while hopes for the new products were remaining, Nokia's US shareholders were shocked when they checked the stock market in the morning of April 11th, 2012. Nokia had given a profit warning for the first quarter of 2012 before the NYSE had opened. The stock lost 20% within few minutes. Over 200 million shares were traded on the NYSE which opened two hours later.
Here are some highlights of Nokia's press release of that day:
During the first quarter 2012, multiple factors negatively affected Nokia's Devices & Services business to a greater extent than previously expected. These factors included gross margin declines, particularly in the Smart Devices business unit.
Elop's profit warning and negative outlook caused sharp reactions, first from the company itself (Nokia dropped its sales chief and promised to slash more costs) and then from analysts downgrading and selling the stock. And even worse for a company in trouble, just some days later, three big US rating agencies reacted with downgrades of Nokia's bonds to junk status. Moody's was first on April 16th, followed by Fitch on April 24th and finally S&P on April 27th. Fitch said in a statement:
Given the potential headwinds facing the company, we are currently not convinced that Nokia can attain this over the course of 18 months.
So the biggest rating agencies were already mentioning a possible default of Nokia. The series of bad news continued in May when Nokia was sued by an investor who accused the company of overstating the benefit when introducing Windows-based smartphones.
In the meantime, a new hope for Nokia appeared. The new WP7 flagship phone Lumia 900 was released. However, hopes were destroyed again. From May to August Nokia's stock continued its decrease mainly because of Microsoft's update policy concerning WP7 together with Nokia's planned release of new WP8 phones at the end of 2012. People in Nokia forums wrote statements like "Do not buy Nokia Lumia 900! No update to WP8."
CNET reported that Nokia sales estimates slashed after news of Windows Phone 8 was released. Executive editor Roger Cheng pointed out that Nokia's Lumia 900 was obsolete already.
Well, it's clear now everyone should have waited for the Windows Phone 8 version of the Lumia rather than a flagship phone, it now appears more like a stopgap to something better.
Not surprisingly, in July 2012, Nokia's stock hit its low at $1.63. It was around that time when Richard Kerris, Nokia's Global Head of Developer Relations, made the following statement:
The products you'll really want from us will ship during spring 2013.
What could he mean? We can speculate if he made this statement because he was just desperate or maybe he was talking about the Lumia 920? Maybe he meant something spectacular which may soon appear- a new Lumia 1000, the mysterious RM-860 which recently appeared or whatever? We'll probably know more after the Mobile World Congress which starts in a few days.
Who knows if Kerris' statement helped or not, but August 2012 was a good month for Nokia. The stock doubled from its low of $1.63 up to a high of $3.39. Part of this recovery took place simply because Nokia had been oversold at levels below $2. But there were other aspects. It was reported by the NASDAQ some weeks later that just in this most difficult quarter some big US market players increased their shares in Nokia massively and helped the stock to recover. Goldman Sachs became Nokia's biggest shareholder, and Morgan Stanley multiplied its position by a factor six.
Maybe these players knew more than the average investors, since prices below $2 have been seen since. By the way, within the last days, NASDAQ has finally updated institutional ownership numbers for 12/31/2012 and Goldman Sachs has remained the biggest shareholder, betting on Nokia's turnaround.
The stock price continued to increase in the autumn of last year on hopes of the new WP8 phones, although it stayed volatile. For example, on September 5th, the day of the new WP8-based Lumia 920 presentation, Nokia's shares fell more than 15%. The stock had surged more than 50% within six weeks before that event.
Despite such shocks, the stock price continued to rise and accelerated its speed at the end of the year, especially after Nokia made a deal with China Mobile which announced it would subsidize Nokia's flagship phone. Hopes of the Nokia fans were growing since there were some indications that the new Lumia 920 was selling quite well. However, the big problem at that time was that it was impossible to get any reliable sales numbers. Rumors spread about Lumia discounts and a tax affair in India while everybody was waiting curiously for Nokia's results of the 4th quarter. Those were planned to be presented on January 24th, but Nokia's management decided to stop the rumors and released better than expected preliminary results already two weeks earlier.
The press reported that Nokia's fourth quarter of 2012 was surprisingly solid. Revealing its preliminary financial results for Q4 2012, Nokia said 'Smart Devices' net sales came in at approximately 1.2 billion euros ($1.57 billion), with total volumes of 6.6 million units. Of those, Nokia mentioned, 4.4 million units were Lumia smartphones. That means Nokia sold more Lumia phones than in the two previous quarters. The company said it had sold 2.9 million Lumia devices in Q3 2012, which was down from 4 million in the prior quarter. The higher than expected sales numbers together with other positive facts (profitability of NSN, increase in Mobile Phones, growth of Navteq gave the stock a big boost to a new 6-month-high ($4.60) while a record volume of nearly 300 million Nokia-shares were traded that day (see above chart). As you can see the last two years were not easy. But what comes next?
Nokia 2013 Vs. Nokia 2012
As there are many different aspects which are relevant for Nokia's business and the stock price, I will provide a positive/negative list:
1) Seasonal weak quarter Q1 2013: Negative. Elop said in his comment on the last quarter:
Seasonality is expected to have a negative impact on the first quarter 2013 underlying profitability for Devices & Services, compared to the fourth quarter 2012.
The good point for you as an investor is that, compared to Q1 2012, expectations are lower this time.
2) Competition remains strong: Negative
The competition for Nokia, especially from Samsung's Android phones and Chinese competitors, remains strong. There is always a danger of some of them copying Nokia's recent innovations as it happened to Apple (NASDAQ:AAPL). Latest rumors say that Nokia wants to skip Samsung as a main component supplier. According to rumors they already started ordering Lumia screens from Sharp (SHCHF) instead of Samsung (OTC:SSNLF).
3) Update on the tax affair in India: Not so negative?
Update to the tax affair: I found the following post from a Finnish writer in the forum below a recent SeekingAlpha article. The post reads as follows:
There was an article published in the newspaper Kauppalehti which is a kind of Finnish Financial times. In that article there are actual names and solid facts. They write that Finland and India have a tax agreement which makes double taxation (taxing the same thing in India and Finland) impossible. This means that even if the India case has some merit the Finnish Treasury is paying back taxes paid to Finland. So the tax affair won't have a big effect on net cash because of the tax agreement between Finland and India.
Keep in mind how much Nokia's stock has suffered from this rumor within the last weeks.
But please note that this update on the tax affair is only a speculation from my side, as I don't have any more reliable facts on this case.
4) Margins in the smart devices unit: Positive.
Last year at the same time, Nokia had to give huge discounts to sell its WP7 phones. This time, we heard much about bad supply, but less about discounts and falling prices. The results can be seen in the numbers of the latest Nokia's quarterly reports. The smartphone ASP ("Average Selling Price") increased quite a lot from quarter to quarter and even more year by year.
Q4 2011: $190; Q3 2012: $210; Q4 2012: $250 (values converted from Euro to US-Dollars at current exchange rate).
With the continuation of this trend and more demand than supply reported within the last six weeks, you can expect the ASP and margins in the Smart Devices business unit at least to stay stable.
5) WP8 Lumias in top selling lists: Positive
The new WP8 phones seem to sell better than the WP7 phones did last year. They are leading many top selling lists around the world. As an example, look at the retailer Expansys in industrial countries like Germany, UK, Japan and recently even the US. Don't underestimate Nokia's strong brand name in the fast growing markets, China and India. A company that sold over a billion phones over the last decade has the potential to strengthen its position with good products in these markets.
6) Supply constraints: Improving
Concerns about the Lumia supply have persisted over the last two months. The worst example has recently come from China when ZDNET reported:
China Mobile, China's largest carrier, ordered 90,000 Nokia Lumia 920Ts, but Nokia has only been able to deliver 30,000 through January. The shortage means most of China Mobile's outlets will not be carrying the device ahead of Chinese New Year, which began on 10 February.
Recent indications show that the supply has improved, in China as well as in other countries. If you look at Expansys, you will now find that in various countries there are a lot more Lumia 920 devices in stock than some weeks ago. Additionally, Nokia's production will further gain speed with its new factory in Vietnam, which is expected to open within the next few months. However, this facility will produce mainly low-end phones. 10,000 people are expected to be working there by the end of 2013, producing 45 million units per quarter.
7) WP8 the better enterprise solution? Positive
Concerning phone usage in enterprises, a recent survey reported that IT-managers are more bullish on Microsoft's Windows Phone 8 handsets than on RIM's BlackBerry (BBRY) 10 phones. Both device lines are new and designed to appeal to the enterprise. However, only 34 percent of IT managers plan to support BlackBerry 10, compared to 45 percent who plan to support Windows Phone 8 devices going forward.
8) Nokia and WP8 market share: Positive.
Nokia had the option to choose between Android and Windows Phone as its operating system. It decided to be a bigger fish in a smaller Windows Phone sea rather than to be a smaller fish in the bigger Android sea. From the point of view of copy protection Microsoft is for sure the better choice. However the question is, if this smaller sea can grow fast enough before it dries out. Let's have a look at recently revealed Gartner numbers. Although Windows Phones accounted only for about 3% of the overall smartphone market, you can see in the following graph that it has been steadily growing.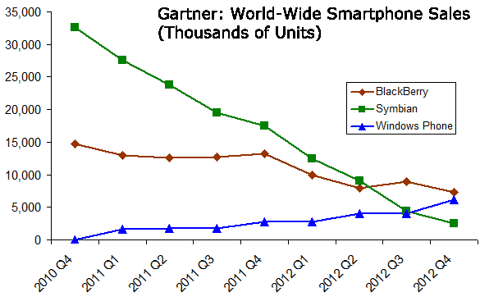 Please note that the dominating operating systems iOS and Android are left out here. While in the difficult transition period from Q2 to Q3 2012, the sales number remained constant, it gained momentum in the last quarter. You can see that Windows Phone overtook Nokia's old and already meaningless Symbian in the 3rd quarter of 2012. And just a quarter later, it came very close to BlackBerry. And Nokia's part of all shipped Windows Phones has increased fast within the last 12 months. One year ago, in February 2012, Nokia's WP market share was about 33%, in November it was up to 76% and according to latest AdDuplex statistics of this February, it is already 78% now.
9) The new Lumia 620: Positive
"Has Nokia Built an Android Killer?", asked Steve Heller in a recent article on The Motley Fool, talking about the recently released Lumia 620.
According to Engadget, the Lumia 620 raises the bar for entry-level smartphones "regardless of OS" and "provides a great web browser experience alongside the full Windows Phone 8 feature set." As far as the competition is concerned, Engadget considers the Lumia 620 to be "arguably more attractive than most Google-powered (GOOG) phones" for the price. Note that the supply for the 620 is much better than it was for the 920 at the beginning.
10) Asha series: Positive
Asha sales numbers improved from about 6 million to 9 million between Q3 2012 and Q4 2012. Surely, reasons for this increase were partly seasonal effects. But the Asha phones stay innovative with new technology for data transfer (saves 90% of traffic), full-touch, a Facebook (NASDAQ:FB) button of their own, dual-sim with WLAN and so on. This all for a price of around $100. To save costs, especially in traffic, is a big argument for Nokia in poor countries. Although Samsung started its new REX series just last week, the Asha phone remains superior and cheaper at the same time. (Note that Asha still runs on Symbian S40. So for these cheap phones, the old operating system has stayed).
11) Recent Management decisions: Positive
Last year the management of Nokia, together with Microsoft, made some strategic mistakes concerning product releases and updates ("No update on WP8"). Although not everything seems perfect yet, the noise has faded during the last months. Elop's strategy looks very clear and focused now. While heavily restructuring NSN Nokia kept its pace of innovations during the Windows Phone platform transition covering the whole range of phones from bottom (Asha) over low end Lumia 620 Windows Phones (Lumia 520 and 720 ahead) up to the flagship Lumia 920.
Summary
The transition to Windows Phone was a difficult way, especially at the beginning. Until the mid of last year, Nokia's stock was hit by a pile of bad news: WP7 discounts, disappointing sales numbers, bad update policy to WP8, a downgrade of Nokia's bonds, and even accusation by its own investors in court.
After some of Nokia's stocks had moved into stronger hands, the second half of 2012 showed signs of the worst part possibly being over. Nokia now has again a real flagship again, the Lumia 920, to compete at the high end with the iPhone 5 and the Galaxy SIII. At the same time, the company filled the gap towards its successful low-end Asha Series when promising cheaper but solid WP phones like the Lumia 620 (and 820, soon 720 and 520). So Nokia covers the whole range of phones and is present in all relevant countries all over the world. While WP8 continues to grow, Nokia took the lead within the Windows Phone family with almost 80% share.
In spite of most analysts staying pessimistic, in my opinion, Nokia remains a speculative Buy with high upside potential. Especially if the fundamental situation improves further and analysts need to raise their price targets, the stock could continue to climb. A possible rally could even become explosive if short speculators were forced to cover their positions. Note that on January 31st, Nokia had the biggest short interest volume of all US-listed stocks according to the Wall Street Journal. The short interest (340 million shares) climbed to a level of nearly five times the average daily volume of the stock (70 million)
However, as a warning, I want to point out one fact which you can see in Nokia's long-term chart (see above). During the last five years, the trading volume in this stock has increased dramatically. Consider that in January 2013 more shares than ever within the last ten years were traded on NYSE (over 1.7 billion). This fact reflects that the interest in this stock from all different sides, bigger and smaller funds, the media as well as short-term speculators has increased dramatically. So please be aware that if you buy this stock, you will have big downturns from time to time. Just hold the stock and don't look at the chart every day, but pay attention to fundamental changes of the company's situation.
Disclosure: I am long NOK. I wrote this article myself, and it expresses my own opinions. I am not receiving compensation for it (other than from Seeking Alpha). I have no business relationship with any company whose stock is mentioned in this article.