Collectors Universe (NASDAQ:CLCT) is a company that offers services evaluating and authenticating high-value coins, trading cards, sport memorabilia, stamps, and various other collectibles with a $92 million market cap and 8.5 million shares outstanding. For a stock with an 11% yield, with very few competitors in a niche yet growing industry, and unlikely to be supplanted by new competitors, it receives surprisingly little attention.
Collectors Universe is a very interesting stock to have in your portfolio. Their Professional Coin Grading Service (PCGS) graded a rare 1794 US silver coin to be in perfect condition in 2003. That coin recently sold in an auction for $10 million to a coin collector. While this doesn't impact the company's earnings, it is a small point of pride. Of the top 10 most valuable coins in each metal category (gold, silver, copper), 7 or 8 of them have been graded by PCGS. The company is proud of these facts, as they feel it points to the value their company brings to coin-grading services.
Another interesting aspect of this company is that their PCGS posts an online record of statistics related to their work. It can be found here. In the past 30 days, we see that they've graded 244,347 coins. If they did that for all 12 months of the year, they would grade 2,932,164 coins in a year, an astounding 62% increase over the previous year. This explains why they are experiencing backlogs up to twice their target turnaround times.

On the financial side of things, in 2Q2013, they reported earnings of $0.6 million, which is about $0.07 per share. Yet the stock paid out a holder-pleased $0.325/share dividend, which equates to a roughly 11% yield. Can that be sustained? Yes, quite easily. The company has over $17.5 million cash on hand and no long-term debts. Their CEO, Robert Deuster, announced at the latest earnings call that they had no plans to change the dividend in the future and that they were satisfied with the state of their balance sheet. This has to leave any holder of the stock pleased, as CLCT has been paying out this dividend every quarter since November 2010.
Now, no stock is ever a sure-thing. It is currently on the lower-side of its 52-week range, $9.25-$17.48, demonstrating not many investors are in a hurry to buy. There is a fair amount of institutional ownership, with 49 holders owning 28% of all shares. There is also a sizeable contingent of short interest in this stock: 659k shorts, which equates to about 17 days to cover at average trading volume.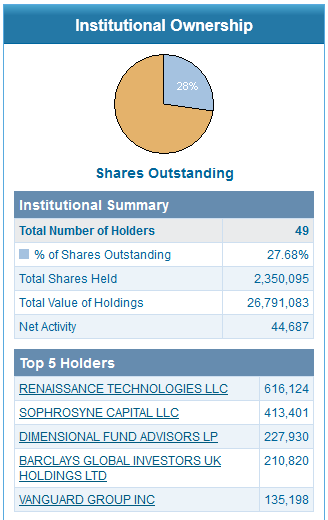 There is also the risk that management could change their mind and reduce the stock if EPS doesn't pick up as much as expected, although that risk seems mitigated in part by the CEO's earnings call statements.
This stock does offer a respectable dividend yield that is consistently paid. Management has committed to sustaining that yield, and this stock even includes the emotional value of a small conversation piece to talk about with your investing buddies. If you like to pick up stocks that are a little unique but still offer the opportunity to make some money, then you owe it to yourself to give Collectors Universe a look and see if it is right for you.
Disclosure: I have no positions in any stocks mentioned, and no plans to initiate any positions within the next 72 hours. I wrote this article myself, and it expresses my own opinions. I am not receiving compensation for it (other than from Seeking Alpha). I have no business relationship with any company whose stock is mentioned in this article.