Friday was a pretty rough day for commodity investors, with quite a few names getting hit rather hard. This morning it appears that we should see some green with US futures higher and commodity futures higher as of this writing. We continue to look for opportunities to buy premier names on pullbacks, but not just minor pullbacks, significant pullbacks. We are not sure that it will happen that way, but with the market activity we are expecting, it seems reasonable that one or two names should see some downward pressure on a shakeout.
Commodity prices this morning are as follows:
Gold: $1612.30/ounce up by $2.80/ounce
Silver: $30.005/ounce up by $0.156/ounce
Oil: $95.48/barrel down by $0.43/barrel
RBOB Gas: $3.1576/gallon up by $0.0231/gallon
Natural Gas: $3.184/MMbtu down by $0.031/MMbtu
Oil & Natural Gas
One of those names which could see a shakeout is Gulfport Energy (NASDAQ:GPOR) however we would be much more inclined to bet that PDC Energy (NASDAQ:PDCE) is the name which will see the pullback if we were putting odds on it. In fact, we have held our Gulfport position steady while selling our position in PDC on the run-up in the shares after the sale of their dry natural gas production in Colorado. So far PDC has held in strongly, and has risen above the level at which we sold. In the short to medium term however a pullback is due because they still have midstream issues in the west and they should begin to release data on the southern Utica, where even if they hit really solid results the midstream assets are not in place there to quickly tie in to. This will be PDC's transitional year as we see it, thus our propensity to buy on pullbacks and sell into strength.
We sold in the $42.50/share range our retirement holdings of PDC, has it finally topped out in the $44/share neighborhood?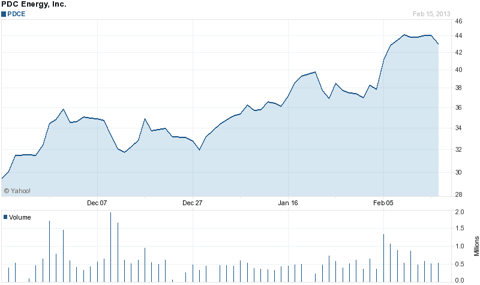 Chart courtesy of Yahoo Finance.
We continue to be impressed by the strength in shares of Diamondback Resources (NASDAQ:FANG) and although we are still carrying out our due diligence on the company we feel the need to point it out once again to readers as it was actually up over 1.3% on Friday in what we have already described as a pretty poor market for commodity stocks. The company does not get as much attention as others in the industry but this is due to its recent formation and IPO. It is a company whose prospects excite us and which we also believe may be a hidden gem due to its "newness". Hopefully we can have a ruling on it by the end of the week for readers.
If one wants to discuss a company which has been performing poorly look no further than Quicksilver Resources (NYSE:KWK) which has seen its stock just pummeled due to the large dry natural gas holdings as a percentage of overall production. It is a bad situation to be in when prices have fallen below what most producers require in order to turn a profit, yet everyone finds themselves forced to produce in order produce cash flow and continue to drill in order to get leases held-by-production. It is a backwards world when things such as this happen, but so long as the explorers are simply drilling the minimum with one well and not doing pad drilling, there is hope. That leaves future sites to be drilled when prices rebound and conserve cash in the meantime.
Uranium
Friday saw shares in Uranium Resources (URRE) catch fire in a pretty poor commodity market to close at $3.11/share after rising $0.53 (20.54%) on volume of 1.1 million shares. The catalyst was that the company issued a press release stating that they had secured new surety bonds for the remediation and reclamation of their Texas properties and due to this they would receive $4.5 million in cash. They are getting the cash back because the new bonds only require $4.5 million in collateral and the old ones were fully collateralized, thus the release back to Uranium Resources. Not bad news when your market capitalization was roughly 10x larger than that amount prior to the announcement. The company stated that the funds will be used to carry out their near-term goals. The press release can be found here.
Disclosure: I am long GPOR. I wrote this article myself, and it expresses my own opinions. I am not receiving compensation for it (other than from Seeking Alpha). I have no business relationship with any company whose stock is mentioned in this article.