The precious metals complex is getting interesting once again, with gold (NYSEARCA:GLD) and silver (NYSEARCA:SLV) falling 3.4% and 5% last week, respectively. While we continue to be bearish over the medium and long term (anywhere from six months to a few years), the gold market may be oversold in the near-term. In the short term, a preponderance of short sellers in gold leaves the metal vulnerable to a short-covering rally, but in the long-term, the metal has shown a startling inability to respond to the most positive of stimuli. Because precious metals are a psychologically-driven asset class, we believe gold's inability to respond to QE by the Fed and other liquidity programs is indicative of waning interest in the metal.
The following chart shows gold.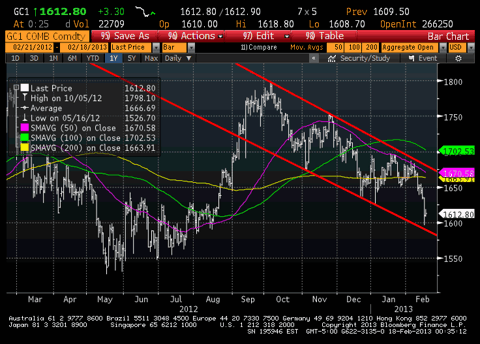 As can be seen, gold is following a nearly perfect down channel since September 2012. On Thursday of last week, the lower barrier of this downward channel was tested, and it also was just below the $1600 level by coincidence. However, even though gold plunged well below $1600, it recovered to close above it, and is now holding above it. If this level were to give way quickly, we would advise increasing short bets against gold, but at the present time, we believe taking profits on gold shorts is wise.
Adding credence to our preference to be flat in the gold market are the preponderance of short sellers on gold in the market presently. The following shows gross short positions on gold by speculators.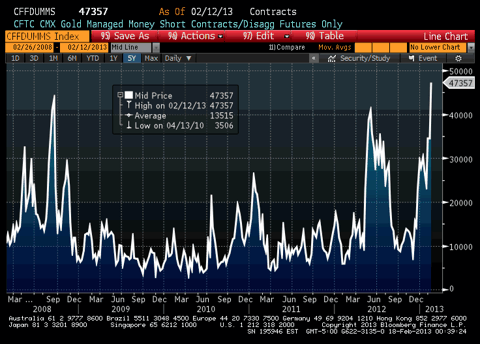 As can be seen, gold shorts reached an all-time high this week. From just two months ago when gold shorts were below 10,000 contracts, they have now rocketed up to 47,357 contracts. The huge short position in gold leaves open the possibility of a quick short-squeeze that could send prices higher over the coming days. While we would view this as nothing more than a bear market rally in the context of a larger overall decline, the massive short position, coupled with the technical support that was able to hold late last week should mean that gold has upside in the near-term.
While we advise traders to close out their short gold positions, we do not view this as a true turning point for the precious metals complex. A large reason why is the lack of contrarian bullish signals in the other precious metals, namely silver, platinum, and palladium. Shown below is a chart of gross short positions on silver.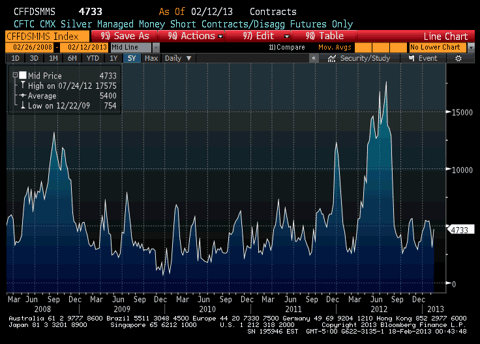 As can be seen, silver shorts are not remarkable at all, save for that they could be considered on the low side, the exact opposite positioning of gold. This is in stark contrast to periods such as late December 2011, and especially summer 2012. In those periods, bearishness on both gold and silver reached fever pitches, and both metals experienced impressive rallies. In our present situation, while both metals' prices are performing poorly, very few traders are short silver, and Managed Money net longs are actually on the high side.
Platinum and palladium yield an even more interesting picture. The following chart shows platinum Managed Money net longs in white and palladium net longs in yellow.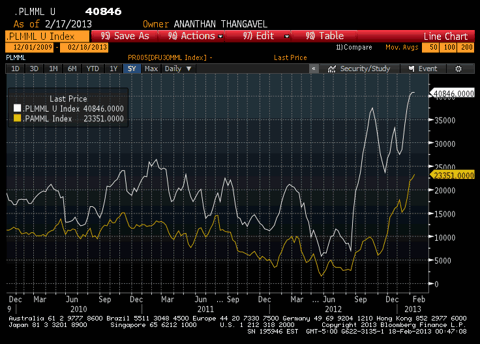 As can be seen, both platinum group metals are experiencing all-time high levels of bullish speculation. While gold traders may be excessively bearish in the short-term, the precious metals complex taken as a whole actually looks to be skewed to the bullish side. For this reason, even though we would recommend traders to be flat gold, a good argument could be made to shift short exposure to platinum group metals or silver, especially as their performance is more linked to equities due to the industrial demand component.
Fundamentally speaking, gold's complete inability to hold rallies even in the face of its most bullish fundamental environment ever does not inspire confidence. Despite the Fed's balance sheet now being in a state of perpetual expansion, gold is unable to even maintain, falling from near $1800 in early October to below $1600 last Thursday. Moreover, gold has not reached a new all-time high in over 16 months. Considering that the environment has only gotten even more bullish for monetary easing during this timeframe, gold's unwillingness to respond is a very bearish sign for the long-term.
Adding to our skepticism is that major money managers such as Bill Gross, Jeff Gundlach, and other more traditional asset class investors are all unanimously bullish gold. Even with these investors coming out of the woodwork to support bullish theses in the metal, it continues to fall. From a contrarian point of view, with nearly every manager bullish on the metal, it may have significantly further to fall if they give up and liquidate their long holdings.
At this time, we believe that gold may have a quick rally to near the top end of the downward channel, but that such a rally would only be a better opportunity to sell.
Trade Recommendation
We recommend traders close their short gold position at a price of $1613 or better, with an eye towards re-opening shorts above $1650. Aggressive traders could get long of gold with a tight stop, and simultaneously short either silver, platinum, or palladium.
Disclosure: I have no positions in any stocks mentioned, and no plans to initiate any positions within the next 72 hours. I wrote this article myself, and it expresses my own opinions. I am not receiving compensation for it (other than from Seeking Alpha). I have no business relationship with any company whose stock is mentioned in this article.