Global insurance provider MetLife (NYSE:MET) reported respectable Non-GAAP financial results in operating earnings per share ($1.25), net revenues ($18.36 billion), operating income ($1.97 billion), and operating earnings ($1.40 billion) for the quarter ending December 2012. This is a beat of $0.07 on Non-GAAP earnings per share.
GAAP earnings per share were a much lower, and meager, $0.09. CEO Steven Kandarian was able to deliver overall improved Non-GAAP financial results for 2012, ($5.28 vs. $4.38 in 2011), but GAAP results declined from 2011 ($1.12 vs. $5.76). After reviewing the quarterly report, I consider the results adequate, but not encouraging.
The charts and related discussion below are about Non-GAAP results. This is ironic and revealing because I am a former insurance company (all types and lines) external auditor for SEC publicly-traded companies and later was a CFO of a small life insurance company. I was the one who calculated and/or supervised the determination of the GAAP numbers, which I will not discuss until later (briefly).
The Non-GAAP operating earnings per share peaked at the quarter ending March 2012 ($1.37), declined 3 consecutive quarters to hit bottom this quarter ($1.25), and are now projected by the analysts to rebound for the next 2 quarters. On the surface this looks promising, but the subsequent charts are not so hopeful.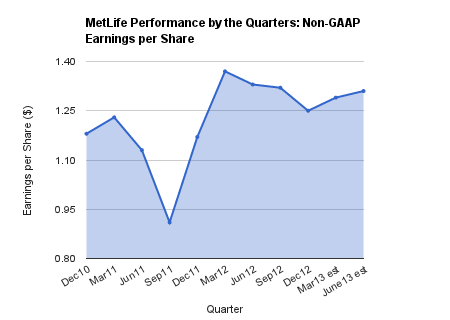 Year over year growth of net revenues accelerated to +12.34%, a 4-quarter high. This was well above expectations of +3.85%. Last quarter was +0.04% and the 5-quarter average is +7.65%. Analysts are projecting slow growth for the next 2 quarters, March and June 2013, of +4.30% and +4.62%, respectively.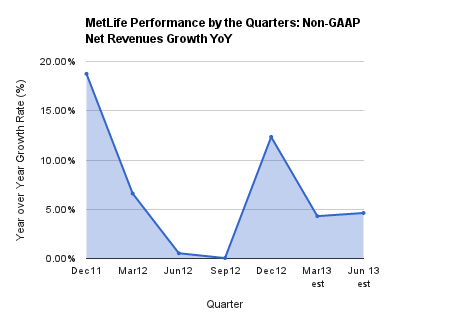 Year over year growth of Non-GAAP earnings per share decreased to +6.84%, a 4-quarter low. This easily beat expectations of +0.85%. Last quarter was a much higher +45.05% and the 4-quarter average is +16.03%. Analysts are projecting a further slowing, actually a contraction, for the next 2 quarters, March and June 2013, of -5.84% and -1.50%, respectively.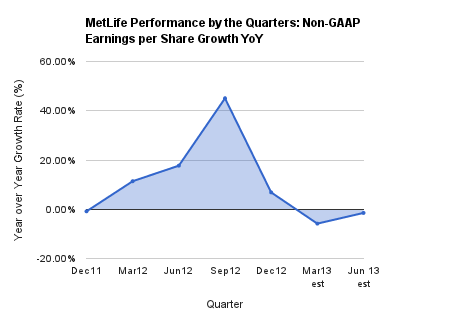 The surge in quarterly net revenues did not result in a surge in operating income and operating earnings for the quarter ending December 2012. This negatively impacted margins. The operating income margin (before income taxes) of 10.72% was a 5-quarter low. The operating earnings margin of 7.65% was a 5-quarter low. The net effect was a lower quarterly Non-GAAP EPS than would normally be expected.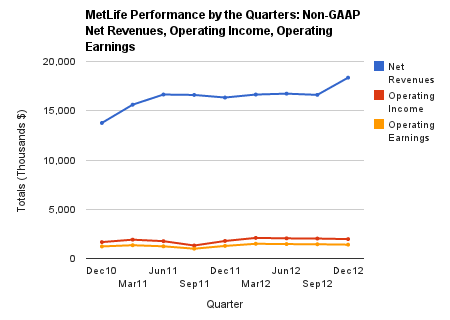 Segment operating earnings (after income tax and preferred dividends) show mixed results with varying degrees of expansion and contraction. Retail and Corporate Benefit Funding are the earnings leaders. From the prior year, the segment leaders were Retail +43%, Corporate Benefit Funding +35%, Europe, Middle East, Africa +26%, and Latin America +20%. Decreases were Corporate, Other -44%, Group, Voluntary, Worksite Benefits -30%, and Asia -24%.
MetLife is liquid with adequate capital and minor debt. Total assets are $837 billion and the asset mix is stable. The trailing annual return on assets is an acceptable +0.70%. Operating expenses are reasonable and the ratio to net revenues is now lower due to the surge in net revenues.
MetLife announced on February 1 the acquisition of AFP Provida S.A. ("Provida"), the largest private pension fund administrator in Chile. CEO Kandarian stated this is a component of the strategy to expand into emerging markets. The acquisition will be finalized later this year and is expected "to provide operating earnings accretion of approximately $0.05 per share in 2013 and $0.15 per share in 2014".
MetLife announced on February 14 that the Federal Reserve and FDIC had approved the deregistration of MetLife as a bank holding company. MetLife completed the sale of MetLife Bank's depository business to General Electric Capital on January 11. This reduces some regulatory burden, although MetLife could be designated a non-bank systemically important financial institution in the future.
CEO Kandarian reiterated that although there is a long-term plan through 2016 for stock repurchases, there will be none in 2013. Both regulatory concerns and expansion are reasons for the delay.
GAAP net income and earnings per share is volatile due primarily to net derivatives gains and losses (mark to market or unrealized gains and losses). This was a $1.315 billion loss for the quarter ending December 2012. Additional GAAP expenses are recognized in policyholder claims and benefits, which were over $1 billion. This resulted in GAAP EPS of a mere $0.09 for the latest quarter and $1.13 for 2012. The GAAP and Non-GAAP financial results diverge and literally become a Tale of Two Companies.
Non-GAAP operating earnings per share were $5.28 in 2012. For 2013 management estimates $4.95 to $5.35. The analysts' estimates are an average of $5.25. So a MetLife EPS beat is necessary for any upside whatsoever.
For the first half of 2013 based on management outlook, the analysts' estimates, and my review of the financial results, I am lukewarm on and underwhelmed by MET stock. MetLife is not projected to reach the prior March 2012 peak of $1.37 Non-GAAP earnings per share in the first half of 2013.
Disclosure: I have no positions in any stocks mentioned, and no plans to initiate any positions within the next 72 hours. I wrote this article myself, and it expresses my own opinions. I am not receiving compensation for it (other than from Seeking Alpha). I have no business relationship with any company whose stock is mentioned in this article.