Bunge (NYSE:BG) reported Q4 EPS of $0.57 and revenue of $17B. It also announced that its CEO Alberto Weisser will retire on June 1 and be replaced by current CEO of its North America division, Soren Schroder. On the conference call, management highlighted that results were weaker than expected despite the record performance in its Agribusiness segment and strong results in Food & Ingredients. Moving forward, management wants to lower production costs and increase capacity. It also highlighted that it believes in the future of its Sugar & Bioenergy segments as the growth driver and the ability to create shareholder value. Plants in this segment are running at full capacity. BG crushed 17M tons during the year against a capacity of 21M tons. Despite the revenue miss of about $2B, cash flow from operations in Q4 was $2.4B. It also highlighted that it has credit facilities of $3.4B which are all unused and available to use. On October 26, 2012, CEO Weisser said in regards to M&A, We are part of it, but at the same time we have shown we are disciplined operators. The market has shown it is necessary to have large companies with a significant geographical spread and strong balance sheet… "If it's too expensive, we will pass" (Source: Capital IQ).
BG appears to be in the need of an acquisition given the future need for capacity and slowing growth. Revenue and EBITDA have been relatively flat to negative growth since the Recession, excluding 2010. BG divested its Fertilizer Nutrients Assets for $3.9B in 2010 leading to a large net income gain Y/Y (Source: Capital IQ):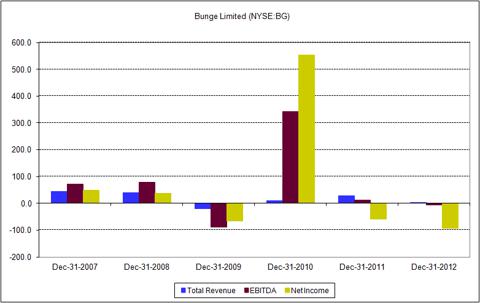 As noted on the earnings call, BG has plenty of room for an acquisition as well. It has $571M in cash on its balance sheet, and debt is only 34% of capital (Source: Capital IQ):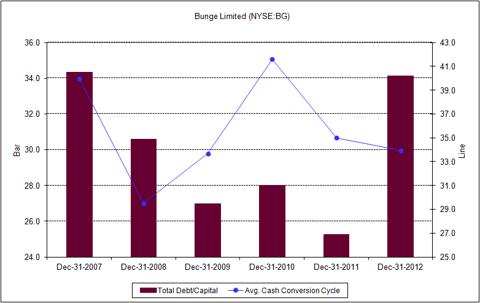 It generates cash quickly with a cash conversion cycle under 35 days. However, BG's cash flow from operations has been extremely volatile to an unhealthy extent (Source: Capital IQ):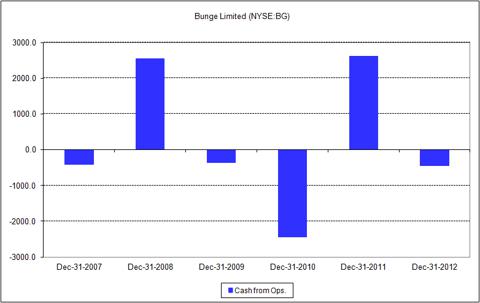 On the same day that BG reported, Ingredion (NYSE:INGR) reported Q4 EPS of $1.47 which beat estimates by $0.05. Ingredion, formerly Corn Products Incorporated, also grew revenue 6% Y/Y in Q4 to $1.64B. Like a segment of BG, INGR "engages in the manufacture and sale of starch and sweetener ingredients in North America, South America, the Asia Pacific, Europe, the Middle East, and Africa" (Capital IQ). It produces very similar products to BG and is a direct competitor to them. INGR's customers are spread across all sorts of staple-like industries such as Food, Beverage, Pharmaceuticals, Brewing, and Personal Care. In other words, because its customers are consumer staple companies, the demand is typically easy to forecast and meet. This helps its supply chain to create value for customers and for INGR. Here are some highlights from the Q4 conference call:
Faced headwinds like rising corn costs, forex devaluations, and macroeconomic conditions in various countries
Will once again take pricing of about $500M in 2013, aiding in revenue growth
Strong results from North America and Asia Pacific segments, which represent 2/3 of INGR's business
Operating income in North America grew 46% due to volume, product mix, and operational efficiencies, with strong growth especially from Mexico.
Its Asia Pacific segment grew operating income 31% in Q4 due to increased revenue via volume from the food and beverage industries, pricing, and lower raw material costs.
Net sales were $1.644 billion up 6% or $96 million versus the same quarter last year.
Cash flow from operations was $732M v $432M in 2011, with the increase mainly coming from working capital differences
Guidance for 2013 is for sales to grow 8% to $7B due to pricing and volume. Management hinted at currency devaluations in Argentina and potentially Pakistan. EPS is expected to come in at $5.60 to $6, and cash flow from operations of $700M.
The takeaway was a great quarter for INGR. The problem though for the company could be the underlying sugar reductions desired by legislatures in the United States. With lower sugar needed by companies like Coca-Cola (NYSE:KO), INGR could face falling revenue. INGR is growing strongly, generating substantial cash flow, is financed by 42% debt, has $628M of cash on hand, and has an improving cash cycle (Source: Capital IQ):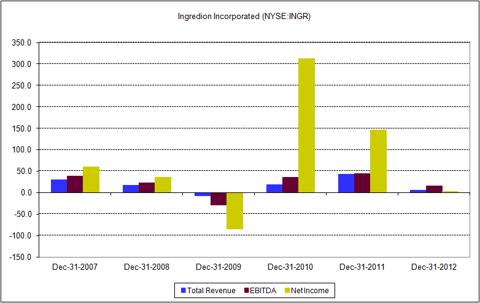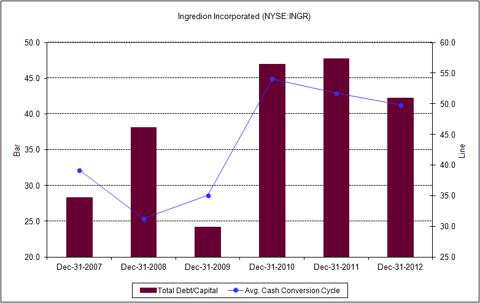 On April 26, 2012, BG said it was planning on acquiring a stake in United Grain Company from the Russian government (Capital IQ). However, BG's VP Jordi Costa told Reuters that entering the Russian market is complicated. Even if this acquisition goes through, BG could have enough dry powder for another acquisition.
Back on June 23, 2008, BG tried to buy INGR for $4.4B and $4.8B including its debt (Capital IQ). This would have been roughly 9.28x EBITDA. INGR's management declined the offer for BG to acquire INGR though, especially as the Great Recession unfolded later that year. The deal was never revisited and fell-off. INGR declined the deal because the management team believed that it was not a high enough price for it at 9.28x EBITDA. With INGR's management team looking to increase shareholder value via repurchases or acquisitions, a third option for a buyout is there. It could merge with BG, which would give INGR shareholders a quick buyout and then potentially BG stock.
With the economy back to some certainty, BG could try to acquire INGR again. INGR realizes it has value to it and CEO Gordon wants to increase shareholder return and value creation. There are 10 major reasons why I think INGR would be a good fit for BG and why BG may acquire it:
BG has capital to deploy for investment via debt
BG needs to grow
BG needs a solid asset in its portfolio to which INGR would provide given the consistency
BG wants to grow its global presence to which INGR fits that model with operations in the US, Mexico, Brazil, Canada, Argentina, Korea, and many others
INGR generates significant cash flow for its size
INGR and BG would create instant synergies given the similarities in their businesses, supply chains, and structures
It would increase their supplier power over customers, giving them more bargaining power
With a low-interest rate environment, BG can take on debt to acquire INGR easily
BG is in acquisition mode and INGR is looking to increase shareholder value
BG tried to acquire INGR in the past and now INGR is even 'cheaper than before.
INGR could fetch for anywhere from 6.8x to 13.9x EBITDA. Current EBITDA is $914.6M for INGR. Using a comparison EV/EBITDA range based on S&P Capital IQ's peer groups for BG and INGR, a 68% confidence interval for the multiple results in a range of 7.8x through 12.6x with an average of 10.2x. However, INGR has never traded above 10x for the market and has an average of 8.0x. It is more likely that INGR would be bought out for 9.5x EBITDA, giving it a premium above what was asked for in 2008 but below the average EV/EBITDA for peers. A value of 9.5x EBITDA would not break the bank for BG either as capitalization (assuming all debt financed) would only reach slightly above 50% debt (Source: Capital IQ):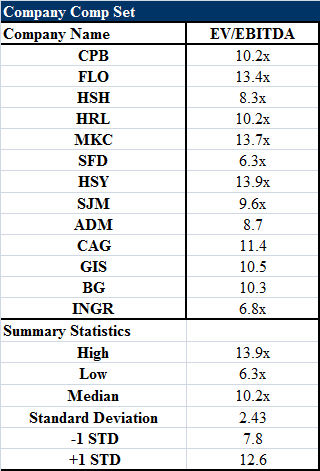 Disclosure: I have no positions in any stocks mentioned, and no plans to initiate any positions within the next 72 hours. I wrote this article myself, and it expresses my own opinions. I am not receiving compensation for it (other than from Seeking Alpha). I have no business relationship with any company whose stock is mentioned in this article.