I'd like to take a look at the big three in technology, Apple (AAPL), Google (GOOG) and Microsoft (MSFT) to try to determine if there will be a long-term winner here. Because if there is, it should translate into a stock that can be bought and held, knowing that over time, increasing market dominance will translate into significant sales and income growth. This in turn should ultimately be reflected in an increasing stock price.
The Competitive Landscape
As I write this, Apple, Google and Microsoft rank #1, #2 and #3 respectively in market cap for the technology sector. While the three companies don't compete in all product areas, their product overlap is strikingly wide. More importantly, their corporate aspirations guarantee a future filled with even more head to head competition than we have seen to date. The reason is simple: for each to grow, they must make inroads in markets the others dominate, while defending the markets they currently dominate. The table below illustrates the state of play as it now stands: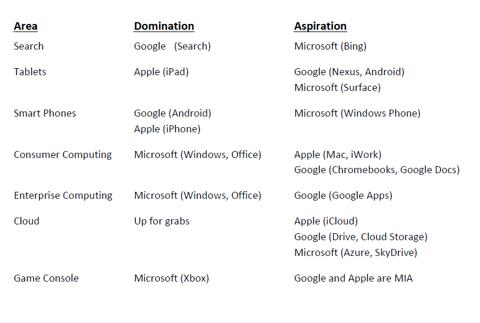 From a competition point of view, as pitched as the battles have already been for our hearts, minds and especially our wallets, the saying "You ain't seen nothing yet" certainly applies here. Pull up a chair as it is going to be a real show watching this all play out.
The Investment View
From an investment perspective, I'd like to examine the companies through three different lenses:
Operational performance
Stock performance and valuation
Future prospects
After looking closely at these three areas, perhaps we will be able to venture an opinion of who among this bunch is most worthy of our hard earned capital. Let's start by looking at each company's operational performance.
Operational Performance
All three companies have wide product lines, but get the majority of their income from a few key product areas. Google (search), Apple (iPhone, iPad, Mac), Microsoft (Office, Windows, Server and Tools and Xbox). Let's look at the past five years, focusing on revenue and net margin to see if any noteworthy patterns emerge.
Sales and Net Income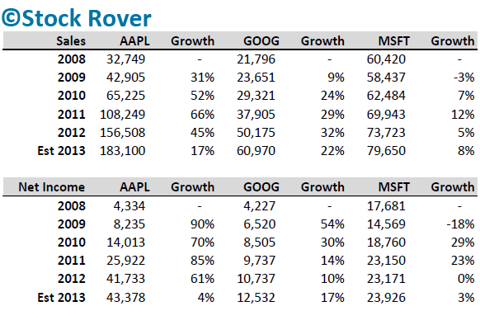 Notes:
Reported data based on fiscal years (AAPL: September, GOOG: December, MSFT: June)
Estimates are from a compilation of analysts
MSFT Net Income in 2012 excludes 6.193B aQuantive write-off (16,978B after write-off)
Apple
So what are these numbers telling us? Starting with Apple, based on the revenue growth, it is clear that iPhone and iPad adoption has been ferocious in the last five years. However that growth is slowing and projected to slow even more markedly in the future. More worrisome is the even faster deceleration of net income growth. The reasons are twofold. First are the markets themselves. While neither the smart phone nor the table markets are saturated, neither market is still in hyper growth mode either. Secondly, competition. The effect of better competition can clearly be seen in this chart showing Apple's net margin over the last 5 years. There has been an alarming decrease in the margins starting early last year, which is indicative of increased competitive and pricing pressures. The better competition forces Apple to bring products out at more aggressive price points. The iPad mini, Mac re-pricing and continued iPhone 4 sales from the carriers despite the release of the 4S and 5 are all evidence of this.
Google
Google's sales and net income growth have been substantial and continuous over the last five years. The sales growth acceleration seen in 2012 was somewhat skewed by the acquisition of Motorola Mobility, which added over 5.3B to the top line and less than nothing to the bottom line. It was a patent portfolio purchase. Without Motorola, revenue growth in 2012 would have been around 18%. The interesting thing about Google is while the sales growth has been in the upper teens to low 20's, income growth has lagged. This has been a function of Google increasing spending at a faster rate than revenue growth. Net income growth was further reduced by the purchase of Motorola Mobility in May of 2012. However, as that transaction enters the rear view mirror and mobile search kicks in, it is expected that net income growth will start to accelerate. The giant dip in the chart below shows the impact of Motorola Mobility on the margins of Google.
Microsoft
Microsoft clearly has not experienced the growth of either Apple or Google. That is what happens when you miss the entire wave of mobile computing. They continue to maintain and slowly grow their enterprise businesses. They are also maintaining their traditional dominance of consumer PC desktop and laptop computing. However these are no longer growth areas. PC shipments actually declined 3.2% worldwide last year and are showing signs of continued erosion and weakness going forward. Windows 8 thus far has been poorly received.
Microsoft revenue growth has been modest (high single digits), but the recent income growth (and growth expectation) are lower still. This can be explained by Microsoft's entry into the hardware business (startup costs, lower margins) and heavy spending to promote Windows 8, Surface and Windows Phone.
In the chart above you can see a slight decrease in Microsoft margins starting in January 2012. Note the large dip in June 2012 was the aforementioned aQuantive write-off.
Stock Performance and Valuation
Now that we have a sense of the financial and operational performance of these companies at a summary level, let's see how the market has priced their efforts. The following is the two year chart of the three companies, using the Nasdaq 100 as a performance baseline.
Three very different stories. Apple (in blue) has been an E ticket ride, while Google (in red) and Microsoft (in green) have been somewhat steadier. Lately only Google has been positive relative to the Nasdaq 100 benchmark.
Now let's take a quick look at valuation.

Somewhat unsurprisingly, Google is the most expensive of the three stocks by a significant margin using most metrics (EV/EBITDA, P/E, Price/Book and Price/Sales). The market will clearly pay for expected future growth.
To put these numbers in another context, let's look at the 2012 and 2013 EPS and P/E based on the closing stock price on 2/15/2013.
Note the following table is based on each company's fiscal year whereas the preceding table is based on the Trailing Twelve Months, resulting in a slight variation in P/E.

Yup, no getting around it. Google is twice as expensive on an expected future P/E basis.
Future Prospects
Here's where it gets interesting. First, a little background here. I work in the technology industry and extensively use products from all three companies. I don't have a dog in the fight in that there are products I love and loathe from all three companies. For me to be maximally productive, I heavily use key products from each company. I do not have any inbred preference for one company over another.
We can begin by looking again at where the companies dominate, and considering whether they are likely to continue dominating and whether they can make inroads where others dominate. Note what follows is solely my opinion. Reasonable people may come to different conclusions.

Let's dig deeper. Search is still a growth area with the rise of mobile and I expect Google to dominate and monetize this better than anyone over time. Despite years of trying, Bing cannot put a dent in Google's market share.
Tablets are also a growth market going forward, and I expect Apple to dominate but lose market share over time. More importantly, their margins will be under pressure as Android devices will be more varied and often come in at lower price points. Microsoft may take some high end share with Surface, especially for those that need Office. However I believe the cost of the Microsoft devices will make major market share gains difficult.
In phones, I expect Android to gain market share at the expense of iPhone due to their cost advantage. Windows phone will gain some traction, but I expect it to remain a distant third. Microsoft has made too many missteps with their mobile phone strategy, and it is now very late in the game.
In consumer and enterprise computing, I expect Microsoft to continue to dominate, but Apple will chip away at consumer and Google at enterprise. The problem is neither are growth areas. So Microsoft will be forced to spend and defend what they already have, without the benefit of harvesting incremental revenue.
Summary
Google is really in the catbird seat. They either dominate or are gaining share in the key growth markets.
Apple's margins will be under continuous pressure in phones and tablets, where the vast majority of their earnings comes from. They are forced to compete more and more on price due to the fact that the large product differentiation advantages they have historically enjoyed are difficult to sustain over time.
Microsoft is probably in the worst position. They are very late to the game in the key growth markets (search, phones, and tablets). It isn't like the old days when Microsoft could waltz into the party late with overwhelming resources against weak competitors and win. Google and Apple are not Netscape, Lotus, and the old Apple. The new guys have as much money or more, access to better talent and are much smarter competitors. They have thoroughly studied the Microsoft playbook and know how to defend and extend. I believe that Microsoft's late entry to key markets will turn out to be fatal to all their future growth aspirations.
There is more. By Microsoft stepping into hardware, they are alienating their key partners - HP (HPQ), Acer, Lenovo (OTCPK:LNVGY) - who are starting to move into the arms of, you guessed it, Google. These vendors are making Android tablets and Chromebooks. I have been around technology long enough to have seen this movie before. Digital Equipment Corp. when riding high did the same thing many years ago. To increase profitability, they closed down third party vendor access to their vaunted BI Bus (a high speed interconnect). The vendors went elsewhere. The digital ecosystem withered over time. It did not end well for Digital.
How to Trade It
Unfortunately, the market has nailed this by awarding Google a significantly higher valuation vs. Apple and Microsoft. You will basically pay twice as much for Google. Is it worth it? Yes, it is in the long run. Google is poised to become a far more dominant company over time. Apple and especially Microsoft are not. But, with that said, I would certainly fish for a better entry point to Google in the short run. A 20x forward multiple with mid-teens or better growth for the foreseeable future is a fair valuation, not a screaming bargain.
Google's trailing P/E over the last 5 years

I would avoid Apple as a long-term investment. Margin compression is never pretty. They now have to sell more and more to earn the same. On the other hand, if you like action and feel you know how to trade it, there is definitely money to be made (or lost) in the short term. Apple is a volatile creature.
Microsoft is viewed as a safe long-term stock by many. I don't view it that way. I expect their core franchise to slowly but inexorably erode over time. Furthermore, efforts to move to new growth markets will pit them against far tougher competition than they ever have seen in the past. And last, and most importantly in my view, they have the weakest leadership and most dysfunctional culture of the three. It's a stock I would avoid despite the balance sheet strength and despite the hefty dividend. The market prices the future, not the past.
Disclosure: I am long GOOG. I wrote this article myself, and it expresses my own opinions. I am not receiving compensation for it (other than from Seeking Alpha). I have no business relationship with any company whose stock is mentioned in this article.