A month ago I wrote an article entitled 3 Exciting 3D-Printing Related Stocks, which briefly gave an overview of some of the main industry players in the 3D printing market. As the article mentions, interest in 3D printing as of late has skyrocketed, and many (if not most) stocks primarily involved in 3D printing have seen their stock prices surge in the past few months. Industry leader 3D Systems Corporation (NYSE:DDD) has seen its stock price rise over 200% within the past twelve months, while numerous other 3D printing related stocks have also experienced tremendous upward runs.
The fact that the leading 3D printing companies have been generating real revenue and signing more deals only adds to the excitement. But amidst all the hype and speculation, there are those who question if the 3D printing industry really is so revolutionary, or even revolutionary at all. Most notably, on February 14th 2013, the well-known stock commentary website Citron Research ("Citron") reported that it believes DDD is a bubble stock that is now trading at a heavily inflated price. Readers are encouraged to download Citron's .pdf report, which focuses on DDD but is highly relevant to anyone who holds a position in a 3D printing related stock, as its focus is not just on DDD but how the 3D printing industry as a whole has been heavily misrepresented.
As with Citron's other hit pieces, Citron's report on DDD has already had a serious impact on DDD's stock price. Citron's twitter account @CitronResearch first announced coverage on DDD through this tweet (timed February 14th, 1:55pm), and DDD almost instantly then suffered a decline in its stock price from an influx of short sellers: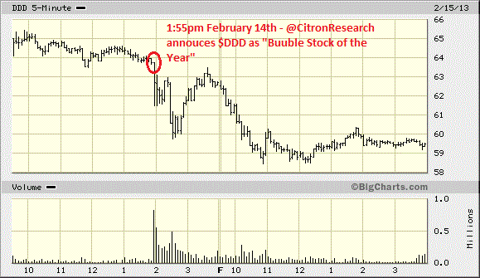 Is Citron An Objective Research Website?
For those unfamiliar with websites like Citron, it must be understood that Citron's primary motive is not merely to help prevent the general public from losing money by investing in overvalued companies. There is a real profit motive here, as Citron will short sell stocks it profiles before releasing negative reports. A look through some of Citron's articles shows that there is a disclaimer that Citron is short for every stock it attacks, and in this interview with Citron's founder, Andrew Left, it is openly admitted that "short selling is my job." As with the other stocks it has profiled, I believe it's very likely that Citron shorted DDD before releasing its negative report on the stock. This kind of business model is often cynically referred to as "short and distort" (rather like the opposite of "pump and dump"), and critics argue that Citron has a strong incentive to paint the companies it covers in the absolute worst possible light, as the more the stock drops, the more Citron is able to profit.
Andrew Left has been sued 5 times (none successfully) and no doubt has made numerous more enemies than that over the years by publishing negative reports on a variety of companies. And while there is a profit motive for publishing negative reports, I do believe that many of Citron's reports (especially on Chinese stocks) have been absolutely correct, and that Citron has done some valuable work in uncovering frauds in the past.
What Investors Need To Know About DDD And 3D Printing
In their DDD report, Citron makes numerous claims, which I will comment on here.
For the previous year, R&D expenses were a paltry $6.5 million.
For a multi-billion dollar company in such a hot industry, which is often marketed as having revolutionary technology, $6.5 million in research and development (R&D) expenses would seem like a very low figure. However, I'm not sure where Citron gets this number from. In its recent 10Q, DDD lists R&D costs for the 9 months ended September 30th 2012 as $15,397,000. In DDD's 2011 annual report, R&D costs are $14.3 million, and in 2010 it was $10.7 million. I emailed DDD's investor relations contact, and they too were confused about where the $6.5 million figure comes from (I can only assume that Citron made a mistake). According to its SEC filings, over the years DDD has spent tens of millions of dollars on R&D.
Additive manufacturing has been around for 30 years.
It is true that 3D printing is not a new technology. There is a video from Good Morning America about 3D printing technology from all the way back in January 1989, which at the time of writing has a mere 3,475 views on YouTube. The segment focuses on Stereolithography (an additive manufacturing technology still used in 3D printing today), with the inventor of Stereolithography (Charles Hull) saying "I think a good way to describe it is to call it a three dimensional printer." It's interesting how similar the video is to many promotional pieces for 3D printing produced today. It talks about this new technology has the potential to influence or revolutionize a wide variety of industries, from the auto industry to cosmetics to computers. This was 24 years ago, but it could be just as easily used to market 3D printing today.
For those unfamiliar with the technology behind 3D printing, Stereolithography is just one additive process that can be applied. Other technologies such as Digital Light Processing and Fused Deposition Modeling have also existed since the 1980s. Of course, the fact that 3D printing technologies have existed for years does not mean that DDD cannot experience strong growth in the years ahead, but it's important for investors to understand that this is far from being the "next big thing."
The only thing that is new in recent years is availability of consumer-priced 3D printers.
A quick search shows that there are indeed a plethora of cheap 3D printers for domestic use that were not available many years ago. DDD's primary home 3D printer is the Cube, which starts at $1399 - a high price point compared to many other printers such as the Robo 3D printer ($599) and the Solidoodle printer ($499) which also come fully assembled. And while I am sure there are numerous uses for these relatively cheap consumer-priced 3D printers, at this stage they strike me as more of a fun novelty item than anything else, rather than something that would be needed in every household.
DDD has made a large number of acquisitions (32 in fact), but almost all of these are tiny.
DDD has certainly made a large number of acquisitions in just the past 3 years, most of which were under $10 million (it had one large acquisition of Z Corp and Vidar for over $135 million):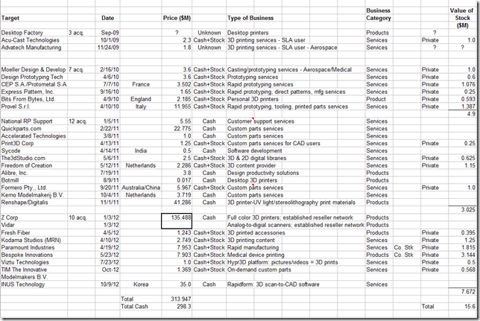 This excellent article ("3D Systems: Has The Printer Jammed?") raises an important point about how DDD may be acquiring companies to hide its declining revenue numbers. In DDD's pre-acquisition period (from 2000 to 2008), average annual revenue grew only 3%. Once DDD began acquiring companies in 2009, it was able to immediately count revenue from the companies it acquired, and thus substantially boost its revenue growth numbers. For the first nine months of 2012, Z Corp and Vidar (DDD's biggest acquisitions) had a combined $40.2 million in revenue, which DDD could add to its revenue numbers (which without Z Corp and Vidar were only $211.9 million) and count as growth.
The key takeaway is that DDD is spending more on acquiring existing companies and technology than developing new technology itself, which doesn't jive with the perception of DDD being a revolutionary and exciting new 3D printing company set to explode.
With little research and development, you might ask how they sell parts for the F-18 jet to Boeing? Easy! They Don't!
Another valid point, since there was a common misperception that DDD had been manufacturing parts for Boeing (NYSE:BA) aircraft. This is not the case - Boeing's supplier list for selective laser sintered nylon materials does not list 3D Systems. There has, of course, been plenty of talk about how 3D printing technologies can be used in the aerospace industry (along with just about every other industry known to man) but at this stage DDD is not yet involved.
If 3D Printing Is Not Such A Big Deal, Why Have 3D Printing Stocks Blown Up?
Citron's report attributes the rise of DDD over the past 12 months to DDD CEO Abe Reichental's strong statements to bring in investors (in this video he says 3D printing could be as big as the steam engine, as big as the computer, and as big as the internet), promotional video marketing from the Motley Fool and favorable analysts. I believe Motley Fool (which owns shares of DDD), with its huge email list and reach, has played the largest part in pumping up DDD shares.
The Verdict on DDD
DDD is far from being a worthless company. It has real revenue, and plenty of cash reserves. However, I do believe that its recent climb in stock price in the past 12 months from around $20 to over $60 is excessive, and largely a result of hype, speculation, promotion and misinformation about 3D printing. I don't intend to take a long term short position in DDD, but it would not surprise me at all to see the stock retreat back below $50 in the coming months.
Are Other 3D Printing Stocks Also Overvalued?
When an industry leader like DDD for 3D printing goes on an enormous run upwards, other stocks in the same industry tend to follow. And indeed, just about every stock involved in 3D printing (even stocks that are only partially involved in the 3D printing industry) have gone on strong upward runs recently. DDD's primary competitor, Stratasys Ltd. (NASDAQ:SSYS), (which was also promoted by the Motley Fool) has a similar chart to DDD and could quite possibly represent another strong shorting opportunity for those who believe 3D printing stocks have become overextended. Even more recently (within 2013), small speculative 3D printing stocks such as Organovo Holdings Inc. (NASDAQ:ONVO) and Cimatron Ltd. (NASDAQ:CIMT) have exploded upwards, and are yet to seriously retrace. After the release of Citron's report, I certainly do not recommend going long on any speculative 3D printing stock.
Disclosure: I have no positions in any stocks mentioned, and no plans to initiate any positions within the next 72 hours. I wrote this article myself, and it expresses my own opinions. I am not receiving compensation for it (other than from Seeking Alpha). I have no business relationship with any company whose stock is mentioned in this article.