For today's article, I'd like to point your attention to United Parcel Service, Inc. (UPS)
UPS is the biggest company by market cap ($79.7 billion, more than twice that of its largest competitor, FedEx (NYSE:FDX)) in the transportation sector, and it has grown significantly of the last couple of years. It's currently trading around its 52-week high, with a price of $83.48/share (52-week range is $69.56-$84.11).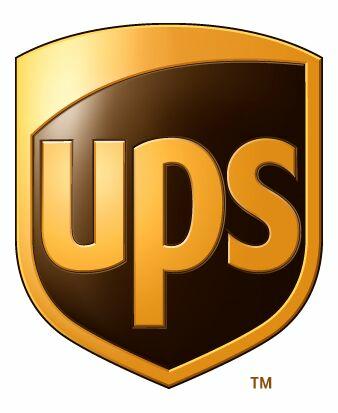 I will be investigating UPS using the quarterly results for 2009-2012 as posted on UPS's website. To be able to compare these numbers, we will be using the adjusted operating profit, net income and EPS numbers. These exclude:
An increase in pension costs due to a mark-to-market loss in 2012 ($4.8 billion) and 201

1($82

7 million).
A 71 million $ gain on the sale of UPS Logistics Technologies in 2010.
A $13 million fair value adjustment loss related to the guarantee associated with the sale of a specialized transportation business in Germany in 2010.
All of the graphs below were made by me, using Microsoft Excel.
Revenue is growing at an impressive rate
Average yearly growth in revenue was 6.12% from 2009 ($45.3 billion) to 2012 ($54.1 billion). US domestic package growth accounted for most of this, increasing by $4.7 billion in the 2009-2012 period.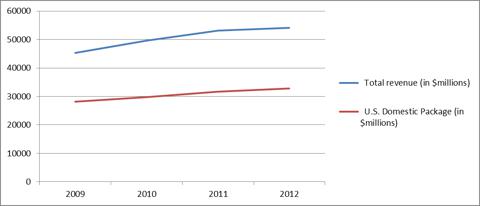 U.S Domestic package continues to be the largest source of income for UPS, but International Package and Supply Chain& Freight are growing at decent rates, with International Package going from $9.7 billion to $12.1 billion, and Supply Chain & Freight going from $7.4 billion to $9.1 billion.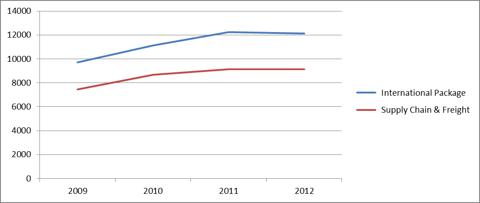 Profit and Income are increasing
The growth in revenue is nice, but what's really important is the amount of profit made. Over the 2009-2012 period, operating profit has jumped from $4.0 billion to $7.1 billion, while net income went from $2.3 billion to $4.4 billion.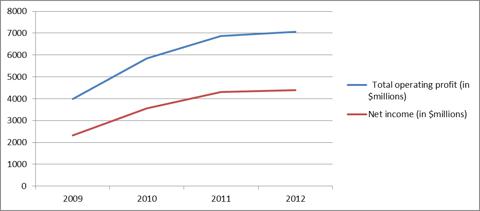 Most of the increase in operating profit was in the US Domestic Package division, increasing from $2.3 billion to $4.5 billion, almost doubling in 3 years.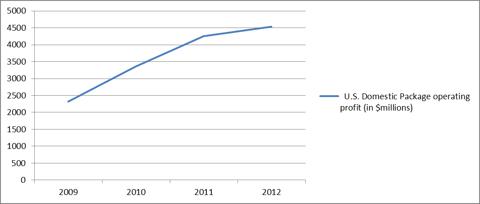 UPS's International Package and Supply Chain & Freight division have also had some impressive growth in operating profit, as can be seen below.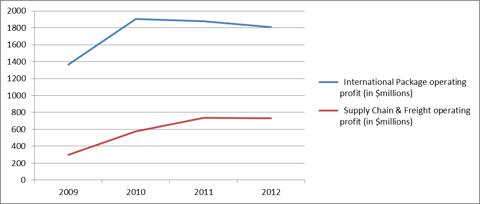 Net income as a percentage of revenue has gone up sharply from 5.1% (2009) to 8.1% (2012).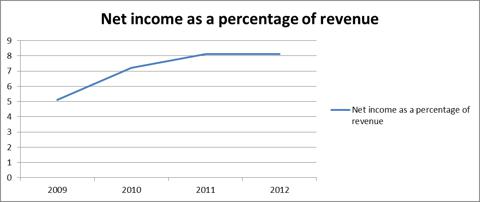 Current ratio at a healthy 1.83
Current ratio is an indication of a company's market liquidity and its ability to pay its creditors. It is defined as current assets divided by current liabilities. Current liabilities for UPS have grown by $2.3 billion from 2009 to 2012, while current assets have gone up $6.3 billion. This has caused the current ratio to go from 1.49 (2009) to 1.83 (2012).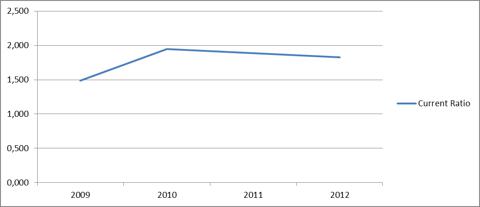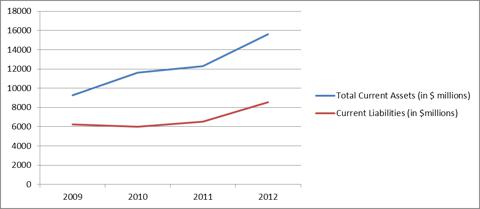 Low payout ratio makes UPS's dividend more reliable
UPS's payout ratio was 77.9% in 2009, but they've managed to keep it around the 50% mark since then, whilst increasing dividend payment by 8.2% a year on average.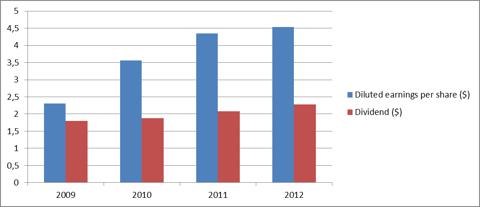 3% Dividend and steady growth make UPS a buy
With online sales increasing year after year, there will be an ever increasing demand for UPS's services. UPS has shown its ability to reduce costs, thereby increasing their operating profit, which allows them to pay out more money to shareholders. UPS's recent decision to increase their share repurchase for 2013 from $1.5 billion to $4.0 billion gives me more confidence in UPS's future. With its strong balance sheet and increasing dividend, I think UPS has the potential to go a lot higher.
What's your view on United Parcel Service, Inc.? Please comment below.
Disclosure: I have no positions in any stocks mentioned, but may initiate a long position in UPS over the next 72 hours. I wrote this article myself, and it expresses my own opinions. I am not receiving compensation for it (other than from Seeking Alpha). I have no business relationship with any company whose stock is mentioned in this article.