Midwestern farmland values increased 16% in 2012, the third largest gain in the last 35 years, according a survey from the Federal Reserve Bank of Chicago. Despite the worst drought in over 55 years, high commodity prices and record farm incomes drove demand for agricultural land. Survey respondents expect the momentum to continue the next twelve months based on the record income expectations for 2013.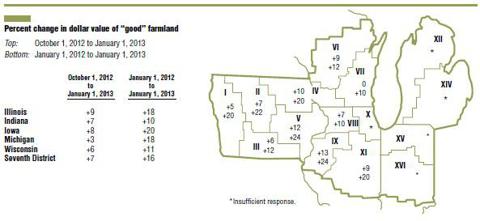 In the fourth quarter of 2012, farmland values climbed 7% compared the fourth quarter of 2011. An unusually large amount of sales occurred in the end of year due to uncertainty surrounding the fiscal cliff and potential tax changes.
"2012 marked the third consecutive year of significant jumps in agricultural land values," David B. Oppedahl, a business economist at the Chicago Fed, said in the report. "Recovery from the drought will remain a key factor in 2013, as the movements of drought-influenced crop prices will affect both crop farmers and livestock producers."
Iowa, Illinois, and Michigan had the largest gains in the fourth quarter, increasing 20%, 18%, and 18%, respectively. Wisconsin and Indiana experienced more modest gains of 11% and 10%, respectively.
28% of respondents expect farmland values to increase in the first quarter of 2013, while the remaining 71% expect values to remain stable. "With the USDA predicting net farm income to rise 14% from 2012 to $128.2 billion in 2013, there would seem to be at least another leg to be run," said Oppedahl.
Credit conditions improved in the fourth quarter of 2012, although loan demand was lower than a year ago. Average interest rates reached new lows in the fourth quarter. As of January 1, borrowing costs for farm operating loans were 5.03% and the rate for agricultural real-estate loans was 4.7%.
Disclosure: I have no positions in any stocks mentioned, and no plans to initiate any positions within the next 72 hours. I wrote this article myself, and it expresses my own opinions. I am not receiving compensation for it. I have no business relationship with any company whose stock is mentioned in this article.