In the search for equities that provide what I refer to as a 'best of both worlds' scenario, a unique combination of consistent growth and dividend growth, investors will invariably come across stocks that offer one aspect much better than the other. However, just to find a stock that does an admirable job at both is a small victory for investors. Companies that consistently offer both are not all that common and when found they warrant a second look by the majority of long-term oriented investors.
Cummins Inc. (NYSE:CMI) is the latest stock that I have found to offer a 'best of both worlds' scenario for investors. Although CMI has offered more consistent revenue and earnings per share growth in the past than it has dividend growth, the company has still managed to provide investors with a nice blend of both.
Cummins Inc. is a global leader in the Industrial Goods/Diversified Machinery segment. The company operates primarily in the design and manufacturing of diesel and natural gas engines. The Indiana-based company, through its diverse network channel consisting of over 600 distribution locations, 6,500 dealer locations and approximately 44,000 employees, distributes and services said engines in over 190 countries and territories worldwide. The company breaks its total business down into four distinct but complementary segments: Engine, Power Generation, Components and Distribution.
Cummins has performed very well over the years as a growth stock, and to best illustrate its performance, I first will analyze the company from a growth investing perspective by focusing on four main criteria: chart, revenue/earnings per share growth, business fundamentals and valuation. Secondly, I will analyze Cummins as a dividend growth stock to see how well the company has done increasing dividends for investors over the years.
The Chart:
The main thing a growth investor needs to see from a stock's long-term chart is a consistent uptrend, as this indicates there is a positive growth story intact, anything else is cause for concern on the growth front. Let's take a look at Cummins' five-year chart first (included are 50-day, 100-day and 200-day moving averages):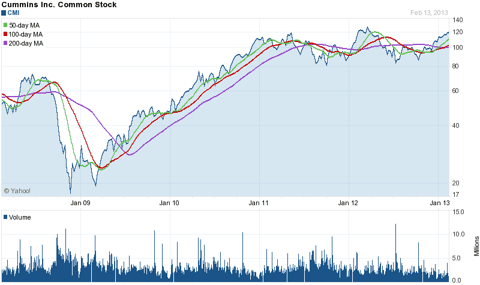 (Chart courtesy of Yahoo! Finance)
Total return (all with dividends reinvested, numbers from YCharts.com):
CMI: 146.7%
S&P: 25.99%
Cummins has returned well over 100% over the last five years, which easily beats the general indices. Since bottoming in late 2008 during the financial crisis, the stock has returned over 400% from its lows and has managed to do so in relatively consistent trading patterns, obeying major moving averages rather well. The stock has significantly breached its 200-day moving average only twice since recovering from its financial crisis lows.
Now let's move on to the one-year chart so we can tell how the stock has been trading more recently (included are 50-day, 100-day, 200-day moving averages as well as MACD and slow-stochastic indicators):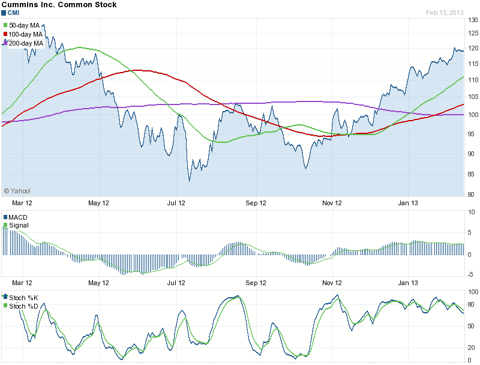 (Chart courtesy of Yahoo! Finance)
Total return (all with dividends reinvested, numbers from YCharts.com):
CMI: -0.66%
S&P: 14.19%
As mentioned prior, CMI has breached its 200-day moving average only twice since recovering from its 2008 lows, unfortunately one of those times happen to be within the last year of trading and both take place within the last two years. From the outset, the one-year chart is showing weakness, as the stock has managed to significantly underperform even the general indices, which is worrisome from a growth perspective.
In more recent trading, from late October 2012 to February 2013, CMI has regained all of its moving averages and both the MACD and stochastic indicate the stock is in an uptrend. However, the recent performance is far from adequate and needs to be monitored going forward. Ideally, and from a pure chart perspective, I would want to see Cummins surpass its all-time high of $129.51 set in March of last year before potentially recommending investors purchase shares.
Growth:
To best illustrate Cummins' growth I have chosen to compare it to a few companies that operate in similar segments, Caterpillar Inc. (NYSE:CAT) and PACCAR Inc. (NASDAQ:PCAR).
| | | | |
| --- | --- | --- | --- |
| Company | CAT | CMI | PCAR |
| Revenue Growth (2012) | 9.54% | -3.99% | 4.22% |
| Revenue Growth (2013)* | -3.2% | -0.8% | 0.9% |
| Revenue Growth (2014)* | 8.6% | 9.2% | 7.5% |
| Revenue Growth (3-year Avg. 2012-2013)* | 4.98% | 1.47% | 4.2% |
| EPS Growth (2012) | 14.59% | -8.48% | 9.09% |
| EPS Growth (2013)* | -9.8% | 2.1% | 1.6% |
| EPS Growth (2014)* | 17.3% | 16.8% | 13.6% |
| EPS Growth (3-year Avg. 2012-2013)* | 7.36% | 3.47% | 8.09% |
(Numbers from Yahoo! Finance, MSN Money as of February 14, 2013)
* Indicates at least some numbers derived from projected analyst estimates in listed fiscal year.
My first reaction was that of surprise after viewing these comparison numbers for the first time. Cummins has the worst average/projected average revenue and earnings per share growth for the most recent available three-year time period (2012-2014), at 1.47% and 3.47% respectively.
Looking ahead, Cummins is projected to see a very solid increase in both revenue and EPS for 2014, with growth rates at 9.2% and 16.8% respectively, the former being the highest out of all listed companies and the latter the second highest behind Caterpillar Inc.
The reason I was initially surprised at CMI's meager growth for 2012 and 2013 is because Cummins has been a relatively consistent growth stock for many years and these more recent laggard growth rates are not the norm for the company. Let's have a look at CMI's history of growth prior to 2012 on a revenue and EPS basis:
| | | | | |
| --- | --- | --- | --- | --- |
| Fiscal Year | Revenue | Change (%) | EPS | Change (%) |
| 2007 | 13.05B | 14.87% | 3.70 | 4.22% |
| 2008 | 14.34B | 9.86% | 3.84 | 3.78% |
| 2009 | 10.8B | -24.89% | 2.16 | -43.75% |
| 2010 | 13.23B | 22.5% | 5.28 | 144.44% |
| 2011 | 18.05B | 36.43% | 9.55 | 80.87% |
| Avg. 5-yr. Growth Rate | N/A | 11.754% | N/A | 37.91% |
As the numbers in the table above indicate, Cummins has had a rather impressive 5-year history of revenue and EPS growth, averaging 11.75% revenue growth and 37.91% EPS growth. Except for the understandably awful 2009 year, Cummins has generated growth in all other years in terms of both revenue and EPS, some of it rather robust (2011 specifically).
When we consider how out of place fiscal 2012 and projected fiscal 2013 seem for Cummins, the recent chart action begins to make more sense. Revenue and EPS growth for the company stalled rather dramatically in 2012 and both are projected to not be much better in 2013; likewise, the stock's appreciation has stalled rather dramatically.
However, the consensus growth projections for 2014 are encouraging and indicate that Cummins will most likely return to the high level of growth that the company has seen in the last five years.
Fundamentals:
| | | | |
| --- | --- | --- | --- |
| Company | CAT | CMI | PCAR |
| Market Cap | 63.03B | 22.45B | 17.01B |
| Total Debt | 40.14B | 714M | 9.13B |
| Total Cash | 3.31B | 1.62B | 2.4B |
| 2013 Projected Revenue* | 63.76B | 17.2B | 16.09B |
| Net Profit Margin | 8.62% | 9.56% | 6.52% |
| ROIC | 10.2% | 20.9% | 7.9% |
| ROIC (5-yr. Avg.) | 8% | 18.4% | 6.6% |
| P/E (NYSE:TTM) | 11.35 | 13.63 | 15.42 |
| P/E (forward) | 10.22 | 11.6 | 13.37 |
| Price/Sales Ratio | 0.96 | 1.31 | 0.99 |
| Dividend/Yield | 2.08/2.10% | 2.00/1.7% | 0.8/1.7% |
(Numbers from Yahoo! Finance, MSN Money as of February 14, 2013)
* Indicates at least some numbers derived from projected analyst estimates in listed fiscal year
Cummins begins to separate itself from its competitors in the fundamentals category. CMI is the second largest company, with a market capitalization of $22.45 billion and has the smallest amount of debt, both in absolute terms and in proportion to market cap. CMI's total debt of $714 million is only 3.18% of the company's current market capitalization, which is impressive when compared to CAT's debt of $40.14 billion, which is equal to 63.68% of the company's current market cap. Cummins also has an impressive amount of cash, $1.62 billion, which is equal to 7.21% of its market cap.
When it comes to the very important return on invested capital metric, which is a great indicator of management's efficiency at generating returns off of investments, Cummins greatly exceeds all competitors with an ROIC of 20.9%. The 5-year average return on capital of 18.4% for Cummins indicates that well above average ROIC is the norm for the company. Additionally, Cummins boasts the best net profit margin, at 9.56% compared to CAT and PCAR, at 8.62% and 6.52% respectively.
When it comes to valuation, all three companies are relatively cheap on both a trailing twelve-month basis and a forward twelve-month basis; however, Caterpillar is the cheapest on both counts. Cummins is second with regard to current P/E as well as forward P/E. When judged on a historical basis, Cummins seems very fairly valued, as the company's 5-year average P/E is 13.38. On a future twelve-month basis, CMI appears cheaper than usual, with a forward P/E of 11.6.
Cummins' current dividend of $2.00 equates to a respectable yield of 1.7%, which is equal to PACCAR's yield and overshadowed only by CAT's impressive 2.1%. However, Cummins provides investors with an increasing dividend that is worthy of extra consideration.
Dividend:
| | | | |
| --- | --- | --- | --- |
| Company | CAT | CMI | PCAR |
| Price Per Share | 96.14 | 118.79 | 48.14 |
| Dividend | 2.08 | 2.00 | 0.80 |
| Yield | 2.10% | 1.7% | 1.7% |
| Payout Ratio | 29% | 21% | 51% |
| Dividend Increases In Last 10 Years | 10 | 7 | 8* |
| % Increase In 10 Years | 197% | 566% | 237% |
| Annual Dividend Growth (5-yr.) | 14.1% | 33.7% | -1.6% |
| Annual Dividend Growth (10-yr.) | 14% | 21.7% | 16.8% |
| Most Recent Dividend Raise | 7/18/12 | 8/20/12 | 2/15/12 |
| Most Recent Dividend Increase (%) | 13.04% | 25% | 11.11% |
(Number from Yahoo! Finance, Dividend-Stocks.com as of February 14, 2103)
* Indicates dividend has been reduced at least once in last 10 years
From the outset, PACCAR can be eliminated on a dividend-growth basis because the company has not been consistent in its dividend history, as it has lowered its dividend during the last ten years at least once, something no dividend-oriented investor wants to see. Although Caterpillar has provided investors with the most dividend increases in the last decade, managing one increase a year, Cummins has greatly exceeded all competitors in dividend-growth rate over the last ten years, at an impressive 566%. Perhaps even more encouraging is the fact that the company's dividend-growth has been increasing rather robustly as of late; CMI's 5-year average annual dividend growth is 33.7%, which compares favorably to its 10-year average of 21.7%.
Cummins manages a dividend increase approximately every 1.4 years, which is respectable although nowhere near the levels that some of my previously researched dividend-growth stocks achieve, both Church & Dwight Co. Inc. (NYSE:CHD) and VF Corporation (NYSE:VFC) achieve much higher levels. The most recent dividend increase for Cummins was on August 20, 2012, at which time the company provided investors with a 25% rise in payout.
As indicated by the table above, Cummins excels at dividend growth especially compared to CAT and PCAR, both of which have performed decently over the last decade, the former more so. With regards to dividend growth, what the company may lack in consistency (increases only once every 1.4 years) it makes up for in robust growth (averaging well over 20% dividend growth).
Growth Catalysts:
The main drivers of growth for Cummins going forward are largely macro-related. In his latest letter to shareholders, Cummins' Chairman and CEO Tom Linebarger broke down the four trends that the company stands to benefit from and why:
- Continued shift towards more stringent global emissions standards which management feels Cummins can meet quicker and more efficiently than competitors.
- Increasing global power demand and decreasing power supply which should create higher demand for Cummins' power generation systems.
- Increasing globalization trends will open up new markets for Cummins and the company's already large global footprint will allow it to reach consumers quicker than many competitors.
- Increase in infrastructure spending, specifically in emerging markets, will require more operational equipment thus increasing demand for the Cummins engines that power many of them.
These general macro trends will primarily drive management's goal of reaching $30 billion in total sales, an increase of 73% from recently reported fiscal 2012 total revenue of $17.3 billion. The big question is when management expects this large sales figure to actually manifest. In 2011, management stated a 2015 target for achieving the $30 billion sales milestone, which now looks to have been too aggressive. Unfortunately, with the challenging global atmosphere it is hard to know when to expect the $30 billion sales number and so this creates a challenging environment for growth investors to navigate. Global growth, particularly in emerging markets, needs to pick up extensively for Cummins to get close to management's $30 billion sales target anytime soon.
Cummins' management has been using the company's considerable cash to invest in new projects and products to best take advantage of upcoming fuel emissions regulations, including more efficient higher-horsepower engines and on-highway natural gas engines, both of which are intended to maintain the company's leadership in fuel-emissions standards, as well as expanding its global technical centers.
Many new regulations will begin in effect in 2014-2015 and Cummins appears dedicated to remaining ahead of the curve. The company recently revealed details on its new, versatile 4-cylinder engine designed for compact excavators and loaders that will meet Tier 4 Final near-zero emissions standards. The company also recently showed off its new 550 horsepower diesel engine designed for high-performance boats, which increase speed and performance while still complying with Tier 3 emissions regulations. Not surprisingly, capital spending in 2013 is projected to rise to $850 million from 2012's $690 million, which represents an increase of 23.18%.
While sales growth in 2012 and projected sales growth for 2013 is nowhere near where it was in the past five years due to various global economic challenges being faced by the company, management has done an excellent job at improving margins. In 2012, Cummins delivered record gross margins due to lower product and material costs as well as efficient improvements in the company's global supply chain. For 2012, Cummins delivered full-year gross margins of 26.2%, 80 basis points better than full-year 2011. The company also expects EBIT margins to be in the range of 10% to 11%, which although down from fiscal 2012's 11.8%, is still a marginal improvement over the lackluster second half of 2012.
In addition to recently raising the company's dividend, Cummins' management has also recently authorized a new share repurchase program in December, worth $1 billion, which is currently equal to 4.45% of the company's total market capitalization.
Risks:
As part of the risks associated with Cummins, I want to first focus on what has been happening with the company over the last year, which has caused the stagnation and slight decreases in revenue/EPS, as this will most likely continue to be a risk going forward into 2013 and beyond.
In the latest conference call covering Q4 2012, management stated the company's total revenue for fiscal 2012 was $17.3 billion, which represents a decrease of 4% year-over-year, due primarily to general declines in the company's engine, power generation and components business segments.
Although total U.S. revenue managed to grow 9% during 2012, growth trends decelerated all year. Management cited U.S. demand for Cummins' products that started out strong in 2012, with Q1 sales growing 40% year-over-year, but continued to wane all throughout the year, ending in a fourth quarter that saw U.S. revenue decrease 8% year-over-year due to weak business confidence "which impacted demand across multiple end markets," according to CEO Linebarger.
Globally, the story was even worse. At the midpoint of 2012, management expected improving trends in its China and Brazil markets but the slowing economies of both did not allow the anticipated improvements to materialize. Additionally, despite getting off to a strong start, Cummins' India market also slowed drastically as the country's gross domestic product fell to levels not seen in a decade. Europe remained weak as management had expected but markets in the Middle East and North Africa were unexpectedly weak.
More specifically, revenues in Brazil declined 38% due to a truck market that saw total production drop 37%. Total revenue in China dropped 20% from the previous year as both the truck market (medium and heavy-duty) and excavator market declined significantly due to China's slowing economy, falling 21% and 35% respectively. Additionally, declines in power generation equipment led to weak North African and Middle Eastern performances, both of which fell over 10% year-over-year.
The global factors that contributed to Cummins' weak 2012 performance will likely remain headwinds for 2013 as well. These factors are also what I would label as the primary risk that potential Cummins investors face going forward; global economic uncertainty. Some industries/sectors are better able to absorb decelerating global trends, Cummins and the Diversified Machinery segment is not one of them. Management cites that total revenue for 2013 is expected to be flat to down 5%, due to increasing challenges across the world. The more notable expectations contributing to flat, slightly negative sales growth in 2013 are:
- North American on-highway sales expected to be flat.
- Shipments to Chrysler expected to decline 10% due to model year changes.
- Medium/heavy duty truck sales in China expected to be flat.
- India market total revenues expected to be flat.
- Expected decline in mining equipment aftermarket revenues.
- European power generation business expected to decline due to cuts in cap-ex.
Another risk for investors to consider is the company's one-year chart, which directly reflects the company's global struggles over the last few years. Although CMI has traded well over the last four months, regaining all its moving averages and trending upwards, the chart is far from a perfect and needs to be carefully monitored.
Conclusion:
What I was expecting to be a fantastic growth stock with good dividend growth turned out to be almost the exact opposite. Cummins is much closer to a fantastic dividend grower with very challenging revenue and earnings growth prospects going forward.
The future growth prospects of Cummins are really a two-way street: on one hand, the company is set to succeed and on the other hand the company faces serious headwinds. The exciting growth front for Cummins is the company's determination to remain a leader in fuel efficiency. The newly enhanced fuel-efficient product lines that are being unveiled by the company already meet the strict standards that are necessary for the majority of emissions regulations that will go into effect in 2014. In this regard, Cummins is well ahead of the pack and the company is set to succeed.
However, for a company that derives so much of its growth from global markets as Cummins does, economic uncertainty around the world creates a great challenge in estimating future growth. Management projects flat to slightly negative revenue growth in 2013 and I'm inclined to believe their estimates, conservative as they may prove to be. There is simply not enough evidence that global growth in 2013, which Cummins is so heavily dependent on, is going to pick up in a way meaningful enough to positively affect Cummins' growth rates. However, looking past 2013 and into 2014, consensus projections are calling for more robust revenue and EPS growth and it is this future growth, about a year out, that an investor must believe in to own Cummins as a growth stock.
While Cummins is no doubt struggling to grow revenue and EPS, as a dividend-growth stock, the company succeeds, especially when compared to its peers. The company's impressive history of raising dividends rather consistently sets it apart from the majority of stocks that I follow and this warrants a second look by dividend-growth investors.
Cummins is definitely a rare type of stock; it has the strongest business fundamentals in its sector and very fair valuation to go along with the company's strong history of revenue and EPS growth as well as a strong dividend-growth history. Unfortunately, for now the growth looks to be just that, history. And while it is nice that Cummins will increasingly pay investors just to wait for the growth that looks to be on the horizon, it is not quite enough for me at current levels. I'd much rather miss the stock's first act by waiting to see if global growth begins to accelerate again than to buy the stock prematurely and be wrong.
I recommend buying shares of Cummins only on extreme weakness, particularly if the stock falls below $100. At cheaper valuation, Cummins becomes a very nice value/growth play on a global recovery. At worst-case scenario, the company is a solid dividend-growth stock that should continue to increase its payout. I will be monitoring Cummins throughout 2013 to see if global, emerging market growth picks up significantly because if it does, Cummins' best of breed fundamentals and leadership position means the company could quickly shift into high gear and become the growth stock that it once was.
Disclosure: I have no positions in any stocks mentioned, and no plans to initiate any positions within the next 72 hours. I wrote this article myself, and it expresses my own opinions. I am not receiving compensation for it (other than from Seeking Alpha). I have no business relationship with any company whose stock is mentioned in this article.