The past two months have been marked by a whole series of significant announcements in the U.S. LNG sector indicating that large-scale natural gas exports from the U.S. and Canada are firmly on track to become a reality. The headlines included three major long-term LNG supply agreements and the decisions by Chevron and Royal Dutch Shell to take equity stakes in LNG export projects. The announcements have several important implications and suggest that the LNG exports will not only have material consequences for the North American natural gas market but are already impacting pricing mechanisms of the entire international LNG trade.
The recent news adds up to a critical mass of evidence suggesting that several large proposed facilities now have strong chances of moving forward. Moreover, the very competitive Henry Hub linked pricing formula - that seems to have emerged as almost a standard for U.S. based projects - should continue to attract strong demand from LNG buyers, particularly in Asia, and additional off-take contract announcements are likely to follow. As two large projects - Sabine Pass Liquefaction and Freeport LNG Expansion - are getting close to being fully subscribed, other projects will likely gain leverage in securing long-term agreements that are pivotal to obtaining project financing.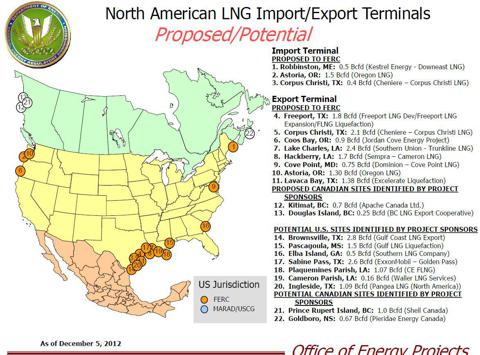 (Source: FERC)
In terms of timing, it appears now that several significant North American projects may almost simultaneously pass or closely approach the finish line, with combined in-service capacity likely exceeding (possibly, significantly) 6 Bcf/d by the end of 2018. The ramp up in demand for feed gas from LNG export facilities will coincide with the expansion of gas-fired power generation (material capacity additions are expected already in 2014-2015) and growth in demand from the petrochemical industry. These three demand factors, which will be coming together in a relatively tight timeframe, should provide the much needed relief to the oversupplied natural gas markets in the U.S. and Canada and may result in the switch in the natural gas pricing regime from growth containment to expansion. However, such demand-driven inflection point in the North American natural gas fundamentals is probably still few years away.
The aggressive marketing of LNG liquefaction capacity by the U.S. projects spells bad news (and shrinking operating margins) for global LNG trade in general. With the availability of Henry Hub linked LNG imports on the horizon, oil-based LNG pricing in Asia - the major pivot of profitability for merchant cargoes and proposed LNG developments around the world - may no longer be feasible within a few years. Henry Hub may in fact become a new price-setting reference point for the global natural gas trade, impacting exporters from Australia to Russia.
The North American LNG has several distinct advantages relative to competing with potential supply from many locations around the world:
Massive, reasonably priced natural gas resource in the ground and highly sophisticated and efficient E&P industry capable of quickly ramping up supply;
A wide selection of severely underutilized regasification facilities, with existing pipeline access, that can be used for brownfield liquefaction expansions (reduces the cost of construction as much as two-fold relative to greenfield projects);
Stable and secure political and legal environment;
Importantly, a unique high-capacity pipeline network that allows the sourcing of feed gas from almost any location across the continent and eliminates the need for a captive upstream component of the project.
As a result, the U.S. LNG exports have cost advantage in three of the four major components of the LNG value chain: the upstream (shale/tight gas and highly productive extraction industry), midstream (pipeline grid and liquids processing in place), and downstream (low-cost brownfield expansions already connected to the pipeline network). The disadvantage is the expensive transportation to key consumer markets in Asia (even with the Panama Canal expansion, which should cut voyages to the Asian markets by as much as 7,500 nautical miles).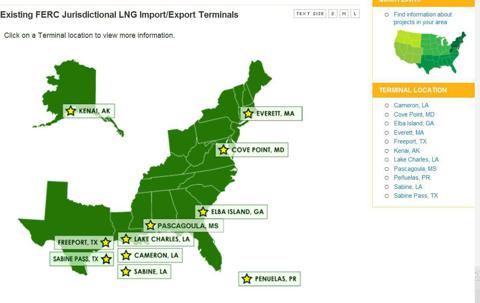 (Source: FERC)
Freeport LNG. Last week, on February 11, Freeport LNG announced a binding 20-year liquefaction tolling agreement with BP (NYSE:BP) for 4.4 million tons per annum of LNG (mtpa). BP's participation is significant and adds another strong vote confidence by an Oil Major in the viability of the U.S. natural gas exports. The contract follows the LTAs with Osaka Gas (OTCPK:OSGSF) and Chubu Electric Power (OTC:CHUEF) for a total of 4.4 mtpa that Freeport LNG executed in June 2012. All the contracts are linked to Henry Hub pricing and cover the first two liquefaction trains. Exclusive LTA negotiations for the third liquefaction train are currently under way and are expected to be completed soon. Freeport LNG is a proposed three-train export expansion of the existing receiving terminal located on the U.S. Gulf Coast near Freeport, Texas, (the map above). Total liquefaction capacity is expected to be 13.2 mtpa (1.8 Bcf/d) and may cost over $10 billion. The project is controlled by four investors: Michael S. Smith, Zachry American Infrastructure, Dow Chemical (DOW), and Osaka Gas.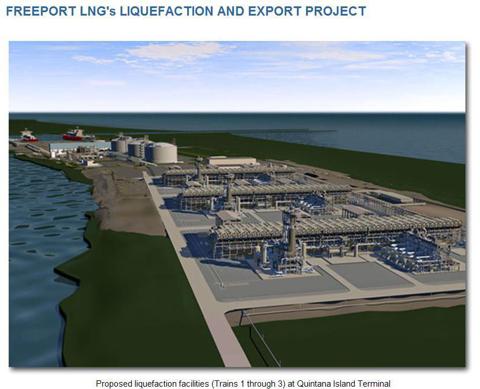 (Source: Freeport LNG Development, February 2013)
Cameron LNG. On February 6, TEPCO (OTCPK:TKECF), the largest Japanese utility and the operator of the infamous Fukushima nuclear plant, announced that it intends to purchase from the U.S. Cameron LNG, via trading companies Mitsui and Mitsubishi, 0.8 mpta of LNG under a 20-year LTA. The contracts will be linked to Henry Hub pricing. TEPCO is currently among the world's largest LNG buyers. As a result of Fukushima nuclear accident in 2011, the utility's annual fossil fuel costs to run its thermal plants exploded to $30 billion, as all of its nuclear reactors remain idle. This is the first time that TEPCO enters into a long-term LNG contract based on a U.S. natural gas price index, in departure from traditionally oil-based pricing. Importantly, TEPCO has recently announced a plan to contract for up to 10 mpta of LNG, of which approximately half is expected to come from the U.S., which likely indicates that additional purchase volumes may be under negotiation with other U.S.-based projects. The news adds Cameron LNG to the list of highly probable export projects, alongside Cheniere's Sabine Pass and Freeport LNG. Cameron is a proposed export expansion of the existing receiving terminal located on the U.S. Gulf Coast near Hackberry, Louisiana, owned by Sempra Energy (NYSE:SE). Total liquefaction capacity is expected to be 12 mtpa (1.7 Bcf/d). First deliveries from train one are expected in 2017, with the project completion in 2018.
Sabine Pass Liquefaction. On December 17, Total (NYSE:TOT) announced an agreement to purchase 2.0 mpta of LNG from Sabine Pass Liquefaction, a subsidiary of Cheniere Energy Partners (NYSEMKT:CQP), under a 20-year agreement (plus a 10-year option). The contract represents almost half of the approximately 4.5 mtpa of nominal capacity of the project's train five. The first four trains already have long-term contracts in place. All the contracts are indexed to the monthly Henry Hub price plus a fixed component. Sabine Pass Liquefaction is the first U.S. LNG export facility that has entered the construction phase and is currently developing five liquefaction trains adjacent to the existing receiving terminal. The first two trains are under construction and are expected to be placed in service in 2015-2016. The third and fourth trains are expected to commence construction in 2013 and be placed in service in 2017-2018. Trains five and six are in permitting stage. Deliveries from train five are expected to occur as early as 2018. The project's total liquefaction capacity is expected to be 18 mtpa (2.6 Bcf/d) for the first four trains and may cost over $10 billion to construct. Trains five and six should add 9 mtpa (1.3 Bcf/d) of capacity and may cost as much as $5 billion.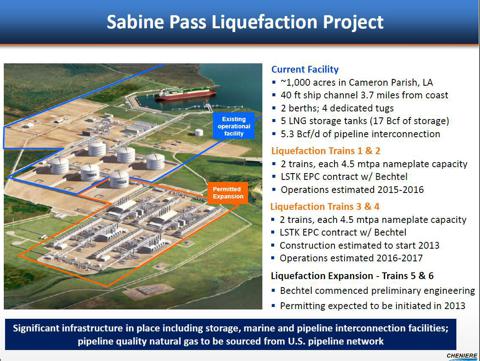 Just the three projects summarized above, if completed, would have a total natural gas export capacity of 7.4 Bcf/d, which approximately equates to the total current production volume from the giant Marcellus Shale.
Another indicative sign of the increasingly certain quick ramp up of North American LNG exports is the recent active project sponsorship by the Oil Majors, both through equity ownership (Chevron, Shell, Exxon) and LTAs (Total, BP).
Golden Pass LNG (Exxon Mobil). Last year, Exxon Mobil (NYSE:XOM) announced plans to build a $10 billion, 2 Bcf/d natural gas export facility adjacent to the existing Golden Pass LNG receiving terminal, Exxon's joint venture with Qatar Petroleum International. The site is located between Port Arthur and Sabine Pass, Texas, neighboring Cheniere Energy's development. Like other brownfield projects, Golden Pass LNG should benefit from substantial existing infrastructure, which includes two berths for LNG tankers (including the world's largest double-hulled Q-Flex and Q-Max ships), five storage tanks, and a 69-mile Golden Pass Pipeline providing access to key natural gas markets.
Kitimat LNG (Chevron). In December, Chevron (NYSE:CVX) joined Kitimat LNG project on Canada's West Coast in a joint venture with Apache Corporation (NYSE:APA) (shown on a map above). Chevron will operate the LNG plant and the associated pipeline; Apache will operate the upstream assets. While financial terms of the transaction were not disclosed, I estimate that Chevron paid $1.2-$1.4 billion for its 50% interest in the project (including the upstream component). The significant purchase price indicates that the project has very strong chances of going forward. Current plans call for two liquefaction trains, each with expected capacity of 5 mpta (0.75 Bcf/d). Kitimat LNG has received all significant environmental approvals and a 20-year export license from the Canadian federal government. Front-end engineering and design are being completed, and early site work is under way. The 290-mile Pacific Trail Pipeline will provide a direct connection to Spectra Energy's Transmission pipeline system.
Southern LNG (Royal Dutch Shell). On January 28, Royal Dutch Shell (RDS.A, RDS.B) and Southern Liquefaction Company, a Kinder Morgan (NYSE:KMI) affiliate and unit of El Paso Pipeline Partners (NYSE:EPB), announced that they will jointly develop a brownfield liquefaction unit at El Paso's existing Elba Island LNG Terminal near Savannah, Georgia, (shown on a map above). The project will use Shell's small-scale liquefaction unit design that should enable "rapid construction" compared with traditional large-scale facilities. The project is expected to have liquefaction capacity of approximately 2.5 mtpa (0.35 Bcf/d of natural gas) and will be developed in two phases. Phase I is expected to have approximately 1.5 mtpa capacity (210 MMcf/d).
Shell Prince Rupert Island LNG (Royal Dutch Shell). Last year, Shell announced its preliminary decision to proceed with a proposed 1.0 Bcf/d LNG export project on Canada's West Coast, which it will own in a joint venture with three Asian partners [PetroChina (NYSE:PTR), Mitsubishi (MTU), and Korea Gas]. No specific timeline has been announced yet. Shell will be using an industrial site it had acquired from Cenovus on Prince Rupert Island located close to Kitimat LNG. The facility is sited on the northern British Columbia coast approximately 400 miles north of Vancouver and, like Kitimat LNG, will have pipeline access to Canada's most prolific natural gas shales, including the Montney, Horn River, Liard and Duvernay.
Conclusion
In defiance of the skeptics, U.S. LNG exports are happening, driven by the very advantaged (but often misunderstood) cost position of U.S. brownfield expansions and strong demand for energy in Asia. The recently announced major capital commitments by the world's largest LNG buyers and Oil Majors (which typically are preceded by months of negotiations and due diligence), provide an unambiguous validation of the thesis that the U.S. natural gas exports are economically viable and will likely attain significant scale by the end of this decade.
The wave of planned LNG project deliveries, coinciding with a step up in demand from the power generation and petrochemical industries, may stretch the upstream and oilfield services sector capacity and cause a meaningful increase and volatility in natural gas prices.
Disclaimer: This article is not an investment recommendation. Any analysis presented in this article is illustrative in nature, is based on an incomplete set of information and has limitations to its accuracy, and is not meant to be relied upon for investment decisions. Please consult a qualified investment advisor. The information upon which this material is based was obtained from sources believed to be reliable, but has not been independently verified. Therefore, the author cannot guarantee its accuracy. Any opinions or estimates constitute the author's best judgment as of the date of publication, and are subject to change without notice.
Disclosure: I have no positions in any stocks mentioned, and no plans to initiate any positions within the next 72 hours. I wrote this article myself, and it expresses my own opinions. I am not receiving compensation for it (other than from Seeking Alpha). I have no business relationship with any company whose stock is mentioned in this article.