Fairfax Financial Holdings just announced its 2012 year end results and over the weekend I had a chance to read through the conference call transcripts and make some quick notes. I'm always interested in listen/read what the Fairfax (OTCPK:FRFHF) chairman and CEO Prem Watsa has to say. Watsa is one of the best investors in the world. He is often compared with Warren Buffett, not only for his investment acumen, but also for the similarities in the business vehicle he uses.
Like Buffett with Berkshire Hathaway, Prem Watsa runs an insurance company that owns other insurance companies and uses the float from those companies to invest in stocks, bonds and other securities. Watsa's company, Fairfax, is based in Toronto, Canada and he has been the chairman and CEO since 1985.
Since that time, Watsa has been able to compound his company's book value at 23.5% per year, a stunning accomplishment, and deserving of the nickname the "Canadian Warren Buffett." Thanks to that book value growth, the shareholders have been rewarded correspondingly as the stock of Fairfax has averaged over 20% annual returns since 1985. $10,000 invested into Fairfax stock (trades in Toronto under ticker FFH, and in the US under FRFHF.PK) in 1985 would now be worth $1.33 million, not including dividends. Stellar ...

Here is a snapshot of the year by year performance (from the 2012 Chairman's Letter):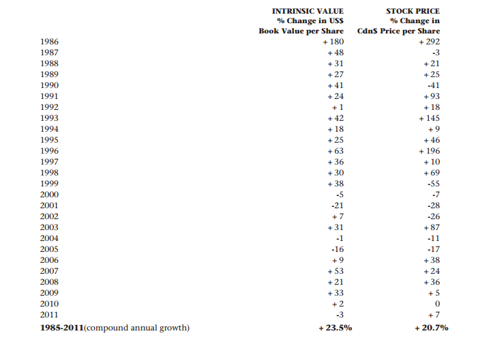 Growth in book value (one of my favorite long term metrics) leads to growth in share price over time.
Prem Watsa on the Benefits of Holding Cash
Prem Watsa is an investor I'll cover more on this blog, and he is one of the investors I'll be tracking to see what positions he holds. His overall investment portfolio this quarter is around $24 billion, and he has a gigantic cash position of around $8 billion. In reading through the transcript from the quarterly conference call this weekend, at the very end of the transcript there was a question asked about why he his holding over 30% of his capital in cash.
Watsa replies by saying that he is somewhat bearish on the economy overall and explains his reasoning (Fairfax is positioned very well for a deflationary environment via derivative hedges, should that occur). Thus, the large 31% cash hoard is partly due to his cautious macro outlook. However, he still said something that I took away as a bottom up, long term value stock picker that I think is important regarding cash:
"As far as the 30% cash, remember, that can change. So in 2008, and we had this position in 2007, in 2006. 2008, things turned the financial markets. Stock markets dropped... about 50%... And Tom, the only people who could benefit from that were the people who had cash or government bonds. And so we are conscious of that in our history. Cash gives you options, gives you the ability to take advantage of opportunity but you have to be long-term. We have built our company with a long-term view. Our long-term results are excellent. For example, in 2007, '08, and '09, the 3 years, 2007, 2008, 2009, we made $2.8 billion after tax, our book value went up by 150%. Since that time, we haven't done a lot. But we've said to our shareholders that we are long-term focused, our results are lumpy and we never know when it can change. But the cash gives us a huge advantage in terms of taking advantage of opportunity as and when they come. At the moment, we don't think they're many, so we are building cash."
I like how he says "cash gives us options." John Burbank of Passport Capital had a similar opinion when he said "cash is most valuable when no one else has it."
So Watsa was able to swoop in and buy when everyone else was panicking. His shareholders were rewarded with a 150% rise in their company's net worth. One of the benefits of investing through a vehicle like Berkshire Hathaway or Fairfax is that the capital is permanent. Watsa can sit with huge amounts of cash and not worry about alienating impatient investors. Individual investors have the same advantage that Watsa and Buffett have, should they choose to exercise the same patience and prudence.
Sometimes it pays to "Don't just do something, sit there," and wait for the right opportunities to come along.
My own thoughts on cash go back and forth. My overriding opinion is that cash is a terrible long term investment, as it's almost certain to lose value over time. However, an opportunistic investor can take advantage of what some call the "optionality" of cash, as Buffett has said (paraphrasing). "A call option on (future) cheap securities with no strike price and no expiration."
Cash within the context of portfolio management is always an interesting topic to discuss, and one that is evolving with my own investment policies.
I'd love to hear your thoughts...
For more thoughts from Prem Watsa, check out:
Fairfax latest 13-F (Watsa's stock portfolio as of 12/31/12)
Fairfax latest quarterly conference call (transcript via Seeking Alpha)
Disclosure: I have no positions in any stocks mentioned, and no plans to initiate any positions within the next 72 hours. I wrote this article myself, and it expresses my own opinions. I am not receiving compensation for it. I have no business relationship with any company whose stock is mentioned in this article.