The BlackBerry (BBRY) Z10 has launched, but the company seems unlikely to release official sales numbers or statistics (other than their prior "everything is going well" statement) anytime soon. A newspaper covering the United Arab Emirates did report that the Z10 sold out in the UAE, but again, no firm sales numbers were provided and BlackBerry itself did not confirm a sellout. Interested investors, both long and short, are yearning for information about the success (or failure) of the Z10's launch. Until BlackBerry itself provides actual data, I think that some meaningful information can be gleaned from another source - Google (NASDAQ:GOOG) Trends.
Google Trends provides a user with information about search patterns for key terms across geographies and over time. It has even been used to model the spread of influenza infection during flu season - but we're only interested in information about enthusiasm for new BlackBerry devices. To start, here is a Google Trends snapshot of the past 30 days for three terms: "BlackBerry z10," "BlackBerry 10" and "z10" for all geographies.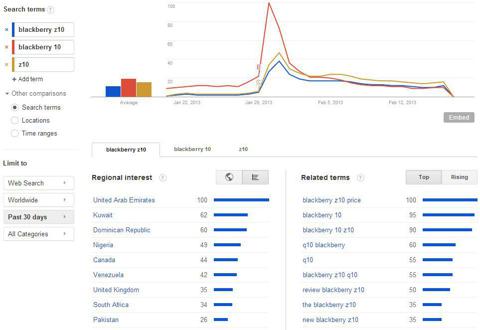 Interest in all terms peaked on January 30, after BlackBerry showed off its new operating system and announced its new devices, the first of which, the touchscreen Z10, would go on sale shortly. BlackBerry-loyal countries initially showed the most interest in the device (screenshot shows location data based on the "blackberry z10" query), with the most per-capita searches coming out of the UAE; Canada and the UK, two other early-launch territories and BlackBerry havens, were in the top 10. Interestingly, the top related search was "blackberry z10 price," seeming to indicate that users who searched for "blackberry z10" may be interested in purchasing the device (or were at least curious to know how much it may cost). Additionally, searchers were also organically looking for information on BlackBerry's Q10, a device that will feature a physical keyboard that will not be on sale for a few more months. (Many analysts and pundits point to Q10 as having the potential for even greater success, as it is the phone more suited to BlackBerry's physical-keyboard loyalists.)
When filtering for just the past seven days (which seems to exclude data over the past 48 hours), it is interesting to notice how the search demographics change.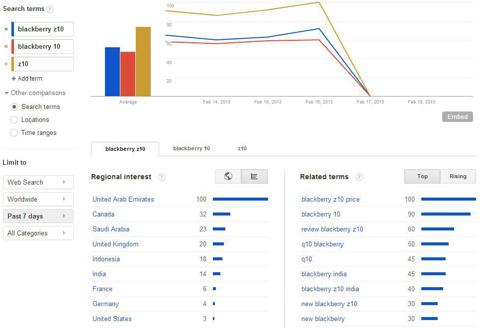 The level of searches for "BlackBerry Z10" United Arab Emirates has skyrocketed compared with the month-long data; it had three times more searches (on a per-capita-like basis) than the second-highest geography, Canada. This seems to corroborate the news about a very successful launch within the UAE, as general interest seems very high (and users may have also been searching for more specific reasons, such as trying to locate available devices to purchase). Much of the interest by geography list is different for the week-long window compared with the prior month, as Saudi Arabia, Indonesia, India (three traditionally-loyal BlackBerry geographies), France, Germany, and the U.S. are now top territories. In some of these countries, the Z10 is already available (including Saudi Arabia and France); others (notably the United States) will still be waiting a while for the device.
In my opinion, the results indicate that interest for the Z10 is extremely strong in geographies that traditionally favor BlackBerry devices, but interest is also rising in countries when the device goes on sale (as seen by Saudi Arabia and France entering the list for the seven-day filter). Searches don't equal sales, but interest is surely a good thing.
As a final analysis, I decided to drill-down in what appears to be the country most interested in the Z10, the United Arab Emirates. This time, I plugged some well-known competitors into the search to see how BlackBerry and its Z10 stack up against its rivals. This search was filtered on 90 days to better show historical trends and the recent shifts in interest.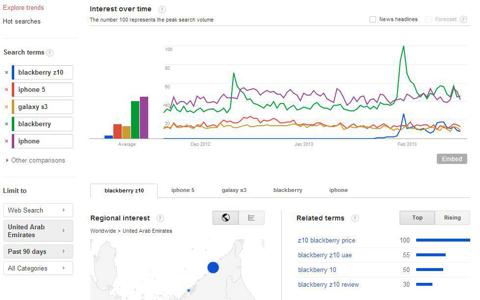 From late November through mid-January, "iPhone" (NASDAQ:AAPL) was searched for more than "BlackBerry" by a ratio of about 1.4:1, with the exception of a blip in mid-December. However, once BlackBerry unveiled the BlackBerry 10 operating system and the Z10, things have changed. Over the past 20 days, "BlackBerry" has now settled into equilibrium with "iPhone" (after search volume peaked following the BB10 unveiling). More importantly, "BlackBerry Z10" is now drawing search volume comparable with the "iPhone 5" and "Galaxy S3," the flagship Apple and Android phones currently on the market. This massive increase in mindshare is in itself a very significant achievement for BlackBerry, but the reports of device sellouts in the UAE seems to indicate that, at least in that geography, interest has translated into sales.
Both shareholders and shorts are impatiently waiting for BlackBerry to report actual sales results and Q4 earnings (which will arrive on or around March 28). Until then, it isn't really possible to know how well the Z10 launch has gone, other than by interpreting the reports of sellouts or disappointing interest as the Z10 becomes available in new geographies. But I believe that this search volume data can be interpreted positively. BlackBerry's launch strategy was initially criticized, mainly due to the delayed launch in the USA, the biggest (tied with China) smartphone market in the world. However, BlackBerry's strategy now seems a bit clearer - it preferred to allocate phones to the countries that are the most enthusiastic about its products, while letting interest in the USA and other late-release geographies percolate as sales information, reviews, and user testimonials rolled in.
It is certainly far too early to claim BlackBerry's BB10 and Z10 launch a success, but at the very least, it seems that the launch is proceeding according to BlackBerry's plan - which should be reassuring to longs, and a bit worrisome for shorts. As I previously wrote, BlackBerry's current valuation offers a very attractive entry point for an investor; if momentum continues to build as the Z10 becomes available worldwide, shares may not stay at $14 for much longer.
Disclosure: I am long BBRY. I wrote this article myself, and it expresses my own opinions. I am not receiving compensation for it (other than from Seeking Alpha). I have no business relationship with any company whose stock is mentioned in this article.