We have seen an unprecedented demand for guns and ammo after recent political events. Glancing around today we noticed that Olin Corp (NYSE:OLN) has some massive insider selling occur in February while prior months were pretty quiet.
Typically we are not overly concerned with selling unless it:
Occurs from multiple people in the company.
The selling is in large amounts (aka over 75k)
If the selling were just one guy we might not be that concerned. Maybe he would need money for a house or a car but when you see multiple guys dropping shares like they are dead weight then look out. This should be like a red alert for you to review your investment.
OLN Insiders History
Looking at the insider's history of trading at OLN we can see that back in May of 2011 they dumped a lot of stock at $25 per share after a massive run-up only for the stock to drop after they sold off. (The text is very small so please click to enlarge it.)
(OLN Insiders Dump Stock in May 2011)

(Notice the drop to the 19s after the sell)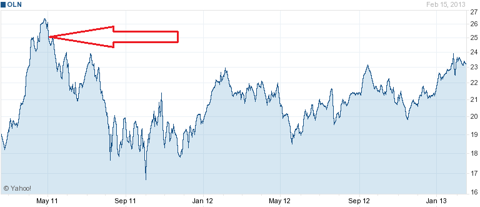 Now the real question is will this February's sell-off by OLN insiders be a repeat of the past?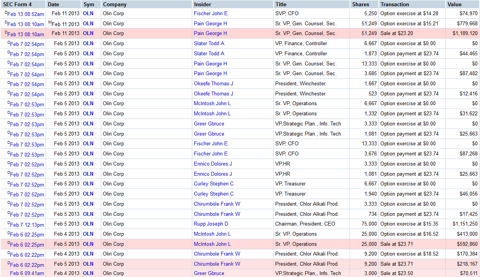 What jumps out at us here are the large amounts of options cashed in. Given what happened when insiders sold in May 2011 this should be a warning signal to be careful.
OLN Financials
Right now ammo is very hard to acquire. Will the ammo situation be resolved anytime soon? Nope, the politicians are going to continue to press for laws on a federal and state level. As long as they are pending the lack of ammo will continue as the media drums its anti-gun tune.
This is great news for OLN as it makes quite a bit of ammo. The only financial figure that gives us pause for concern is the PEG ratio, which stands at 1.50. Other than that the stock looks nice and it pays a dividend of 3.4%. While the stock looks attractive we are going to place our bets with rival ammo producer Alliant Techsystems (ATK) whose insiders are not selling. The OLN insiders called it back in May of 2011 and we are betting they are calling it again. Combine that with a PEG that is a bit higher than we would like and it forces us to look to safer pastures like ATK.
Disclosure: I have no positions in any stocks mentioned, and no plans to initiate any positions within the next 72 hours. I wrote this article myself, and it expresses my own opinions. I am not receiving compensation for it (other than from Seeking Alpha). I have no business relationship with any company whose stock is mentioned in this article.