One of the recurring lessons we learn in the market is that greed is our enemy. Not a frenemy as it might disguise itself, but a straight-up, nasty emotion hell-bent on destroying our portfolio by convincing us to not lock in acceptable gains when other factors get out of balance. Many of us have made this mistake personally. We buy a stock believing it will increase in value, although we have no set goal for how much. When some good news causes the stock to rise, we stubbornly hold on believing nothing can stop us now -- we are going to the top! Inevitably, things catch up with us and our portfolios. This is why we need to look at the recent run-up experienced by Activision Blizzard Inc. (NASDAQ:ATVI) to determine if any decision to hold it is based upon a solid fundamental analysis or greed.
Bottom Line Up Front
The gaming market is a fickle place to operate. Tastes and fads change nearly as fast as our kids mature from toddlers to tweens to college students. That being said, Activision Blizzard is the company famous for blockbuster games such as the Diablo, WarCraft, StarCraft, and Call of Duty series. The company spent most of the past year range-bound between $10.50 and $12.50, and it remained there despite some promising guidance and announcements along the way. Management is known to low-ball guidance, as it seems the company beats expectations every quarter. When it reported an earnings beat and decent guidance earlier this month, the stock responded with an uncharacteristic climb to say the least.
The Past Year
Examining the chart below shows exactly how much this stock has moved in a very short time period compared to recent history. What the chart will not tell you is if this move is warranted. One point of view will state there is an easy profit to be taken, and you should never risk losing a guaranteed profit. The other point of view will argue that the stock was properly identified as undervalued and that the market is just now catching up to the proper assessment that this stock is a winner. Which point of view is correct? That is a decision you will have to make for yourself based on a number of factors.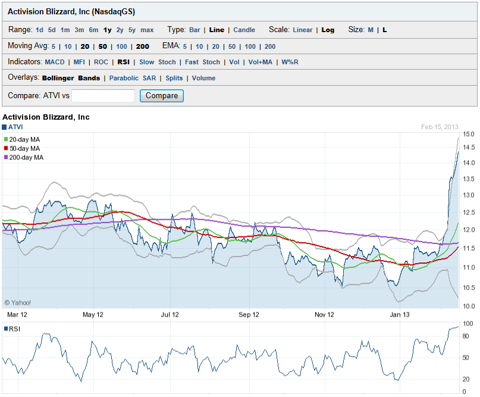 You can see that the moving averages all generally trended downward over the past year. We purchased this stock in early November at just under $11.50, with the expectation of seeing $13-$14 in the next year. We believed that the stock was finished with the downtrend and anticipated a slow rise for the next several months. Needless to say we were not very happy when the market tanked immediately following the elections and the stock dropped almost 9% as soon as we purchased it. The stock then bounced around in that range two more times in the next 60 days before finally breaking out.
At the end of last week the RSI was also exceptionally high, indicating an overbought condition. However, it is important to remember that this does not mean demand for the stock will fade soon; this is just one indicator we use to determine the entire picture. We should note that just 45-50 days ago the RSI for this same stock was around 20.
Basic Valuations and Earnings
After the recent increase, Activision Blizzard has a market capitalization of $16 billion. The TTM P/E is approximately 14.2, and depending on the source the beta generally falls in the 0.6 to 0.8 range. So while the price move has placed the P/E ratio generally more in line with what we would expect, one could also fairly make the argument that it is not yet overvalued. As a comparison, the company had a P/E of under 11.5 before the Christmas shopping season.
Where things begin to get a little curious is when we look at projected future earnings. Everyone expects Activision Blizzard to make less money in the coming year. As you can see in the table below, the drop is expected to be significant. And yet despite the statements and projections that earnings will taper off this year, the stock still responded with a large bounce to the upside.

Again, no single metric tells the entire story of a company's future, so we also need to consider the product lines and outlook.
Significant Products
Activision Blizzard's past hits have included the Diablo, WarCraft, StarCraft, and Call of Duty franchises. Each of these games has been important in the evolution of either the real-time strategy, role-playing, or first-person shooter genres, and they still remain popular among players. The general strategy of the company has been to ride each installment for a period of time and then release either an expansion pack or newer version to maintain a game's freshness.
More recently, the company released a new series called Skylanders. The first game, "Skylanders: Spyro's Adventure," was released to the North American market in October 2011 and was a larger hit than anticipated. This game generates additional income through the sales of small figurines, which a player can then use in the game through a "portal" attachment. The figurines additionally serve as a memory device, saving a player's progress with that character in the figurine itself, which can then be used on any other console to continue the game. The second installment in the Skylander series, "Skylanders: Giants," was released in October 2012. The series has already generated over $1 billion in sales, and the next installment of the series, "Skylanders: SWAP Force," is anticipated near the end of 2013, once again in time for Christmas.
Outlook
Activision Blizzard is facing declining revenues from its traditional sources, namely purchases of older titles and subscription fees for their hugely popular online games. This makes perfect sense as the market shifts over time and new gaming styles gain popularity. However, it seems that nobody quite anticipated the success that the Skylander series would become. This success coming as some of the other titles are losing popularity is what makes it significant. Based on revised estimates later in the year, it is entirely possible that the Skylanders series will allow for an upward revision in the earnings estimates. This should be something that we watch for as "Skylanders: SWAP Force" gets closer to release. Such an event would certainly be a cause for celebration among those who are long.
Analyst Estimates
There are currently 20 analysts providing price coverage on Activision Blizzard. At this time, the low price target is $14 and the high is $19, with a mean target of $15.76 -- still almost 10% higher than the current price of $14.37. The average recommendation lies between Buy and Strong Buy.
Recommendations
If you already hold a long position in Activision Blizzard, congratulations. You are in the great position of having to decide how much profit you want to take. Looking at the numbers, you can see that the recent run-up is very pronounced, and perhaps even a bit premature. This does not mean you need to sell the stock at this point. If you are willing to wait and see how well "Skylanders: Giants" performs in the coming months, as well as see what the company plans to freshen its other titles, then this stock could continue to run. Pay close attention, and set your stops now in case the stock does drop. Otherwise, this is a great place to lock in a gain of ~25% depending on where you bought.
If you do not hold a long position but want to, I would advise using some caution in building a position you can live with. Remember the stock is already inside the "best guess" range provided by the professionals, although they are not always right. I did not expect the stock to exceed $14 in the next several months, although I am happy that it did. A possible hedged trade from here would involve a January 2014 spread using calls at $10 and $15. This position can be purchased for a net debit of around $3.35. As long as the stock remains above $13.35 through next January the trade remains positive, and if it reaches $15 the trade nets over 48%. The downside is that if the stock drops below $10 then the entire investment is lost. To put this in perspective though, this stock has not closed below $10 since March 2009.
At this point I think a short position would be ill-advised given the potential for a further increase in share price. However, those who have seen a significant unrealized profit could decide to use puts as a means of providing some downside protection in case the recent spike in price was a fluke.
Final Thoughts
It is entirely possible to do very well in your portfolio by looking for things that seem out of place. In order to do this best, you need to understand when greed is making you behave in an irrational manner and then remove every trace of that emotion from your investment decisions. The recent jump in Activision Blizzard's share price is an excellent opportunity for those who are long to step back and determine if the position should be held because we believe it will appreciate further based upon a good analysis, or if we are just being greedy trying to reach a maximum gain.
Disclosure: I have no positions in any stocks mentioned, but may initiate a long position in ATVI over the next 72 hours. I wrote this article myself, and it expresses my own opinions. I am not receiving compensation for it (other than from Seeking Alpha). I have no business relationship with any company whose stock is mentioned in this article.
Additional disclosure: My long stock position was closed automatically upon reaching a pre-set target price. I am considering reopening a long position using options in the next three trading days.