Oil and gas services exchange traded funds have soared 30% or more the past three months and a recent bullish note from Goldman Sachs is helping to drive the rally. Companies are simply flush with cash, which is raising prospects for higher dividend payouts.
"Following four quarters of sequential declines in North American drilling activity and oil service profitability, January is marking a turnaround in activity," Goldman's equity analysts wrote in a report. "Revenues/margins for North American service companies either bottomed in fourth-quarter 2012 or are expected to bottom in first-quarter 2013, marking a major inflection for the group."
Some of the major oil and gas services and equipment ETFs reached 52-week highs last Thursday after the bullish report was released by Goldman Sachs, reports Trang Ho for Investor's Business Daily. The following ETFs ticked up about 3% each: PowerShares Dyanmic Oil and Gas Service ETF (NYSE:PXJ), Market Vectors Oil Services (NYSEARCA:OIH) and the iShares Dow Jones U.S. Oil Equipment Index (NYSEARCA:IEZ).
Furthermore, the SPDR Energy Select Sector (NYSEARCA:XLE) is just a hair off its 2011 high of $80.90 a share. A period of outperformance potential is expected after the downtrend seen at the start of 2013, reports Tarquin Coe for Investors Intelligence. XLE has gained about 15% over the past three months.
J.C. Parets at All Star Charts notes that energy ETFs are breaking out after lagging the broader market for two years.
Heavy cash flows reported at some major oil and gas service companies equal share buybacks and the possibility of higher dividend payouts. Rising horizontal rig counts are a potential plus, with about 3% more counted now than in the fourth quarter. Leveraged buyouts, asset restructuring, and expansion of margin are all possible catalysts for further growth, due to the increased cash flow.
Companies of this nature are sensitive to the capital spending cycle of this industry because most of the new capital is derived from companies drilling new wells. This area of the oil market is highly cyclical and sensitive to the supply and demand relationship, similar to other commodities, reports John Gabriel for Morningstar.
The Wall Street Journal reports that some energy companies are paying fat dividend yields despite low growth prospects.
SPDR Energy Select Sector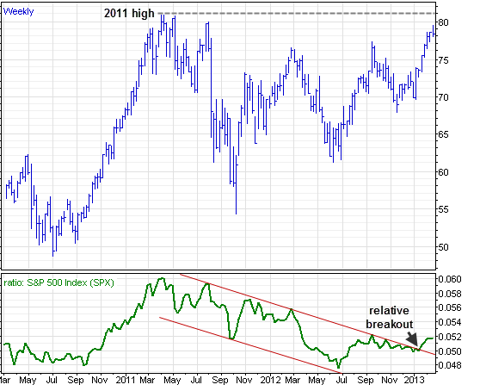 Tisha Guerrero contributed to this article.
Disclosure: I have no positions in any stocks mentioned, and no plans to initiate any positions within the next 72 hours. I wrote this article myself, and it expresses my own opinions. I am not receiving compensation for it. I have no business relationship with any company whose stock is mentioned in this article.