Green Mountain Coffee Roasters (NASDAQ:GMCR) has seen quite a nice run in the last 6 months and has plenty of room to grow. For full disclosure, I have been long Green Mountain since late August of 2012 around the $22.50-$25.00 range. With that said I have no plans of selling anytime soon as I believe this stock still has plenty of upside potential. I first looked at Green Mountain back in the late summer of last year.
If you will remember, this stock took a major plunge after hedge fund manager David Einhorn disclosed his massive short position. In October of 2011 Einhorn announced his short of Green Mountain stating limited growth of its K-Cup products, patent issues, and bad accounting practices. The stock took a 10% dive immediately following the announcement and plummeted further after an earnings miss that November taking the stock under $44 per share.
While no one could disagree with questionable accounting practices of Green Mountain , I never agreed with the position Einhorn took on K-cups and patents. My primary reasoning behind this is despite analysts' comments, expiring patents allowing more competition would only help Green Mountain. The single cup brewing machines had grown in popularity around that time by substantial amounts, however it was still in its infancy in my opinion and had not reached its full potential. While Green Mountain does not make huge profits from the actual sale of the machine, it is still the foundational product needed for the single cup coffee to be brewed. My school of thought on this, was increased competition from other machine makers and coffee producers that now make and sell k-cups, would only help give consumers more choice, better pricing, and in turn increase the popularity of the single cup brewing method. Green Mountain is the pioneer and leader of this space and any negatives brought on by increased competition would be short lived compared with the long-term benefits to the company's core products.
By August of 2012 the company's stock was trading around 15% off its 52-week low, still with heavy short interest above 40%. It appeared that management had been taking every necessary step to clean up its accounting issues. The company also brought in Brian Kelly, a phenomenal executive formerly of Coca-Cola (NYSE:KO), who has been its chief product supply officer since 2010 to replace Lawrence as CEO of Green Mountain in December 2012. Kelly's strong expertise in branding and consumer products was a step in the right direction for Green Mountain . In addition to Kelly, the company announced the appointment of Gerard Geoffrion as president of international business development in October 2012. This was another major step in the right direction as it signaled Green Mountain's move into international opportunities.
Looking at the recent earnings from Green Mountain, it is coming off two outstanding quarters. When it announced Q4 2012 and year-end results it had a significant earnings beat that propelled the stock higher. It also significantly raised 2013 guidance. When Green Mountain reported Q1 2013 results on February 6, it lived up to the high expectations, reporting $0.76 per share, which beat the estimate of $0.65 per share by $0.11.

While it's no question that stabilizing coffee prices have attributed to the coffee maker and its competitors' success, it appears Green Mountain is emerging as the top dog in my opinion. For comparison, Green Mountain's largest competitor, Starbucks (NASDAQ:SBUX), reported Q1 2013 earnings of $0.57 per share, which was in line with expectations. Unless you're an income investor that collects the Starbucks dividend, I would highly recommend Green Mountain as the better alternative. I consider Starbucks , a company with 40.7B in market cap, P/E x 29, and 1.2% short interest to be expensive and in accumulation. By comparison Green Mountain , a company with 6.6B in market cap, P/E x 19 and 20% short interest is still under priced at current levels and a much more attractive growth prospect. Overall, I believe it will stay ahead of the competition in the long run and will continue to meet its growth potential. The company is one of the most attractive in the market and it's refreshing to see a young growing company become more "refined" and "mature" as it continues to prosper.
Last, let's take a look at some technicals on Green Mountain . Several events have indicated a continued uptrend in the intermediate to long-term for this stock.
November 19, we saw a bottom triangle confirmed at $27.33 indicating a reversal to $40-$43 and the stock has performed accordingly.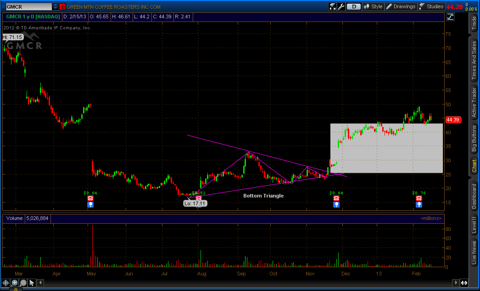 The stock has also crossed and is trading above three major long-term moving averages and currently trades above its 200-day, 50-week, and 200-week moving averages.
On February 8, the 21-Week Moving Average crossed over the 50-Week Moving average giving further confirmation the stock is in a continued uptrend.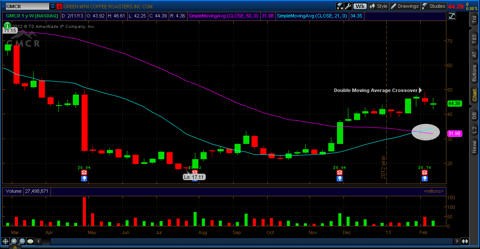 Over the last month, the price seems to be holding above its trend lines and finds tremendous support around $42.25, however it runs into a little resistance around $45.50. If the stock can move above that level and continue to trade above its trend line it should have a lot of continued upside until it hits its next resistance level at around $50.28. If it can break above $50, I am confident we would see the stock closer to that of its competitor, Starbucks around $54 per share.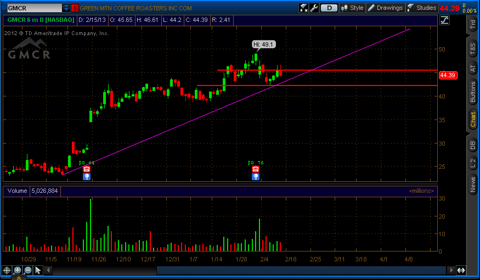 In conclusion, I recommend Green Mountain a buy under $45. Look for the pullbacks as buying opportunities as it continues its long-term uptrend. I will look to add to my position at these levels setting a stop at $42.50 and a target price of $54. Find support at the $42.50 level and slight resistance at $45.50. Breaking above that level the next resistance hurdle is around $50.23. Continuing improvements in earnings, sales, management, growth and guidance all give support to these levels. I would also look for management to do a much better job mitigating risks related to fluctuations in coffee prices. Pay close attention to Q2 2013 earnings expected sometime the week of May 3, 2013, as Green Mountain could be on deck for a third straight quarter of positive surprises. Also keep an eye on short interest currently above 20% as a last round of squeezes could provide additional support.
Disclosure: I am long GMCR. I wrote this article myself, and it expresses my own opinions. I am not receiving compensation for it (other than from Seeking Alpha). I have no business relationship with any company whose stock is mentioned in this article.